Axcient Brings Rapid Recovery to SMB Market With New Hybrid On-Premise and Cloud Service for Comprehensive Data Protection and Business Continuity
Pay-As-You-Grow Service With Zero Infrastructure, License, or Software Costs Meets SMB Requirements for Simplicity and Cost-Effectiveness in Tightened Economy
(March 24, 2009)

MOUNTAIN VIEW, CA -- (Marketwire) -- 03/24/09 -- Axcient Inc., an innovator of comprehensive data protection software-as-a-service (SaaS) solutions for small and medium-sized businesses (SMBs), today announced the availability of the company's hybrid on-premise and cloud data protection and business continuity service. Axcient's pay-as-you-grow approach includes an on-premise data backup and replication appliance with offsite cloud storage and services that delivers a secure and cost-effective way for SMBs to ensure fast data recovery and uptime. The advantage of having a backup storage appliance onsite is that customers benefit from one-click rapid restores, so they can be up and running within minutes of a data loss. The Axcient service will be sold exclusively through the IT solution provider channel and has been built from the ground up to serve the business needs of SMB customers with anywhere from 1 to 500 workstations or servers and 10 gigabytes to 10 terabytes of data.
"The most important thing to remember is that backup is about recovery. Online backup is an important component because it delivers disaster recovery and compliant archiving, but for fast recovery you must have the backup data stored locally. Axcient offers the best aspects of an onsite solution plus the best aspects of an online solution as a single integrated service," said Justin Moore, CEO, Axcient. "Axcient's service has been in development for the past two years, with our team laser-focused on solving the data protection challenges of the SMB market and the outsourced IT professionals who serve it. We realized early on that businesses need one comprehensive service that can handle backup, recovery, archiving, and disaster recovery -- without having to cobble together various vendors' products."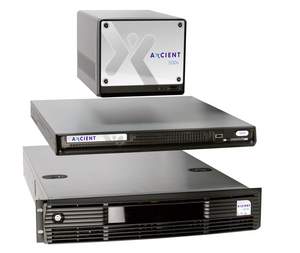 Since the Axcient solution is agentless, there is no software to install on servers, workstations or laptops, so implementation is painless and backup of virtual machines (VMs) is both practical and effortless. The Axcient web-based management platform also requires no software installation and is securely accessible by authorized administrators from any location. Additionally, the computing related to data protection occurs on the Axcient on-premise appliance, resulting in little impact on system performance in customers' production environments. For total information security, data is encrypted on the on-premise appliances, transferred offsite through an encrypted tunnel, and encrypted when at rest at Axcient's data centers.
"As business organizations continue to generate vast amounts of data and seek optimum methods to store and protect them, the growth of storage capacities delivered through storage-as-a-service offerings will outpace traditional storage architectures," said Brad Nisbet, program manager, storage and data management services, at industry analyst firm IDC. "Given Axcient's hybrid model and comprehensive service-based approach to data protection and business continuity, the company is solving serious end user pain by drastically reducing downtime, simplifying management of explosive data growth, and eliminating capital expenditures."
Axcient Offers SMBs a Comprehensive Set of Data Protection and Business Continuity Services
RapidRestore(TM) Data Backup Services
Axcient offers backup for laptops, servers and workstations and supports multiple operating systems including Windows, Mac OS X and Linux. The on-premise data appliance provides fast, network-speed restores that have minimal impact on uptime and allow customers to hit critical recovery time objectives (RTOs). Important files can be continuously backed up as changes are made, increasing protection and reducing backup windows. In addition, customers can restore a whole volume to its original location or select a version of a file folder and restore it to a chosen location.
SmartArchive(TM) Data Retention Services
Axcient's data retention algorithm reduces corruption, decreases backup windows, and provides highly customizable archiving and retention settings, which enable customers to meet critical compliance requirements and recovery point objectives.
SmartDR(TM) Disaster Recovery Services
In the event of a site failure, Axcient will ship a new data protection appliance, fully loaded with a company's data and system information, to a new or temporary location within 24 hours. Data is stored in multiple offsite locations fitted with the latest security measures to further protect data.
Axcient's 100 Percent Channel Approach Makes It Simple and Profitable for IT Solution Providers to Sell, Implement, and Manage Axcient Deployments
Axcient's business model is 100 percent channel-focused. The company guarantees no direct sales conflicts and has developed a customized channel program to suit the individual business needs of its partners. Axcient's partner program offers various levels including:
Preferred Partner
The Preferred Partner level is designed for reseller partners who do not have the capacity to handle billing internally. Axcient generates the invoice to the end user customer on behalf of the solution provider -- including the appropriate logo, billing information, and fees as specified by the solution provider -- and handles the complete transaction.
Premium Partner
The Premium level of partnership is built around a traditional approach to billing. It is geared for reseller partners who have their own internal billing infrastructure and prefer to be billed monthly by Axcient and bill their own customers directly.
Elite Partner
The Elite Partner level is aimed at managed service providers (MSPs) who prefer to operate on an aggregate or "wholesale" model. That is, MSPs can purchase blocks of storage from Axcient and then provision the storage according to the needs of their individual customers.
Alliance Partner
The Alliance Partner level is available for any OEM or other large service provider that would like to brand Axcient as its own and sell the product independently. Axcient works with Alliance partners to set up aggressive discounts so that selling the Axcient solution is profitable and a win-win experience for both parties.
About Axcient
Axcient is an innovator of comprehensive data protection software-as-a-service (SaaS) solutions for small and medium-sized businesses (SMBs). The company's hybrid on-premise and cloud data protection and business continuity service is the first of its kind to make business continuity and backup simple for SMBs by delivering a secure and cost-effective way to ensure uptime and data recovery. The pay-as-you-grow service features zero infrastructure, license, or software costs, thereby eliminating capital expenditures and minimizing operating expenses to meet SMB requirements for affordability and simplicity. Axcient customers encompass a wide range of industries, including legal, financial services, healthcare, design and creative industries, retail, credit card services, Web-based companies, and education. The Axcient service is available exclusively through a nationwide network of IT solution providers. For more information, visit www.axcient.com.
Image Available: http://www2.marketwire.com/mw/frame_mw?attachid=945336

Media Contact:
Elizabeth Zaborowska
Trainer Communications
Email Contact
510-219-8127


Copyright @ Marketwire
Page: 1
Related Keywords:
software-as-a-service(SaaS), hybrid on-premise and cloud data protection and business continuity, Sales, Sales & Marketing, Education, Storage, Security, Computer Technology, Business Issues, Services, Software, Misc, Data Recovery, Backup, Archiving, Security, Management, IT Professionals, Sales, CEO/CFO, End-users, Sales, Unix, Mac, Linux, OS9, OSX, Marketwire, Inc., healthcare, Financial, Appliances, Management Services, Computer Science, Business, Outdoor Sports, disaster, Other,
---