"Avengers Assemble!" in Dane-Elec's Newest Marvel USB Drives
Choose From Captain America, The Hulk, Thor and Iron Man or Collect all Four With The Avengers USB Hub
(April 23, 2012)

IRVINE, CA -- (Marketwire) -- 04/23/12 -- Dane-Elec, a global leader in consumer electronics, today announced Marvel's The Avengers USB drive product line with Marvel Entertainment, LLC. The four Avengers characters featured in Marvel's The Avengers movie premiering this May -- Captain America, The Hulk, Thor and Iron Man -- will be brought to life in the form of 8 gigabyte (GB) flash drives. Users can collect them all with Marvel's The Avengers 4-Port USB Hub and let the Super Heroes transport and protect their data for years to come.
"We are thrilled to offer Marvel fans our second line of USB drives, which is based on the characters in the upcoming Marvel's The Avengers movie," said Sherry Chapman, director of marketing for Dane-Elec. "The Marvel Classics line is extremely popular and we are excited to give movie fans the Marvel's The Avengers drives. Both adults and children can now store and transport data on these replica character statuettes that have a sleek sliding USB drive embedded in the base. Marvel's The Avengers Super Heroes collection is both unique and practical for all ages."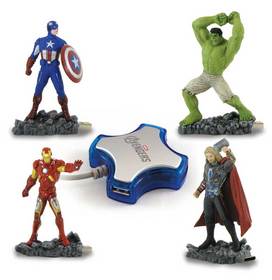 Dane-Elec gives users a taste of Super Hero stardom with all four Marvel's The Avengers characters and the 4-Port USB Hub:
CAPTAIN AMERICA: An indestructible shield coupled with lightning-fast speed, extraordinary strength, unique fighting style, battle experience and training make Captain America the perfect specimen of human development.


THE HULK: See the extraordinary level of physical power, durability, regeneration and endurance of The Hulk in the realistic replica.


THOR: Channel the superhuman speed, agility and reflexes of Thor with the Dane-Elec Avengers USB drive. His keen senses and stamina can keep your data safe from any enemy.


IRON MAN: Experience the engineering genius of the infamous Iron Man and Tony Stark's masterful gold- and titanium-armored suit. Dane-Elec brings the power and mystique of Iron Man to life with the Iron Man Avengers USB drive.

Pricing and Availability
Dane-Elec's new Marvel 8GB USB drives and 4-Port USB Hub will be available at retailers at $19.99 (SRP) beginning May 2012 in time for the movie launch. Each drive comes with a five-year warranty.
About Marvel's The Avengers
Marvel Studios presents "Marvel's The Avengers" -- the team up of a lifetime, featuring iconic Marvel Super Heroes Iron Man, The Incredible Hulk, Thor, Captain America, Hawkeye and Black Widow. When an unexpected enemy emerges that threatens global safety and security, Nick Fury, Director of the international peacekeeping agency known as S.H.I.E.L.D., finds himself in need of a team to pull the world back from the brink of disaster. Spanning the globe, a daring recruitment effort begins.
Starring Robert Downey Jr., Chris Evans, Mark Ruffalo, Chris Hemsworth, Scarlett Johansson, Jeremy Renner and Tom Hiddleston, with Stellan Skarsgard and Samuel L. Jackson as Nick Fury, directed by Joss Whedon, from a story by Zak Penn and Joss Whedon with screenplay by Joss Whedon, "Marvel's The Avengers" is based on the ever-popular Marvel comic book series "The Avengers," first published in 1963 and a comics institution ever since. Prepare yourself for an exciting event movie, packed with action and spectacular special effects, when "Marvel's The Avengers" assemble in summer 2012.
"Marvel's The Avengers" is presented by Marvel Studios in association with Paramount Pictures. The film is being produced by Marvel Studios' President Kevin Feige and executive produced by Alan Fine, Jon Favreau, Stan Lee, Louis D'Esposito, Patricia Whitcher, Victoria Alonso and Jeremy Latcham. The film releases May 4, 2012, and is distributed by Walt Disney Studios Motion Pictures.
About Marvel Entertainment
Marvel Entertainment, LLC, a wholly-owned subsidiary of The Walt Disney Company, is one of the world's most prominent character-based entertainment companies, built on a proven library of over 8,000 characters featured in a variety of media over seventy years. Marvel utilizes its character franchises in entertainment, licensing and publishing. For more information visit www.marvel.com.
About Dane-Elec
Dane-Elec is one of the largest manufacturers of flash memory products, storage and consumer electronic devices in the world. For over 25 years Dane-Elec has provided consistent quality and industry-leading products to customers across the globe. Leading brands including Duracell, Marvel, Blizzard, Hello Kitty, Harry Potter, Disney and many more around the world, rely on Dane-Elec's expertise to deliver high quality, customized storage solutions. Acknowledged as one of the authorities in quality memory products, Dane-Elec Memory designs, assembles and distributes its products through its own network in the U.S, Europe (France, United-Kingdom, Germany, Belgium, Scandinavia, Holland, Italy and Spain), Asia, South America and Israel.
For more information on Dane-Elec, please visit: www.Dane-Elec.com.
All products/services and trademarks mentioned in this release are the properties of their respective companies.
© 2012 Dane-Elec. All rights reserved.
Image Available: http://www2.marketwire.com/mw/frame_mw?attachid=1956047

Add to Digg Bookmark with del.icio.us Add to Newsvine
Copyright @ Marketwire
Page: 1
Related Keywords:
Dane-Elec, Adults,Children,Movies & Music,Movies by Genre,Consumer Electronics,Camera/Film,Prosumer/Consumer,Flash,Consumer Electronics,Graphics/Design,Consumer Technology,Publishing,Consumer Electronics,Germany,Israel,Italy,Scandinavia,Holland,Marketwire, ,Film,Consumer Electronics,Entertainment,disaster,Adults,Children,
---