Automation: How Your Smartphone Can Improve Your Home
(April 17, 2012)

ORANGE, CA -- (Marketwire) -- 04/17/12 -- As of January 2012, 46% of cell phone users in the U.S. have smartphones.
Growing smartphone and tablet usage has helped people simplify many aspects of their daily lives. Applications available to these devices can help organize your calendar, provide directions, offer information on local restaurants, and even update you with breaking news. These devices can help streamline interactions, why not use them to automate your home? From the temperature of an individual room to the amount of shade you want, modern technology has opened the doors to integrating home automation with mobility, safety and convenience. Keep in mind that not all home automation applications are made equal. Be sure to consider which mobile devices are supported by the app, and how these devices -- such as an iPhone or iPad -- interact with your home. Oftentimes these solutions also require additional hardware or software to install to make home automation possible.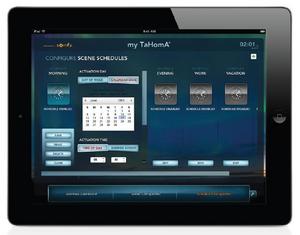 Home Entertainment Made Easy: In the past, controlling your music in one room, while recording a show in another room, has been a chore. Using a smartphone or tablet application to automate these systems makes the process of recording on your DVR or adjusting the volume much easier. The benefits of merging these controls to one simple location are numerous. For example, instead of spending your time searching for remotes, you can now spend it by conveniently dimming the lights for relaxation, turning up the volume on your favorite song or starting your favorite show, all with the same device!
Beacon: Beacon turns an iOS or smartphone device into a handy, easy-to-use remote for home entertainment systems by converting Bluetooth signals from your device to the infrared commands your components are expecting. Beacon pairs your iOS device or smartphone with a Universal Remote App, putting complete control of your home entertainment center in the palm of your hand.
Savant: Savant's latest Automation App, TrueControl, transforms the iPad®, iPod touch® or iPhone® into the ultimate remote for your SmartSystem, providing a truly comfortable and innovative experience. It can be used for a complete two-way control for your audio and video, in addition to your lighting, security and climate control.
Automate Your Comfort: Applications can help save time, energy, and money. You will know if you left lights on, what the room temperatures are or if the garage is open. Some applications can even set alarm clocks so you can be sure your children are out of bed in time for school! Turn your home off and on all from one central location in the palm of your hand.
TaHomA: TaHomA is an innovative solution that allows consumers to control, schedule and supervise their lighting, window covering and climate control devices using Z-Wave and RTS wireless technology. This can be done automatically or remotely from anywhere in the world. TaHomA is popular with many people who have Somfy motorized blinds. If you have motorized blinds by Somfy it is easy to add a complete home integration system that will give you remote control over your lights, air conditioning and security.
iRule: iRule turns your iOS or Android enabled device into a universal touch-screen remote control. It has the power to control your home entertainment system as well as all lights, fireplaces, thermostats, and remote-controlled electronics. This is a popular App because it has the power to control all of your automated systems from one location. If you have the notion to control your home from the comfort of your phone, iRule is a great way to help you do this.
Stay Secure from Anywhere: The benefits of having a remote alarm system are numerous. With a remote system you will worry less about your home's security and your family will stay safe even when you can't be with them. You can set your alarms from the comfort of your bed before sleep or on your way to work if you forgot to do it before you left your home. Home security apps have options that allow you to check whether or not your alarms are on or off. You can also check your security cameras and some programs can even turn off the oven for you!
Mobiscope: Mobiscope is a great app because it allows video surveillance without the purchase of expensive equipment and cameras. All you need is a webcam or network camera to record everything that goes on while you are away. After you have paired the camera with your smartphone you can see live streams instantly!
Convenience at Your Fingers:
All of the app examples provide you and your home with a convenient option for controlling your systems, but they do not necessarily help with your home design. One area often over-looked is the automation and remote control of window coverings. Apps like Somfy's TaHomA, offered by Budget Blinds, can be programmed to cater to your specific needs. TaHomA's configuration allows the user to program "scenes." For example, instead of adjusting each shade and each light in a room, simply access your scene "good night" to close the blinds, turn off all the lights, and adjust the temperature of the room, while simultaneously turning on your motion sensor lights. With Budget Blinds' window coverings automated by Somfy, you get the beautiful style of Budget Blinds products combined with the convenience and security offered with the TaHomA application. It's the smart home system for every homeowner.
The benefits of having an automated home control system go beyond convenience. A remote system can save energy, which saves you money on your utility bills. Using your remote home systems allow you to use your appliances only when you NEED them. Budget Blinds offers automated window covering systems in conjunction with Somfy that allow you to streamline the control of shading, security, heating and cooling systems, lighting and home entertainment systems, all with one control. All of the technology available today gives you many different options on how to control your home from a distance.
About BUDGET BLINDS Budget Blinds, a Home Franchise Concepts, Inc.™ brand, is a custom window coverings franchise that offers convenient shop-at-home service for window coverings and home décor accessories.
Image Available: http://www2.marketwire.com/mw/frame_mw?attachid=1952644

Add to Digg Bookmark with del.icio.us Add to Newsvine
Copyright @ Marketwire
Page: 1
Related Keywords:
Somfy, TaHomA, Motorized Blinds, Budget Blinds, iPad, iPhone, iPad App, iPhone App, Blinds , Home, Audio/Sound, Camera, Family, Appliances, Security, IPod, Camera Accessories, Home Security Systems, Children, Family, Digital Media Software, Communications, Digital Audio, Movies & Music, Cell phone, Smart Phone, Accessories, iPods, iphone, iPad, Office Equipment, Applications, Security, Hardware, Camera/Film, USA, Marketwire, , Apple Computer, Appliances, Restaurants, Music, Communications Technology, Entertainment, Family, Children,
---