Automated Benefit Services Selects MEDecision Health Management Platform for Expansion to Accountable Care Administration
Platform to Improve Care, Reduce Healthcare Costs for Michigan Consumers
(February 21, 2012)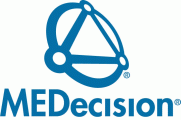 STERLING HEIGHTS, MI and WAYNE, PA and LAS VEGAS, NV -- (Marketwire) -- 02/21/12 -- HIMSS12 -- ABS, a leader in third-party benefits administration, and MEDecision Inc., the leading provider in health management solutions, today announced that Automated Benefit Services (ABS) has selected MEDecision's technology platform and related services to support its business expansion into Accountable Care Organization (ACO) administration. In an initial phase, ABS will leverage the platform to drive enhanced care coordination, reduce costs and meet quality targets for four Michigan-based Accountable Care Organizations (ACOs). The integrated platform includes centralized healthcare utilization management (UM), case management (CM) and disease management (DM) -- supported by industry-leading analytics and connectivity solutions -- and will serve as the foundation for value-based healthcare for approximately 200,000 Michigan consumers.
The growing strength of the ACO model, with its focus on preventive care and better coordination of care among diverse providers, is a response to the increasing challenges to America's healthcare system. In 2005, more than 133 million Americans had one or more chronic conditions, and their care accounted for more than 80% of all healthcare spending. Individuals with chronic conditions tend to have multiple illnesses and multiple providers, making care coordination that much more critical and challenging for all stakeholders. MEDecision's platform facilitates such care coordination and supports efficient sharing of information among all healthcare stakeholders, including consumers themselves.
Founded in 1986, ABS has evolved to the largest third-party administrator (TPA) in the country. Using a paperless, fully automated claims processing system, ABS processes more than 1.5 million claims annually while paying more than $500 million in claims.
"As a third-party administrator, we believe that we are best positioned to lead the development of the ACO model with our partner physician practices, hospitals and medical management organizations," Matthew Gorczyca, president and CEO of ABS, said. "Across the board, collaboration and integration are critical to any ACO implementation, and essential in the transition to consumer empowerment and member-centric care. Thanks to MEDecision's robust care management solutions, built on an open architecture, we will have the flexibility and connectivity we need to integrate with multiple systems. This will serve as our foundation to support our partnering physicians' and providers' transformation and will help us as we expand our geographic focus from the Midwest to our ultimate goal of a nationwide offering."
"We are thrilled that ABS has joined the growing community of leading healthcare organizations who have partnered with MEDecision to build and deploy platforms for their transformation to value-based care," said Deborah M. Gage, president and CEO, MEDecision. "While many are focused on the discussion around the need for value-based care reform, MEDecision is focused on partnering with our customers to make it happen. We're proud to say that our solutions are helping improve the health of targeted populations, supporting chronic-condition management and delivering the connectivity needed to drive enhanced care team collaboration for some of the most forward-looking consumer-driven healthcare initiatives in the US."
ABS will use MEDecision's solutions to:
Improve care coordination through MEDecision's powerful care management, analytics and clinical intelligence tools
Target the right disease states or levels of severity to improve cost management, consumer satisfaction, and disease outcomes
Capture and share data appropriately between hospitals, physicians and consumers
Use data effectively for patient identification and evaluation of outcomes
To quickly move to this model, ABS has brought on board care coordination expert Mary Kay Plona as vice president of care management. Plona will manage the creation of ABS' care coordination model and centralized plans of care under the umbrella of ABS.
"I am excited to join ABS and MEDecision to create an outcome-driven, accountable care organization," Plona said. "MEDecision's ACO solutions are designed around a patient-aware health management philosophy that mirrors the vision of ABS. I am particularly excited about MEDecision's evidence-based medical protocols and predictive population management tools. They will go a long way in helping us target new healthcare opportunities as the ACO model becomes the new standard of care across the U.S."
Gorczyca will be on hand in the MEDecision booth (#1623) during HIMSS to examine the business case for the company's expansion to support ACO administration. During an in-booth presentation, attendees will get a glimpse of how centralized healthcare utilization management, case management and disease management -- supported by industry-leading care management, analytics and connectivity solution -- serve as the foundation for accountable care.
About ABS
Founded in 1986, ABS has evolved to be one of the largest TPA's in the country. Utilizing our paperless, fully automated claims processing system, ABS processes more than 1,500,000 claims annually while paying more than $500,000,000 in claims.
By creating efficient, cost-effective health care plans and administering them with skill and dedication to quality, ABS has built an unparalleled reputation for customer satisfaction.
ABS's core beliefs of Service, Flexibility and Value guide their daily operations. ABS's experienced staff of more than 125 benefit professionals are dedicated to processing claims in a timely and efficient manner. ABS members receive prompt courteous answers to their questions from well-trained service teams.
About MEDecision
MEDecision's contribution to the healthcare industry is a powerful platform that delivers meaningful data to inform the most important healthcare transaction: patient care. We start with a philosophy that patients, providers and payers are all driving towards better health outcomes and that this common interest dictates the need for collaborative working environments. Then, we apply 23 years of experience, $85+ million in research and development and the strongest clinical knowledge to deliver the MEDecision collaborative health management platform, which includes Nexalign®, a health decision support service that applies analytics to information gathered from multiple sources to foster better business and clinical decisions on a patient's behalf, Alineo®, a health management platform for delivering outcome-driven case, disease, utilization and behavioral health management, and InFrame®, a set of tools to facilitate the health and performance management processes for physicians and accountable care organizations.
For more information, visit www.MEDecision.com.
MEDecision is a trademark of MEDecision, Inc. The MEDecision logo and product names are also trademarks or registered trademarks of MEDecision, Inc. Other product and brand names are trademarks of their respective owners.
Add to Digg Bookmark with del.icio.us Add to Newsvine
Media Contacts:

Patricia Brown
MEDecision Inc.
(610) 540 0202 ext: 1128
[email protected]

Jenn Harrison
Carabiner Communications
678.313.3438
[email protected]


Copyright @ Marketwire
Page: 1
Related Keywords:
health management software, disease management, care management, utilization management, Marketwire, Inc., ,Disease,healthcare,Surgery,Physician,Medical,Business,Other,Medical Professionals,
---