Author Says Job Loss Can Be a Gift
How to Get Off the Sofa and Back in the Game in 2012
(January 19, 2012)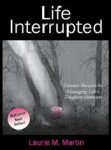 TORONTO, ONTARIO -- (Marketwire) -- 01/19/12 -- The holiday hype is over, and the January bills are here, so if you're one of the 26,000 Canadians who lost their full-time jobs in December, this might be the perfect time for a pep talk.
Educator and author Laurie M. Martin is ready to help. As someone who specializes in "life interruptions," she is now turning her attention to helping people face job loss - head on.
"Work isn't just what you do to get a pay cheque," Martin said. "When you lose your job, there is as much emotional stress as there is financial stress. You grieve the stability you once felt at work. You lose confidence, faith, and a piece of your identity."
The Canadian Mental Health Association reports that unemployment can be a shock to your whole system, and that you can experience the same feelings and stresses you would if seriously injured, going through a divorce, or mourning the loss of a loved one.
"It's ok to be scared," Martin says. "You have to be honest about the extent of the loss. That honesty gives you new perspective so you can regain control and take charge of your life."
As a trauma specialist, grief companion, life coach, and recruiter, Martin has been helping people deal with the tough stuff for more than 18 years. She says her experience helping people face restructuring in workplaces and as an executive coach inspired her to update her book, Life Interrupted, to better address difficult events in our work life.
"It's too easy to do nothing," Martin says. "Even the smallest task can feel like a huge struggle. It's work, and it's hard, especially if you've got the post-holiday winter blues, but you need to do something every day to create movement. Get excited about something, surround yourself with positive people, and look at opportunities you wouldn't have considered before. Remind yourself what you have to offer."
It's what Martin did when she "hit the sofa" after being devastated by job loss.
"What helped me most was realizing that I was normal and that it was going to take time to focus on what I wanted to do next. I eventually discovered that my passion had not disappeared."
In Life Interrupted, Martin shares knowledge gained through her own experiences and through her interactions with others around the world who have faced crisis and moved forward. She says the book guides readers through understanding loss, not only to help themselves, but also to help others.
"I talk about things other people don't want to talk about," Martin says. "I talk about suicide. I talk about how to communicate with someone who is devastated by trauma. We get into the messy stuff, because if we don't go there we can't move through it."
The 2011 version of Life Interrupted is available in print or as an e-book. Visit www.lifeinterruptedworldbook.com for more information or to order.
"Life's interruptions will happen to all of us," Martin said. "They will throw us out of control, but you don't have to lose your grip. You can learn how to embrace change and create a new you. The interruptions are part of who we are. We can live with them, live through them, and come out stronger."
Contacts:
Media contact:
Karen Majerly
(905) 630-8384
[email protected]


Copyright @ Marketwire
Page: 1
Related Keywords:
Life Interrupted , Marketwire, ,Financial,Other,
---