Aurora Feint(TM) Launches First Asynchronous MMO World for iPhone
Top Rated and Most Reviewed Game Will Allow Millions of iPhone and iPod Touch Users to Play Simultaneously in Massively Multi-Player World for Introductory Price of $7.99
(November 24, 2008)
BURLINGAME, CA -- (Marketwire) -- 11/25/08 -- Aurora Feint Inc., the company that launched Aurora Feint, the single most favorably reviewed free game for the iPhone and iPod Touch, today announced the "Asynchronous Massively Multi-Player World" of Aurora Feint II: The Arena.
Aurora Feint II: The Arena is the first Asynchronous Massively Multi-Player RPG for the iPhone, with all the functionality of The Beginning, plus:
-- Asynchronous Real Time Head-to-Head Competition: Even though two players are not using their iPhones at the same time, a player can compete as if the opponent is playing in real time in a head-to-head duel. This is completely different from turn based non-real time competition, because Asynchronous Real Time is exactly like playing against an online player, with real time interactions and strategy. This is accomplished by "summoning ghosts" that play on behalf of a player and persist in the world. -- Parallel World Play: A player's ghost can even be involved in duels with other players while the player is actually progressing their character and completing challenges to level up in single player mode in the world. -- World Newsfeed and Chat: All players see a continuous stream of real time events happening in the World all the time, as a ticker on the bottom of the iPhone touch screen. Touching an "interesting" event in this ticker takes you to a new place in the world called the Tavern, where players can conduct "asynchronous" chat with other players in the world, propose duels, share strategies and compete for leader board rankings. -- Player Profiles and Walls: Each player gets a Facebook(TM) style profile wall where other players can leave comments and challenges, which in turn become events in the Tavern. -- Expandable architecture to allow for low cost expansion packs to the Arena.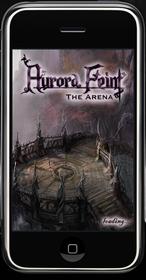 "We've raced to be the first Asynchronous Mobile MMO, or AMMMO, specifically designed for 'distractible' environments such as the iPhone. Game play is bursty, interruptible, and you don't know exactly when you will leave the game or when to expect your friends to be online. Yet even our casual gaming fans wanted massively multi-player capability and told us they would pay for it: so we built this AMMMO World where you can play at will in an MMO and still take a phone call in the middle without compromising game play. We are thrilled by the positive feedback we've received in the beta cycle," said Jason Citron and Danielle Cassley, the 23-year-old entrepreneurs who developed The Beginning in 10 weeks flat and launched on July 11 on the AppStore.
The new product is available through Christmas for an introductory price of $7.99 (regular price is $9.99, exactly the same price as Sega's Super Monkey Ball which is a single player game). The Arena is the second in a series of three worlds the company intends to build around the theme of Aurora Feint, a girl whose coma takes her through a dream world consisting of a series of casual puzzle based challenges.
"We had an overwhelming response to Aurora Feint: The Beginning and we are thankful for the support of our huge fan base," said Peter Relan, Chairman of Aurora Feint Inc. and serial Internet entrepreneur. "The iPhone has created an incredible platform for gaming that Jason and Danielle have taken to a new level with the introduction of a studio quality Asynchronous MMO World."
Aurora Feint: The Beginning, which achieved several hundred thousand free downloads since it was launched in July 2008 and has over 2400 user reviews with a rating of 4+ stars, introduced all the concepts that would be expected in an MMORPG: characters, role playing, places in a world, and skill based progression in a single player environment. Aurora Feint uses a casual match 3 puzzle based game dynamic in which the player's character must mine for five types of resources and crystals (a kind of currency). As the game progresses, the player must complete challenges which involve building tools based on blueprints and developing masteries based on magic books. Doing so allows the player's character to progress and gain experience points and level up for more challenging games. The Beginning continues to be available in the AppStore for no charge.
Aurora Feint Inc. also supports a widely used user forum at www.aurorafeint.com where users can contribute strategies, tips, new feature requests and also sign up for future beta products and upgrades.
Note: Aurora Feint(TM) is a trademark of Aurora Feint Inc., Facebook(TM) is a trademark of Facebook, Super Monkey Ball is game distributed by Sega.
Image Available: http://www2.marketwire.com/mw/frame_mw?attachid=880030

Add to Digg Bookmark with del.icio.us Add to Newsvine
Press Contact:
Peter Brooks
(415) 255-1554
Email Contact


Copyright @ Marketwire
Page: 1
Related Keywords:
Aurora Feint, Marketwire,Apple Computer,Internet Technology,Internet,Other,
---