Aurora Feint(TM) Announces OpenFeint: Social Platform for Indie Phone Game Developers
Top Rated, Award Winning Game Developers Open Up Proven Social Technology Embedded in the Popular Multi-Player Game Aurora Feint II: The Arena, Including Profiles, Walls, Real-Time Chat and Newsfeeds
(February 17, 2009)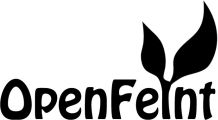 BURLINGAME, CA -- (Marketwire) -- 02/17/09 -- Aurora Feint Inc., the company that launched the highly acclaimed RPG puzzle game for the iPhone, announced that the company is making available its hugely popular in-game social and community features as an open platform available for easy integration into mobile games.
OpenFeint allows any mobile game developer to add player profiles, friends lists, walls, newsfeeds and real-time chat rooms into their game with ZERO operations overhead and minimal development time. OpenFeint consists of a Server and a Client. The OpenFeint Server is compatible with Google's OpenSocial REST API and is accessible through the OpenFeint Client code library and sample UI code from Aurora Feint Inc. Indie developers do not have to operate the Server, which will be securely hosted and monitored for 24x7 operations in Aurora Feint's datacenter.
In a first for mobile games, game developers will have the ability to reduce over two months of development work to one day, and completely eliminate back-end server operations, while offering their players an extensive set of customizable social and community building features:
-- Profiles: Players can upload any avatar photo or one from their phone's camera -- Walls: Each player gets a wall where other players can leave comments and view wall-to-wall conversations -- Asynchronous Real-Time Chat: Game-specific chat rooms for meeting other players, sharing tips, strategies and experiences within each game community -- Friends List: Players can friend other players within their game community or across the gaming community -- Newsfeeds: Players can keep in touch with all of their friends' activities (wall comments, actions in games, befriending people) -- Global Community Chat: Game-independent rooms for players to discuss recommendations, tips, and experiences on other games
"We added our social features into both our single player game and our multi-player game and it's been wildly popular," said Jason Citron and Danielle Cassley, the 23-year-old entrepreneurs who developed Aurora Feint in 10 weeks flat and launched on July 11 last year. "As Indie developers ourselves, we can attest to the sheer amount of work, time, and effort it takes to develop our online social features and operate our servers, so we'd like our friends developing games to be able to skip the headache and gain from our experience and proven technology. We're excited that several developers have already approached us to integrate OpenFeint into their games."
OpenFeint will be free to integrate for a limited number of concurrent users per game. Pricing for larger numbers of players will be announced upon availability of the Public Beta code in March. Developers interested in working with Aurora Feint before the Public Beta should visit http://openfeint.com for more information, and to enroll in the Private Beta program which is being announced today.
"OpenFeint is a major step in the evolution of the phone as a gaming platform. Aurora Feint has always been an innovator: first with a dazzling console quality free game, and then with the first Asynchronous Multi-Player game with social and community features. With OpenFeint, Danielle and Jason are again leading the way toward a better social gaming experience for phone based games," said Peter Relan, Chairman of Aurora Feint Inc. and serial entrepreneur.
Note: Aurora Feint(TM) is a trademark of Aurora Feint Inc.
Press Contact:
Peter Brooks
(415) 255-1554
Email Contact


Copyright @ Marketwire
Page: 1
Related Keywords:
Aurora Feint, Game Development, Camera/Film, Marketwire, Inc., Apple Computer, Game Technology, Biology, Other,
---