Atlantis ILIO Certified for VCE Vblock Systems
New Certification Delivers a Validated Vblock Solution Leveraging Atlantis ILIO Storage Optimization
(May 29, 2012)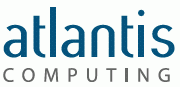 MOUNTAIN VIEW, CA -- (Marketwire) -- 05/29/12 -- Atlantis Computing, the leader in Virtual Desktop Infrastructure (VDI) storage and performance optimization solutions, today announced that Atlantis Computing is now part of the VCE independent software vendors (ISV) program and that Atlantis ILIO has been certified on VCE™ Vblock™ Systems. Atlantis ILIO optimizes deployments to cut costs and deliver a desktop that is faster than a PC. With Atlantis ILIO, IT organizations can deploy 4 to 7 times more desktops on a Vblock system, making VDI more affordable and achieving VDI user acceptance based on increased performance.
The certification will enable mutual channel partners and customers to accelerate adoption of Vblock systems for desktop virtualization by lowering the overall cost per desktop and improving the virtual desktop user experience. VCE is at the forefront of delivering simple and automated converged infrastructure platforms to transform businesses.
VCE Vblock systems combine industry-leading technologies from Cisco, EMC, and VMware to deliver a pre-configured, rapidly deployable, converged infrastructure for cloud computing. This certification provides customers with the assurance that Atlantis ILIO will integrate seamlessly with their Vblock systems.
"We have been working closely with VMware, Cisco and EMC independently for years as part of the Cisco VXI and VMware Ready programs. We see an increasing number of Vblock customers using Atlantis ILIO to optimize their Vblock-based infrastructure or scale their deployments," said Bernard Harguindeguy, CEO, Atlantis Computing. "Atlantis ILIO's Vblock ready certification gives channel partners the confidence to integrate ILIO into their standard Vblock offering."
Joint Atlantis Computing and VCE Channel Partners
The following joint Atlantis Computing and VCE Channel partners are able to deliver Vblock infrastructure platforms for VDI optimized by Atlantis ILIO:
EPLUS
GreenPages
INX
Kelway
Kovarus
Long View Systems
NWN
Presidio
Varrow
World Wide Technology
Supporting quotes
Chris Hewertson, CIO, Colt Technology Services
"We decided to take a new approach to using VDI on Vblock systems, running VMware View desktops with Atlantis ILIO on Cisco UCS servers without storage. All user profiles are kept on highly available EMC shared storage. With our completely stateless virtual desktops, EMC storage is critical for storing user profile data including documents and settings. Using Atlantis ILIO Diskless VDI simplifies our VMware View deployment, reduces operational complexity and delivers both a vastly improved user experience and a much lower cost per desktop."
D. Martin, vice president, global channels, VCE
"Our channel partners are always interested in optimizing the Vblock systems they deliver to their customers. We're providing our mutual customers and channel partners with the ability to leverage their Atlantis ILIO and VCE investments and expertise to cut the cost of desktop virtualization and accelerate desktop performance."
Tommy Figart, director of business development, data center and virtualization, NWN Corporation
"VCE provides an excellent unified platform for VDI that helps customer rapidly improve the agility of their workforce. We are happy to see Atlantis ILIO receive Vblock certification so that we can help our customers scale their Vblock deployments and deliver a tremendous user experience."
Steve Kaplan, vice president, data center virtualization practice, Presidio
"As both an Atlantis Computing and VCE partner, we are excited that these two industry leaders are working together. Having Atlantis ILIO certified on the VCE system is a big win and will provide our clients with a lower cost and better user experience as they transition to desktop virtualization and cloud computing."
Scott Miller, director of cloud and virtualization, WWT
"We've been working with Atlantis Computing on many large enterprise and federal government projects to help accelerate VDI and Vblock projects and seen the cost and user experience benefits first hand. Atlantis ILIO is a critical component of our VDI and Vblock offering that enables WWT to deliver the highest performance and most cost effective desktop virtualization solution available today."
About Atlantis ILIO
Atlantis ILIO is a VMware Ready and Cisco VXI certified VDI storage and performance optimization software solution that complements VMware View, Cisco UCS and EMC to optimize storage and boost performance for desktop virtualization.
Atlantis ILIO is software that runs as a virtual machine on the same server that hosts the virtual desktops to continuously optimize all interactions between desktops and storage. As a result, up to 90 percent of all desktop storage traffic is processed within the rack, offloading storage and enabling it to support many more users (4 to 7 times more on average) than is possible without ILIO. With Atlantis ILIO, customers typically reduce the cost of deploying persistent or stateless virtual desktops by up to 75%.
Atlantis ILIO also simplifies the deployment of virtual desktops with ILIO Fast Clone, which rapidly provisions full clones every few seconds. It also enables customers to start with a persistent deployment and then migrate to stateless virtual desktops over time without making changes to the infrastructure. Virtual desktops powered by Atlantis ILIO can deliver performance that is faster than a physical PC on any device including thin clients and iPads.
Atlantis Computing
Atlantis Computing is transforming enterprise desktop computing by solving the challenges of virtual desktop deployments: storage costs, performance and deployment risks. The Atlantis ILIO software complements VDI solutions to cut VDI costs and deliver a desktop that is faster and cheaper than a PC. With Atlantis ILIO, IT organizations can deploy 4-7 times more desktops on the same storage footprint, making VDI more affordable by both cutting the amount of storage needed per desktop and enabling the use of less expensive storage options. Atlantis Computing is privately held and funded by El Dorado Ventures, Partech International and Cisco Systems with headquarters in Mountain View, California, and offices in London, England. For more information, go to: http://www.atlantiscomputing.com.
Atlantis Computing, Atlantis ILIO and Atlantis ILIO Diskless VDI are trademarks of Atlantis Computing, Inc. All other trademarks and registered trademarks are the property of their respective owners. VCE and Vblock are registered trademarks or trademarks of VCE Company LLC or its affiliates in the United States and/or other countries.
Contacts:

Ventana Public Relations for Atlantis Computing
Sabrina Sanchez
(925) 785-3014
Email Contact
Follow Atlantis Computing on Twitter: @AtlantisILIO


Copyright @ Marketwire
Page: 1
Related Keywords:
Atlantis Computing, Public Relations, Storage, Business Issues, Cloud Computing, Software, Misc, Public Relations, infrastructure, England, USA, Marketwire, Inc., , Business, england, Other,
---