Atlantic General Hospital Gains Seamless Networking and Survivability Across 18 Locations With Toshiba's Strata CIX Telephone Systems
(April 25, 2012)
IRVINE, CA -- (Marketwire) -- 04/25/12 -- Toshiba America Information Systems Inc., Telecommunication Systems Division (Toshiba) - www.telecom.toshiba.com, has helped Atlantic General Hospital connect its employees, doctors and patients and handle more than 200,000 telephone calls a month with Toshiba's Strata® CIX™ IP business telephone system. Established in 1993, Atlantic General Hospital (AGH) is a 62-bed community hospital in Berlin, MD., serving Worcester County and the surrounding region on the Eastern Shore of Maryland, Virginia and lower Delaware. AGH has 25 locations with more than 750 employees and 211 physicians. AGH's mission is to provide quality care, personalized service and education to improve individual and community health.
Glenn Lebedz, director of Support Services for AGH, identified the need for a business telephone system that would:
Network 14 telephone systems together across 18 locations with a single user interface to provide integrated services to more than 750 users;
Reliably handle 200,000+ monthly calls;
Enable the hospital's telecommunications team to remotely manage the entire system;
Be standardized while still allowing customization for users and departments;
Allow the hospital to have a mix of IP and digital telephones;
Provide disaster recovery and geographical survivability with failover support, thus reducing single points of failure;
Facilitate expansion scalability, allowing the hospital to add systems, telephones and applications, as needed; and
Reduce overall cost of ownership by cutting costs for maintenance and software as well as local telephone services.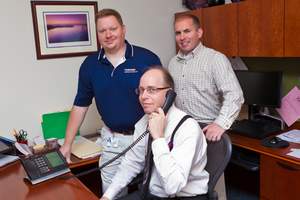 AGH turned to Atlantic Technology Services Inc. of Salisbury, MD. Atlantic Technology Services has been an Authorized Toshiba Dealer for more than six years.
Todd Justice, president of Atlantic Technology Services Inc., recommended Toshiba's Strata CIX IP business telephone system to meet AGH's needs.
Installed by Atlantic Technology Services, AGH has a Toshiba business telephone system that consists of:
Result #1: 24/7 Reliability With Redundancy
The Toshiba system met the hospital's goal of 24/7 reliability facilitated by redundancy and survivability solutions across the networked systems to ensure backup in case there is a power or Local Exchange Carrier outage in the area.
Result #2: Internal Admin for More Control
Using Toshiba's Network eManager remote administration tool, Lebedz and his team can now internally manage the entire telephone system using their desk or laptop computers virtually anywhere there is an Internet connection. The team can remotely make adds, moves and changes, as well as system-wide upgrades and other administrative tasks, for all 18 locations.
Result #3: Improved Call Center Capabilities
For the hospital's contact center, Toshiba's Strata ACD provides rules-based call routing to the agents to handle important patient and physician calls. Using TASKE reporting, both the telecommunications team and contact center supervisor can easily run and view reports.
Bottom Line: AGH Gains Reliable Telephone Capabilities While Saving Thousands of Dollars With Toshiba's Strata CIX
Toshiba's Strata CIX telephone systems have met AGH's communications objectives, including:
24/7 reliability facilitated by redundancy and survivability solutions, ensuring that every single call gets through, which has helped support AGH's mission to provide quality care, personalized service and education to improve both individuals and the community;
Ability to remotely self-administrate the system, improving the speed at which changes are made while reducing the need for costly and time-consuming service calls;
System scalability, which allows the hospital to add systems or telephones and applications as needed;
Reduced telecommunication costs by eliminating expensive maintenance and software costs;
Cut-over from previous system without interruption; and
Overall reduced Total Cost of Ownership with a reduction of 62 percent annual costs over the previous system and a 22 percent savings on local telephone charges, resulting in an anticipated return on investment over three years.
"Together, Toshiba and Atlantic Technology Services delivered on our Top 3 goals: 24/7 reliability, the ability to self-administrate, and significantly reduced annual telecom costs. It's a winning combination," said Lebedz.
For an Authorized Toshiba Dealer, Visit: www.telecom.toshiba.com
About Toshiba America Information Systems, Inc. (TAIS)
Headquartered in Irvine, Calif., TAIS is comprised of three business units: Digital Products Division, Imaging Systems Division, and Telecommunication Systems Division. Together, these divisions provide digital products, services and solutions, including industry-leading portable computers; televisions, TV/DVD Combination products, Blu-ray Disc and DVD products, and portable devices; imaging products for the security, medical and manufacturing markets; and IP business telephone systems with unified communications, collaboration and mobility applications. TAIS provides sales, marketing and services for its wide range of products in the United States and Latin America. TAIS is an independent operating company owned by Toshiba America, Inc., a subsidiary of Toshiba Corporation.
About Toshiba
Toshiba is a world leader and innovator in pioneering high technology, a diversified manufacturer and marketer of advanced electronic and electrical products spanning digital consumer products; electronic devices and components; power systems, including nuclear energy; industrial and social infrastructure systems; and home appliances. Toshiba was founded in 1875, and today operates a global network of more than 490 companies, with 203,000 employees worldwide and annual sales surpassing 6.3 trillion yen (US$77 billion). Visit Toshiba's Web site at www.toshiba.co.jp/index.htm.
© 2012 Toshiba America Information Systems Inc. All rights reserved. All product, service and company names are trademarks, registered trademarks or service marks of their respective owners. Information including, without limitation, product prices, specifications, availability, content of services, and contact information is subject to change without notice.
Image Available: http://www2.marketwire.com/mw/frame_mw?attachid=1960693

Add to Digg Bookmark with del.icio.us Add to Newsvine
Toshiba PR Contact:
Teri Sawyer
T&Co.
714-536-8407
Email Contact


Copyright @ Marketwire
Page: 1
Related Keywords:
VoIP, Toshiba phone systems, IP business phone systems, Strata CIX, Atlantic General Hospital, AGH, Manufacturing, Sales, Applications, Manufacturing/Production, Marketing, Manufacturing, Sales & Marketing, Education, Security, Networking, Computer Technology, Internet, Business Issues, Administration, Administration, Server Hardware, Telecommunications, Software/Systems Mgmt, Quality of Service, Server Computers, Security, Administration, Internet Server Applications, Traffic Analysis/Reporting, Web Servers, Management, Sales, Sales, Computers/Peripherals, Internet/Web, Prosumer/Consumer, Business, Network (LAN), Notebook/Laptop/Tablets, DVD Hardware, Internet, Web, Blu-ray/HD DVD, Phone, DVD Hardware, Marketing, USA, Marketwire, Inc., , Surgery, Physician, Healthcare, Appliances, Internet Technology, Medical, Business, Internet, disaster, Other, Medical Professionals,
---