Art Directors Guild to Induct Three Additional Legendary Production Designers Into Its Hall of Fame on February 13, 2010
(October 05, 2009)

LOS ANGELES, CA -- (Marketwire) -- 10/05/09 -- Three legendary Production Designers are to be inducted into the Art Directors Guild's Hall of Fame at the Guild's 14th Annual Excellence in Production Design Awards ceremony to be held at the Beverly Hilton Hotel on February 13, 2010. The Guild's Council has named Production Designers Malcolm F. Brown, Bob Keene and Ferdinando Scarfiotti as its latest Hall of Fame inductees.
In making the announcement, ADG Council Chairman, Thomas A. Walsh, said, "This continues to be a proud moment for our Guild as we look to the past so we may build the bridges to our future. The ADG Hall of Fame recognizes the many achievements of those artists who created and evolved the unique discipline of art direction for the moving image. Their creative legacy continues to inspire and challenge all of those who have chosen the art of production design as their profession and it is appropriate that we honor their memory through their induction into the ADG Hall of Fame."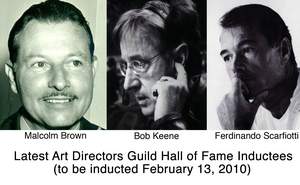 Nominations for the 14th ADG Awards will be announced on January 8, 2010. On awards night, February 13, the ADG will present winners in nine competitive categories for theatrical films, television productions and commercials, along with the Guild's award for Lifetime Achievement, which is being presented to Terence Marsh, and the award for Outstanding Contribution to Cinematic Imagery, which is still to be announced.
ADG Hall of Fame honors, which are given only posthumously, have previously been awarded to John Box, Hilyard Brown, Wilfred Buckland, Henry Bumstead, Edward Carfagno, Carroll Clark, Richard Day, John DeCuir Sr., Hans Dreier, Cedric Gibbons, Stephen Goosson, Anton Grot, Stephen Grimes, Ted Haworth, Dale Hennesy, Harry Horner, Mac Johnson, Romain Johnston, Boris Leven, John Meehan, William Cameron Menzies, Harold Michelson, Van Nest Polglase, Jan Scott, Alexandre Trauner, James Trittipo and Lyle Wheeler.
MALCOLM F. BROWN (1903 - 1967)
Veteran MGM Unit Art Director Malcolm F. Brown designed films as rich and varied as "They Were Expendable" (1945), "The Three Musketeers" (1948), "It's a Big Country" (1951), "Bad Day at Black Rock" (1955), "No Time For Sergeants" (1958), the first season of "The Twilight Zone" (1963-64) and "Cat Ballou" (1965). He was nominated for an Academy Award® for his work on "I'll Cry Tomorrow" (1955) and won the Academy Award® for "Somebody Up There Likes Me" (1957).
BOB KEENE (1947 - 2003)
Production Designer Bob Keene was best known for his work on live television awards shows -- from the Grammys® to the Academy Awards® to the People's Choice Awards®. He won Emmys® for his work on the "Centennial Olympic Games: Opening Ceremonies" (1996) and the "42nd Annual Grammy Awards"® (2000), and was nominated 11 other times. Keene also worked on various tribute shows and Magic Johnson's talk show, "The Magic Hour."
FERDINANDO SCARFIOTTI (1941 - 1994)
Italian Production Designer Ferdinando Scarfiotti originally studied architecture at the University of Rome. He started his career as a Scenic Designer for theatrical productions and operas in Italy and later began designing films. Scarfiotti won an Academy Award® for his work on "The Last Emperor" (1987) and was nominated for "Toys" (1992). He also worked on such films as "Death in Venice" (1971), "Last Tango in Paris" (1972), "American Gigolo" (1980), and "Scarface" (1983). Scarfiotti collaborated with noted directors Luchino Visconti and Bernardo Bertolucci.
Media sponsors for this year's ADG awards are "Below The Line," "Daily Variety," and "The Hollywood Reporter." Awards co-producers are John Janavs and Dawn Snyder. Tarin Wilson of Plan A Events will produce this year's awards ceremony for ADG.
NOTE TO MEDIA: A composite photo of the three inductees is available electronically by contacting Suzanne Parker.
Image Available: http://www2.marketwire.com/mw/frame_mw?attachid=1080134

Add to Digg Bookmark with del.icio.us Add to Newsvine
PRESS CONTACTS:
Murray Weissman & Associates
Lindajo Loftus
Email Contact
Suzanne Parker
Email Contact
Tel: 818.760.8995
Fax: 818.760.4847


Copyright @ Marketwire
Page: 1
Related Keywords:
Art Directors Guild, Broadcast, Broadcast Technology, Production/Post, Production, Film Production, Commercials, Mac, OS9, OSX, Italy, Marketwire, Television, Olympics, Other,
---