Arseus Chooses Webalo for Enterprise Mobility
Speed, Simplicity, and Cost Were Key Selection Factors
(June 27, 2011)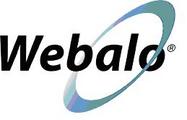 LOS ANGELES, CA -- (Marketwire) -- 06/27/11 -- Arseus is using Webalo to give employees direct mobile access to enterprise data and functionality.
Arseus is a multinational group of companies that provides products, services and concepts for professionals and institutions active in the healthcare sector in Europe, the United States and Brazil. It is subdivided into four divisions and, among other things, is active in the markets for pharmaceutical compounding for pharmacies, dental products, medical and surgical products and medical ICT solutions.
To connect its employees with the enterprise resources they need to transact business from any location, Arseus chose Webalo. "The primary advantages for us are Webalo's speed and simplicity, and both of those can help reduce the cost of enterprise mobility," said Karel Jutte, IM Manager of Arseus. "Without all the steps and complexity of traditional application development, Webalo will let us deploy mobile capabilities much faster, and at a fraction of the cost."
Webalo replaces the purchase and installation of development software, expensive programmers and consulting services, and the ongoing maintenance and upgrading of custom-built mobile applications, with a step-by-step configuration process that easily connects existing enterprise applications and data to smartphones and tablets. Webalo's ability to provide direct access to the specific data and functions that individual users need streamlines interactions with the enterprise and enhances productivity.
"Webalo is easy and fast, but it's also infinitely customizable. Companies can use Webalo to give employees the exact data and functionality they need, and that lets them work more productively directly from their smartphones or tablets," observes Peter Price, Webalo's CEO. "IT benefits, too, because they can accomplish much more while avoiding the creation of a whole new layer of mobile apps that then needs to be maintained and updated. Instead, Webalo lets them easily connect directly to the enterprise applications and data they already have without duplicating capabilities."
More About Arseus
The Belgian company Arseus NV is located in Waregem, and is listed on NYSE Euronext Brussels and NYSE Euronext Amsterdam. The operational activities of the Arseus group are driven by the Dutch company Arseus BV. The head office of Arseus BV is located in Rotterdam. More information is available at www.arseus.com.
About Webalo
Webalo changes the economics of enterprise mobility. It provides the enterprise-to-mobile infrastructure that puts enterprise data and functions on smartphones 100 times faster than traditional approaches to mobile application development, and it provides personalized mobile capabilities that meet the individual needs of any end user.
Webalo technology eliminates the need for traditional mobile application development tools and custom programming to provide -- in hours, instead of weeks or months -- mobile access to the specific enterprise data and functions that smartphone users rely on to do their jobs. Rather than build new mobile applications or purchase proprietary mobile versions of a vendor's enterprise applications, organizations can use Webalo to let administrators easily select, from their existing enterprise applications, the exact data and functions that mobile users need so they can work more efficiently and productively.
Webalo -- available in hosted and virtual appliance versions -- lets non-IT business administrators easily and rapidly configure the connections between smartphones and enterprise apps from vendors such as IBM, Oracle, SAP, and Microsoft, as well as from in-house applications. Then, in seconds, Webalo conforms the settings to the native user interface of any Android, BlackBerry, iPhone, Symbian, Windows Mobile, or Java-enabled smartphone or tablet.
Founded in 2000, Los Angeles-based Webalo is privately held. Additional information about Webalo's products, customers, and partners is available at www.webalo.com and http://www.webalo.com/pr/2011-06-27_Arseus_pr.html. Follow Webalo on Twitter at @WebaloInc.
Editors, note: All trademarks and registered trademarks are those of their respective companies.
Add to Digg Bookmark with del.icio.us Add to Newsvine
CONTACT:
Robert Sax
SAX PR/Marketing
818.508.7660
[email protected]


Copyright @ Marketwire
Page: 1
Related Keywords:
webalo, mobile connectivity platform, enterprise-to-mobile, Arseus, tablet, smartphone, healthcare, medical, Digital Media Software,Communications,Digital Audio,Smart Phone,PDA,iPods,iphone,Applications,Productivity Applications,Business Issues,Software Development,Other Applications,Tools,Business,Programming,PDA/Smartphone,Authoring/Programming,USA,Brazil,Marketwire,IT (Information Technology),Enterprise Applications,Apple Computer,Medical,Business,Other,
---