ArkadinVideo Is Changing the Way Jewelry Retailer Shane Co. Conducts Business
Video Collaboration Reduces Travel Costs and Improves Supplier Relationships
(March 15, 2012)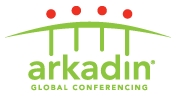 NEW YORK, NY -- (Marketwire) -- 03/15/12 -- For the largest, privately held jewelry retailer in the U.S., web-based high-definition video conferencing is enabling more efficient business operations. Since using ArkadinVideo™ powered by Vidyo®, the company has significantly reduced travel costs, without sacrificing valuable face-time with employees or global suppliers. The simple to use, HD video conferencing service is also a valuable, cost-efficient tool for technical assistance.
Virtual conferences energize staff
Keeping sales staff energized and motivated is essential for Shane Co., especially during peak holiday seasons. Having a tool for virtual face-to-face communications has reduced the need for executives to travel to the 20 stores spread across 13 states without compromising personal interaction. With ArkadinVideo, Shane Co. CEO Tom Shane and regional managers have more frequent face-to-face meetings with store staff. Interactions can extend to all employees simultaneously when using the multi-screen capability.
"The ROI is cake! One set of trips per executive to our 20 stores is easily $20,000 which equates to one year's worth of licenses," says Jim Sullivan, senior director of IT, Shane Co. "With multiple trips throughout the year the travel savings are huge."
Shane Co. plans to roll out ArkadinVideo to global locations where they source gems. "We buy gems all over the world," says Sullivan. "The ability to meet our suppliers virtually with high quality video conferencing will change the way our buyers work. It will save valuable time and resources and also open up the office to more of our staff who will benefit from the face-to-face collaboration."
'Show and tell' technical assistance
Video conferencing is also providing an unexpected benefit in technical support: "Our folks are experts in gems, but when it comes to reconfiguring a wiring scheme on a Cisco router they're at a loss," explains Sullivan. "With video conferencing, my team can point the camera to demonstrate how to swap out the cables in ports. It's a lot easier for the store staff to follow and it saves me the expense of sending in a technician."
ArkadinVideo powered by Vidyo meets all of Shane Co.'s requirements for high quality video conferencing that is simple to use and reasonably priced. The hosted, high-definition, multi-point room system is easy to set up and connect multiple participants from any number of desktops or room locations. Its scalable video coding technology delivers a natural, crisp video with no latency.
"Shane Co.'s experience demonstrates the power of hosted, HD multipoint systems for transforming retailing operations," says Mark Alexander, president of Arkadin North America. "For the first time, retailers have a simple, cost-effective means for bridging distances and enhancing personal relationships with faraway employees and suppliers. We're thrilled Shane Co. is experiencing such high ROI with ArkadinVideo, and applaud them for the creativity they've demonstrated with its use."
For more information please visit http://www.arkadin.com/S-pn-ArkadinVideo_Solution.html
About Arkadin
Founded in 2001, Arkadin is a leading Global Collaboration Service Provider offering a complete range of remote collaboration solutions from audio, web and video conferencing to Unified Communications. Arkadin enables all types and sizes of organizations to communicate and collaborate effectively using its user-friendly and cost-efficient solutions to increase business productivity. With a global network of 49 operating centres in 28 countries across six continents, Arkadin delivers its business solutions using a SaaS model so customers benefit from fast, scalable deployments with a high ROI. Arkadin provides added value to its 25,500 customers with dedicated, local support. www.arkadin.com.
Copyright @ Marketwire
Page: 1
Related Keywords:
Adobe Connect, video and web conferencing, audio conferencing, ArkadinVideo, collaboration , Sales, Sales & Marketing, Internet, Business Issues, Sales, Sales, USA, Marketwire, , Internet Technology, Business,
---