Arkadin Introduces New Ministry of Justice Accredited Conferencing Service for Expediting Hearings in UK Court System
Arkadin Legal Hearings Enables Hearings Beyond Confines of Court Buildings to Drive Legal Efficiencies
(October 17, 2011)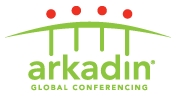 LONDON -- (Marketwire) -- 10/17/11 -- Arkadin, a leading provider of collaboration-as-a-service solutions, today announced Arkadin Legal Hearings, a Ministry of Justice accredited conferencing and digital recording service designed to meet the demands of UK courts for an efficient means to expedite legal hearings in civil cases. With the new service, lawyers can cut out wasteful and expensive travel time, resulting in greater efficiencies and productivity.
"We created Arkadin Legal Hearings to meet the large and growing demand from the courts for a secure and efficient means for conducting legal briefings outside of the physical confines of the court buildings," said Andrew Pearce, General Manager, UK & Ireland, Arkadin. "The attention to detail that has propelled us to a global leadership position in audio conferencing, is reflected in the easy to use, highly secure, custom-built service for the legal profession."
Accredited by the Ministry of Justice, Arkadin Legal Hearings offers recordings on two independent devices which are kept in different locations and backed up daily in line with the stringent security required by the Ministry of Justice.
Key features and benefits for increasing efficiency:
Operator-initiated calls and monitoring
Simple flat-fee billing includes all telecom costs for fixed-line and mobile conferences
Digital recording and CD storage, with transcripts available on request
For more information, please visit: http://www.arkadin.co.uk/S-pn-arkadinlegal.html
About Arkadin
Arkadin is a global Collaboration Service Provider, offering audio, web, and video conferencing, online events, and unified communication solutions. Arkadin enables organizations to communicate and collaborate using customizable, cost-efficient, user-friendly solutions. Founded in 2001, Arkadin has 46 operating centers in 27 countries throughout Asia, Europe, Middle East, Africa and North America, offering a full suite of remote collaboration solutions to more than 14,000 clients. To find out more about Arkadin please visit www.arkadin.co.uk
Copyright @ Marketwire
Page: 1
Related Keywords:
Arkadin, Storage, Security, Internet, Business Issues, Misc, Security, Security, Africa, Ireland, Marketwire, Internet Technology, middle east,
---