Aptora® Releases Aptora Mobile® v3 for the Smart Phone
(April 08, 2011)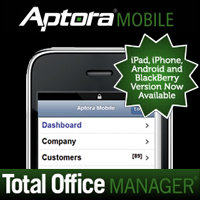 Lenexa, KS (PRWEB) April 8, 2011
Aptora Corporation announced that it has released a major upgrade to its newest field service management software program called Aptora Mobile®. This update allows users to fully manage their work orders and enter time-sheet information using a smart phone. Customer, vendor, and employee information can be accessed and updated. Sales leads and phone messages can be viewed and updated. All changes are made in real-time without the need for synchronization. This upgrade includes dozens of other new features and refinements.
This has been our most ambitious update since Aptora Mobile was first released. This version lays the ground work for even more exciting features and capabilities. says James R. Leichter, company President. James goes on to say as mobile devices and their operating systems become more powerful, Aptora Mobile is positioned to take advantage of the improvements. We built our Aptora Mobile field management software to be highly expandable and this work is our highest priority.
Aptora Mobile is Aptoras latest mobile software program. It allows those who own Total Office Manager to view and edit business information from an iPhone®, iPad, Android, or BlackBerry® mobile device. Technicians can log on and check their calls for the day. Technicians can update work orders and process credit cards. Salespeople can view their sales leads and manage contacts. Employees can check telephone messages as well as manage their daily time-sheets.
Pricing starts at just $2,499.00 for five users and there is a small annual fee. For more information and a free demo, go to http://www.aptora.com/mobile
About Aptora
Aptora specializes in service industry management software. We are perhaps best known for its flagship products Flat Rate Plus® and Total Office Manager®. Since 1995 Aptora has been a leader in flat rate pricing software and pricing books for service businesses. Total Office Manager brings together accounting, dispatching, scheduling, payroll, inventory control, and field service management into a single, easy to use software program. Total Office Manager allows contractors to make better management decisions by knowing exactly where they are making and losing money in their company.
For more information on Aptoras products and services, call 1-877-232-7978 or visit the companys website: http://www.aptora.com
iPhone and iPad are registered trademarks of Apple Inc. BlackBerry is a trademark of Research In Motion Limited. Android is a trademark of Google Inc. Other third-party trademarks belong to their respective owners.
###
Read the full story at http://www.prweb.com/releases/2011/04/prweb5230204.htm.
Page: 1
Related Keywords:
economy, business and finance, financial and business service, business enterprises, business (general), computer crime, fishing industry, cinema industry, radio industry, television industry, music industry, process industry, fishing industry, construction and property, heavy construction, house building, cinema industry, radio industry, television industry, music industry, building material, process industry, fishing industry, cinema industry, radio industry, television industry, music industry, electrical appliance, process industry,
---