Aptora Acquires State of the Art Mobile Field Service Software Technology for Smart Phones, Tablets & Remote Access
(February 23, 2011)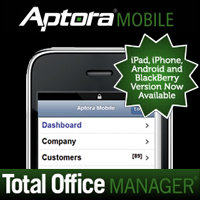 Lenexa, KS (PRWEB) February 23, 2011
Aptora Corporation announced it has acquired newly developed smart phone technology from 1AirData LLC. Aptora licensed this technology but now has purchased the technology outright. Terms of the sale are being kept private.
1AirData is a leading developer of smart phone and mobile technology for devices such as iPhone®, iPad?, Android?, and BlackBerry®. The technology that Aptora has acquired includes a unique and proprietary method for creating fast secure connections of database servers with smart phone devices.
This technology is vital to our smart phone software applications and web based software business. We felt it was in the best interest of our clients to own the technology so that we had full control over its quality and feature set. Says James R. Leichter, company President.
Please visit the Aptora Mobile Service Software page at http://www.aptora.com/mobile.
About Aptora
Aptora specializes in service industry software, perhaps best known for its flagship products Flat Rate Plus® and Total Office Manager®. Since 1995 Aptora has been a leader in flat rate pricing software and pricing books for service businesses. Total Office Manager brings together accounting, dispatching, scheduling, payroll, and inventory control into a single, easy to use program. It allows contractors to make better management decisions by knowing exactly where they are making and losing money in their company.
Aptoras newest product is called Aptora Mobile?. This state of the art software will allow those who own Total Office Manager to view business information from an iPhone®, iPad?, Android?, or BlackBerry® device.
Click here for more information on Aptoras service software and other products, or call 1-877-232-7978.
iPhone and iPad are registered trademarks of Apple Inc. BlackBerry is a trademark of Research In Motion Limited. Android is a trademark of Google Inc. Other third-party trademarks belong to their respective owners.
###
Read the full story at http://www.prweb.com/releases/aptora-service-software/field-service-management/prweb5092714.htm.
Page: 1
Related Keywords:
computer crime, software, fishing industry, cinema industry, radio industry, television industry, music industry, process industry, fishing industry, construction and property, heavy construction, house building, cinema industry, radio industry, television industry, music industry, building material, process industry, economy, business and finance, financial and business service, business enterprises, business (general), restraint of trade, international (foreign) trade, trade dispute, trade agreements, trade policy, trade balance,
---