Apple iPad Trend Data Commences New Mobclix Index Series
Monthly Infographics Will Reveal New Insights on User Behavior and Advertising Opportunities in the Mobile Ecosystem
(August 02, 2010)

PALO ALTO, CA -- (Marketwire) -- 08/02/10 --

CORE NEWS FACTS
Mobclix today launched the Mobclix Index, a new monthly series of infographics based on Mobclix's sophisticated analytics platform and advertising impressions served by Mobclix.
The Mobclix Index aims to shed more light on the constantly shifting mobile ecosystem by illustrating new trends and findings about platforms including Apple's iPhone and iPad, Google Android, Research In Motion's BlackBerry and Windows Mobile 7.
Recent game-changing shifts by the industry's key players have fostered a growing demand for insightful data into what's happening in the mobile space right now, therefore the goal of the Mobclix Index is to satisfy that need.
To commence this new program, the July Mobclix Index provides key findings about advertising performance on the iPad. Based on advertising data resulting from the total number of iPad ads(1) served by Mobclix (300MM impressions per month on average), the overall takeaway reveals increased engagement levels happening on gaming apps played on the iPad versus the iPhone (details below).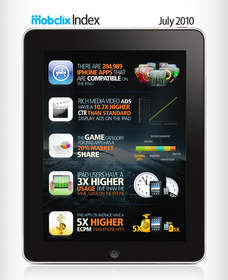 (1) Data based on Mobclix iPad SDK activity starting from the first day iPad apps were available in the App Store (4/1).
MOBCLIX INDEX (July 2010) -- APPLE IPAD INSIGHTS
Compatibility Matters: Out of the 295,488 iPhone apps currently available on the App Store, 284,989 apps are compatible on the iPad (as of 6/23).
Rich Media Needed To Increase Conversions: Compared to standard display banner ads on the iPad, rich media video ads have click-through rates that are 11 times higher.
Gaming Apps Continue to Dominate: Of the 15,547 iPad-specific apps, the Game category has 20 percent of the market share (approximately 2,266 apps, as of 6/23) on the App Store.
Advertisers Can Find More Engaged Users on iPad: The time spent by iPad users on their gaming apps is three times higher (about 10 minutes more) than iPhone users on the same app.
Developers Can Earn More from iPad Apps: On average, iPad apps can command eCPMs that are five times higher than that of iPhone apps.
QUICK COMPANY FACTS
Mobclix is the industry's largest targeted mobile ad exchange -- the first open marketplace for mobile developers, advertisers, ad networks and agencies.
Mobclix is a privately held company headquartered in Palo Alto, Calif.
Launched in 2008, Mobclix was named an AlwaysOn 250 company and won the ad:tech Limelight award.
PRE-APPROVED QUOTES
FROM KRISHNA SUBRAMANIAN, MOBCLIX CO-FOUNDER
"Given the recent shifts in the mobile space, Mobclix noticed an increasing demand for industry analysis and insights on current trends. Having the sophisticated and in-depth analytics required to fulfill this need, we created the Mobclix Index to help make our data more accessible and visually appealing," says Krishna Subramanian, Mobclix Co-founder. "Ultimately, we hope that our new series of infographics will provide everyone in the industry with the information that they need to successfully navigate through the mobile ecosystem."
"It comes as no surprise that gamers tend to spend more time on the iPad versions of their gaming apps -- as much as three times more. This is because the iPad is better suited for gamers than the iPhone with its larger screen and enhanced accelerometer," says Krishna Subramanian, Mobclix Co-founder. "As a result, gaming apps are more appealing to advertisers looking to increase their conversion rates. In turn, iPad games have become much more lucrative for developers than their iPhone counterparts, commanding eCPMs that are five times higher."
Image Available: http://www2.marketwire.com/mw/frame_mw?attachid=1321682

Add to Digg Bookmark with del.icio.us Add to Newsvine
PRESS CONTACTS:
Colleen Wickwire
SHIFT Communications
(415) 591-8414
Email Contact


Copyright @ Marketwire
Page: 1
Related Keywords:
mobile marketing, mobile advertising, ipad, iphone, apple, mobclix, data, analytics, applications , Marketwire,Apple Computer,Gamers,
---