Apple iPad Includes iPeriod App in Launch
"When iPad Adds Wings, iPeriod Will Be There"
(April 02, 2010)
SILICON VALLEY, CA -- (Marketwire) -- 04/02/10 -- Winkpass Creations, Inc. ecstatically announced today that their iPeriod app will be included as the 'chosen few' in Saturday, April 3rd's launch of Apple's iPad. The iPeriod app has been a best selling app on the iPhone since the beginning of the App Store and recently was given the ultimate street cred in the developer's world as an Apple Pick. The iPeriod Ultimate for iPad optimized now will be able to reach more Maxi, SuperPlus, Super, Regular, and Slim users -- the iPad ones. When iPad adds wings, iPeriod will be there.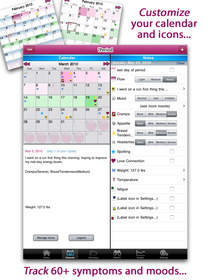 "The iPad without iPeriod would be like 'Ben' without 'Jerry,' a lock without a key, or salt without pepper," said Cheryl Atkinson-Derman, co-founder of Winkpass Creations. "To be included as one of the only iPad-optimized menstrual apps is like 'Always' being on aerodynamic wings."
An iPeriod user commented that "Thanks to iPeriod, I now know within minutes when my body will adjust and be transformed into a homicidal, Motrin-popping, knife throwing, foaming from the mouth, venom spewing slayer of words when Aunt Flo comes to town. Kudos to iPad for being smart enough to realize how crucial it is to add iPeriod to your app offerings. I now feel safe, confident and leak guard secure."
How to get your iPeriod for your iPad:
http://itunes.apple.com/us/app/iperiod-ultimate-for-ipad/id364867853?mt=8
iPeriod Ultimate for iPad Features:
discreet icon name "ip" and password protected
15 free skins for unique personalization
predicts future 12 periods, ovulation and fertility and remembers last period dates
alerts when period is expected or late via in-app and email
records symptoms as often as every day (flow, cramps, spotting, weight, bbt and love connections)
tracks moods
records freeform notes associated with your period (pms, weight, energy levels, headaches, etc.)
calendar view with icons representing your notes and offers graphical data
pregnancy mode that turns off period and fertility predictions and calculates a due date.
Unlike other menstrual tracking applications, the iPeriod Ultimate for iPad will allows users to dynamically customize what they see on the calendar, view multiple graphs at once and choose visually stunning themes. iPad users will also benefit from a larger screen that will allow iPeriod app users to view a lot more data and a more efficient way to jot down symptoms.
Coupon Codes
Pricing for the iPeriod is $3.99 and requires OS 3.2 or higher. If you are a member of the media and would like to review the iPeriod Ultimate for iPad coupon codes are available, simply contact [email protected].
About Winkpass Creations, Inc.:
Winkpass Creations is headquartered in Scotts Valley, CA and was founded by husband and wife team, Leon and Cheryl Atkinson-Derman in 2008. Leon has over twenty years experience working in high tech and has helped create everything from aerial imaging sensors to the world's first standoff iris scanner. Cheryl's experience in education as a teacher and in high tech as a web designer lends both a humanistic and artistic perspective to the design and implementation of Winkpass' iPhone apps. With the emergence of the iPhone, Cheryl and Leon quickly became Mac fanatics and currently the company offers multiple applications for sale on iTunes. For further information visit www.winkpass.com.
Image Available: http://www2.marketwire.com/mw/frame_mw?attachid=1214389

For Further Information Contact:
Carole Sinclair, SteppingOut Communications
Email Contact, (c) 925.818.1038


Copyright @ Marketwire
Page: 1
Related Keywords:
iPad app, iPeriod, iPad, Menstrual iPad app, Apple pick, Winkpass, iPhone app, iPeriod Ultimate, ,Mac,OS9,OSX,Marketwire,Apple Computer,Internet Technology,Email,Other,
---