Appia Secures $10 Million Investment from Venrock
(March 30, 2011)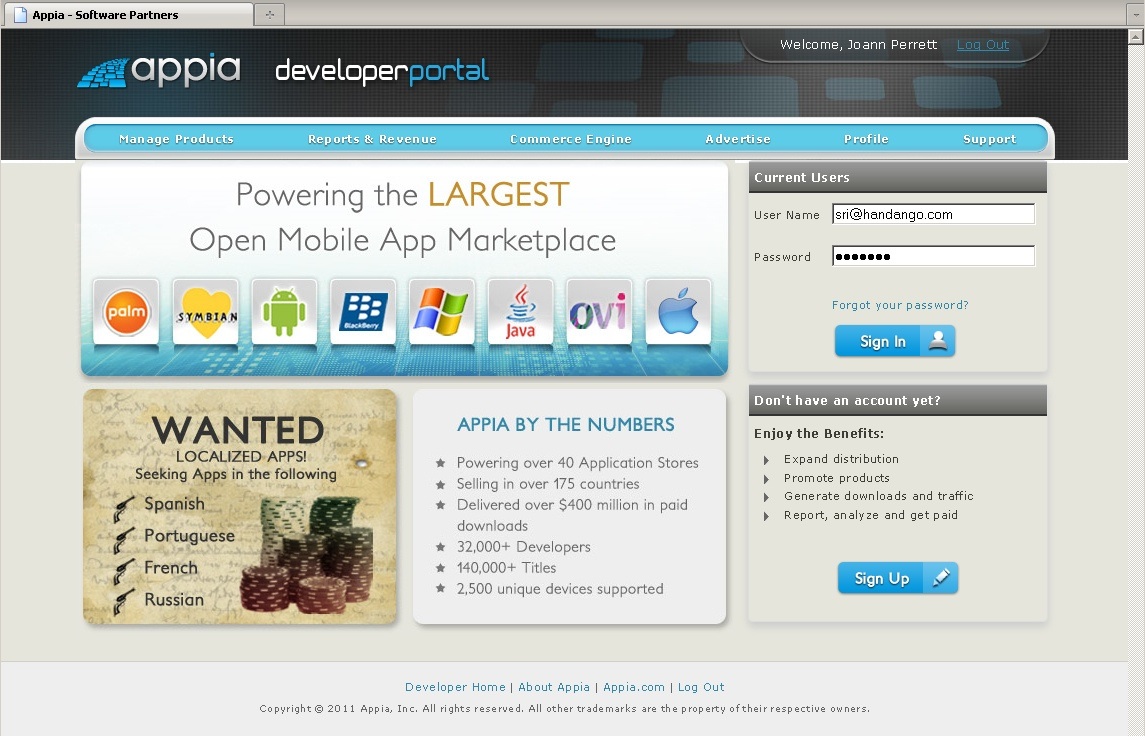 Durham, NC (Vocus/PRWEB) March 30, 2011
Appia, the worlds largest open app marketplace, today announces that it has secured a $10 million investment from Venrock. Appia will use the new capital to accelerate product development of its open app marketplace and launch app stores for partners around the world. Dev Khare, Vice President at Venrock, has joined the companys board of directors.
Appias strategy of powering white-label open app marketplaces recently earned Appia a ranking of #15 on the Wall Street Journals list of the top 50 venture-backed companies out of a field of over 5,700 companies. Appia also recently announced partnerships with Opera Software, the #1 Web browser for smartphones, to power the Opera Mobile Store for more than 100 million users, as well as with Telcel, Mexicos largest operator, to power the Ideas Appstore for Telcels 64 million subscribers.
We are extremely impressed with this teams vision and experience within the Web and mobile ecosystems, as well as Appias success powering app stores for mobile operators, device OEMs and mobile software partners around the world, said Dev Khare at Venrock. For established Web and mobile publishers as well as emerging application developers, Appia is fast becoming a key distribution channel to consumers globally.
Venrocks expertise working with entrepreneurs in the mobile and Internet space adds tremendous value to Appia as we continue to gain traction and momentum with our open app marketplace, said Jud Bowman, founder and CEO, Appia. We are honored that Appia is now a Venrock company.
"Independent app stores will continue to be a major driver for the global premium mobile content and applications opportunity," said Vikrant Gandhi of Frost & Sullivan. "An open strategy is important to help support the growth of the smartphone applications industry by providing better choices for consumers, and by giving multiple options to content owners for their distribution strategy."
Frost & Sullivan predicts that total downloads from smartphone app stores are expected to increase globally from 9.6 billion in 2010 to more than 120 billion by 2015.
App developers interested in distributing their applications through Appias marketplaces should visit the Appia Developer Program at dev.appia.com.
About Appia
Appia is the world's largest open app marketplace and white label storefront platform, supporting all operating systems and handsets. Ranked #15 on the Wall Street Journals 2011 list of Top 50 Venture-backed companies, Appia powers app storefronts for more than 40 partners reaching more than 200 million mobile subscribers in 200 countries and counting. Customers include four of the world's top five handset manufacturers, three of the top four mobile operators in the US, and three of the top ten mobile operators globally. Partners include Opera, Samsung, T-Mobile, AT&T, and Verizon Wireless.
The Appia Developer Program provides partners with a ready to launch catalog of over 140,000 paid and free apps from more than 30,000 global application developers.
Appia is headquartered in Durham, NC with offices in Dallas, TX, and Munich, Germany. For more information, please visit http://www.appia.com or follow @Appia.
About Venrock
Venrock is a premier venture capital firm with offices in Palo Alto, CA; New York, NY; and Cambridge, MA. Originally established as the venture capital arm of the Rockefeller family, Venrock continues an eight-decade tradition of partnering with entrepreneurs to establish successful, enduring companies. Having invested $2.6 billion in 450 companies resulting in 128 IPOs and 137 M&As over the past 40 years, Venrocks investment returns place it among the top tier venture capital firms that have achieved consistently superior performance. Venrocks focus is on technology, healthcare, and energy companies. Major technology investments have included Adify, Apple Computer, Athenahealth, Check Point Software, DoubleClick, Intel, Qpass, StrataCom, and Vontu. For more information, please visit Venrocks website at http://www.venrock.com or follow us on Twitter @venrock.
Contacts
Eric Gonzalez
VSC PR for Appia
415-272-0836
eric(at)vscconsulting(dot)com
Nicole Pack
Venrock
650-475-3721
nicole(at)venrock(dot)com
# # #
Read the full story at http://www.prweb.com/releases/2011/3/prweb8252386.htm.
Page: 1
Related Keywords:
internet, computing and information technology, satellite technology, wireless technology, science and technology, technology (general), identification technology, agricultural research and technology, arts, culture and entertainment, entertainment (general), entertainment award, computer crime, Commonwealth Games, Winter Goodwill Games, Summer Asian Games, Winter Asian Games, Panamerican Games, African Games, Mediterranean Games, SouthEast Asiatic Games, PanPacific Games, SouthPacific Games, PanArabic Games, Summer Goodwill Games, World games, paralympic games, consumer goods, consumer issue,
---