AppAssure's Performance Significantly Outperforms Symantec Backup Exec in Technology Tests
OpenBench Labs Finds AppAssure up to 40x Faster Than Symantec Backup Exec 2010 R2
(November 04, 2011)

RESTON, VA -- (Marketwire) -- 11/04/11 -- A new lab report released by OpenBench Labs, an independent technology testing and consulting firm, found that AppAssure Software, the global leader and award-winning developer of unified backup and replication software for virtual, physical and cloud environments, dramatically outperformed Symantec® Backup Exec 2010 R2 in speed, storage utilization and functionality.
"AppAssure completely revolutionizes data protection with its changed-block tracking technology for virtual or physical servers. Not only does this technology provide backups that are up to 40x faster and 100x smaller than file-based backups, but also it has no boundaries on the format for backing up and restoring systems," stated Jack Fegreus, Founder and Managing Director of OpenBench Labs. "More importantly, AppAssure's very fast backups include deep verification of application recoverability. As a result, IT can easily maintain a warm standby VM of any mission-critical production server (virtual or physical) that is distinguished by a five-minute RPO and RTO for Disaster Recovery. No data protection software tested by OpenBench Labs has been able to match AppAssure's ability to provide a warm VM for both virtual and physical production servers while maintaining a five-minute RPO as well as a five-minute RTO."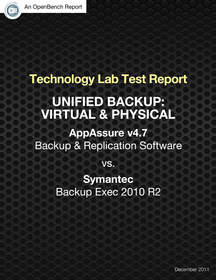 In a series of disk-to-disk backup and restore tests, OpenBench Labs compared AppAssure's Backup & Replication software with Symantec Backup Exec 2010 R2. In initial full backup tests with and without data deduplication, AppAssure's software was an outstanding 7x faster. The speed difference between AppAssure and Backup Exec became more dramatic in on-going backup operations constrained to minimize storage utilization. When configured to achieve similar storage utilization, AppAssure's incremental backups of a server running Microsoft® Exchange were up to an astounding 40x faster than Backup Exec with data deduplication. These tests went on to demonstrate how AppAssure, with its innovative Live Recovery™ technology, is able to restore a Microsoft Exchange email database with zero-perceived restore time and no measurable impact on email processing. Read the full OpenBench Labs review.
"These tests confirm that our commitment to building the innovative and cutting-edge products produced the fastest backup and replication software in the industry," said Najaf Husain, AppAssure Software's President and CEO. "AppAssure was engineered from the ground up for high-performance and scalability for both virtual and physical servers which power today's private and public clouds. This lab report confirms that our software exceeds the performance of legacy backup products which were developed a long time ago and merely retrofitted for modern IT environments."
To request a demo or free trial software, please visit http://go.appassure.com/free-trial
Pricing and Availability
AppAssure Backup & Replication starts at $899 USD. For further information, please contact AppAssure Software at 1-866-459-6653 or visit the company's website at www.appassure.com.
About AppAssure Software
AppAssure, the global leader in complete server, data and application protection, for virtual, physical and cloud infrastructures, delivers customer-proven backup and replication software that assures the recovery of applications in minutes. AppAssure's groundbreaking technology uniquely guarantees instant and 100% reliable data and application recovery from your server to your datacenter -- to your cloud. AppAssure's innovative software permits VMware backup, Hyper-V Backup, Windows Server backup, Microsoft Exchange Server backup, and goes beyond protecting data, to protecting entire applications in both virtual and physical environments, enabling service providers and enterprises to adopt a cloud model to deliver fast, reliable and secure data protection. With 3,450% growth over the past three years and more than 5,000 customers, partners and service providers in over 50 countries, AppAssure is the world's fastest growing backup and replication software company, ranked by Inc. Magazine. The company has now posted 18 consecutive quarters of growth. Learn more about AppAssure Software by visiting http://www.appassure.com/.
Social Media Links
Website: http://www.AppAssure.com
Blog: http://blog.AppAssure.com
Twitter: http://www.AppAssure.com/twitter
Facebook: http://www.AppAssure.com/facebook
Image Available: http://www2.marketwire.com/mw/frame_mw?attachid=1790056

Add to Digg Bookmark with del.icio.us Add to Newsvine
Media Contact:
Ann McDonough
AppAssure Software
[email protected]
+1-866-459-6653


Copyright @ Marketwire
Page: 1
Related Keywords:
backup and replication, data protection and disaster recovery, virtual machines, MS Exchange backup, Applications,Storage,Database,Internet,Software,Misc,Database,Backup,Internet Server Applications,E-mail,Web Servers,Marketwire, ,Email,disaster,
---