AppAssure Backup Wins the 2012 Award From Virtualization Review
AppAssure Backup Voted as the ISV Winner of the Virtualization Review Readers Choice Award; Winner for Virtualization Business Continuity
(January 05, 2012)

RESTON, VA -- (Marketwire) -- 01/05/12 -- Virtualization Review today announced that AppAssure backup, replication and recovery software, the #1 Backup for VM, physical & Cloud environments, won the Readers Choice Award as the Business Continuity ISV Winner. Virtualization Review is the first and only print publication solely devoted to IT virtualization. The 2012 awards are chosen by the readers of Virtualization Review and presented to vendors in 14 categories ranging from Server Virtualization to Virtualization Security.
AppAssure is a long-time backup industry innovator of data protection products that support multi-hypervisor environments including VMware® vSphere®, Microsoft® Hyper-V™ and Citrix® XenServer™. Customers and partners are thrilled that AppAssure won the 2012 Virtualization Review award. Bryan Badger, a Senior Systems Engineer at Integral Networks, an AppAssure partner, said, "We use AppAssure with VMware vSphere and Citrix XenServer at our data center, and we use it with Microsoft Hyper-V at our client sites. AppAssure holds up day after day no matter what we throw at it." According to Herb Thornton, Network Administrator at Brundage Bone, an AppAssure customer, "We had problems with starting some of our virtual servers at a remote location, but AppAssure recovered VMs within 20 minutes." Nick Bock, co-founder of Five Nines, an AppAssure partner, added, "One of our clients had virtual servers running on VMware which had crashed. With AppAssure, instead of a couple of days of disaster recovery, the client never lost a business minute."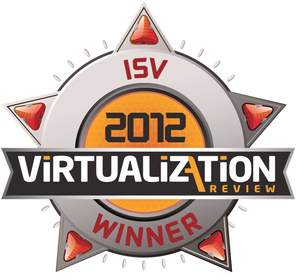 Virtualization Review readers voted on more than 250 products and responses were collected during a one-week period. A team of editors reviewed the results to ensure that they legitimately came from readers. The winners are highlighted in the December 2011/January 2012 issue. A downloadable PDF of the article is also available at VirtualizationReview.com.
"The Annual Readers Choice Awards again provides a close-up opportunity to assess the dynamic vendor innovations taking place across the virtualization and cloud industry," said 1105 Enterprise Computing Group Vice President, Publishing, Matt Morollo. "This effort is managed with the utmost integrity to provide the ecosystem of IT virtualization adopters with a detailed look at best-of-breed technologies. Additionally, from the platform perspective of VMware, Citrix and Microsoft, the results also convey strong adoption trends, in addition to providing an extensive menu of features these vendors have developed. Finally, Virtualization Review is the leading vendor ecosystem advocate, and the Readers Choice Awards and associated Buyer's Guide provide a great resource for IT organizations working to optimize their virtual environments with advanced, innovative solutions."
"There is so much happening in the world of virtualization and cloud computing, that it is all I can do each day to sort through the never-ending deluge of new product and company announcements that stack up in my e-mail box," said Bruce Hoard, editor in chief of Virtualization Review. "That's fine, though, because it's my job. It is not, however, the job of readers, who have precious little time to stay on top of the industry while they toil away in the trenches and management offices. In this high-speed environment, the annual Virtualization Review Readers Choice Awards and Ultimate Buyer's Guide is a welcome reprise from the usual, frantic pace, and we design it to offer the biggest bang for our audience's reading buck. What it all adds up to is a unique opportunity to see which products our readers' prefer, and then read about how they fit into the 14 product categories we provide. This year, we've included more products and companies than ever before."
"We are honored that Virtualization Review and its community of readers awarded AppAssure backup as the ISV Winner in the Virtualization Business Continuity category," said Najaf Husain, AppAssure's President and CEO. "This award is a testament to our focus on the needs of our customers and partners and our commitment to deliver the best backup technologies for VMware, Hyper-V and XenServer users."
AppAssure provides the fastest unified and application-aware backup and replication software for virtual and physical servers and offers three new technologies:
Live Recovery - instant recovery for near-zero RTO and RPO for VM and physical servers
Assured Recovery - sets a new standard in data protection with automatic recovery testing and verification technology, assuring the recoverability of every VM and physical server
Universal Recovery - cross-platform recovery that restores backups from anywhere to anywhere: from physical to virtual, virtual to virtual, or virtual to physical, as well as bare-metal recovery to dissimilar hardware (P2V, V2V, V2P); it includes granular object level recovery with application-item and file-level recovery
About Virtualization Review
1105 Enterprise Computing Group's Virtualization Review is the independent guide to the products, vendors, issues and technologies transforming IT through virtualization and cloud computing. Virtualization Review is the only print publication specifically targeting those IT executives, directors and administrators on the leading edge of this revolution. Visit the Web site for news, analysis, trends, product reviews, roadmaps and best practices on all aspects of IT virtualization including servers, storage, PCs, desktops, applications, management and more. For more information, visit VirtualizationReview.com.
About AppAssure Software
AppAssure is the global leader in complete server, data and application protection, for virtual, physical and cloud infrastructures. It delivers customer-proven backup and replication software that assures the recovery of applications in minutes. AppAssure's groundbreaking technology uniquely guarantees instant and 100% reliable data and application recovery from your server to your datacenter or to your cloud. AppAssure's innovative software simplifies VMware backup, Hyper-V backup, Windows Server backup, Microsoft Exchange Server backup. It goes beyond protecting data to protect entire applications in both virtual and physical environments and it enables service providers and enterprises to adopt a cloud model to deliver fast, reliable and secure data protection. AppAssure is an Elite VMware Technology Alliance Partner and Microsoft Gold Certified Partner. With 3,450% growth over the past three years and more than 5,000 customers, partners and service providers in over 50 countries, AppAssure is the world's fastest growing backup and replication software company, ranked by Inc. Magazine. The company has now posted 18 consecutive quarters of growth. Learn more about AppAssure Software by visiting http://www.appassure.com/.
Social Media Links
Website: http://www.AppAssure.com/
Blog: http://blog.AppAssure.com/
Twitter: http://twitter.com/AppAssure
Facebook: http://www.facebook.com/AppAssure
Image Available: http://www2.marketwire.com/mw/frame_mw?attachid=1842712

Add to Digg Bookmark with del.icio.us Add to Newsvine
Media Contact:
Ann McDonough
AppAssure Software
Email Contact
+1-866-459-6653


Copyright @ Marketwire
Page: 1
Related Keywords:
virtual machines, backup and replication, VMware backup, Hyper-V backup, Applications, Storage, Security, Internet, Hardware, Cloud Computing, Software, Misc, Backup, Networks, Security, Security, Internet Server Applications, E-mail, Web Servers, Management, CEO/CFO, Marketwire, , Gold, Internet Technology, Engineering, Business, disaster,
---