Apakau(TM) Announces Xylem(TM) Data Delivery Network at DEMO Enterprise 2014
Apakau Data Delivery Network for Enterprise Mobile and Web Applications to Be Featured in the Cloud Tools and DevOps Category on the DEMO Stage
(April 03, 2014)
SAN FRANCISCO, CA -- (Marketwired) -- 04/03/14 -- Apakau Inc. (apakau.com) today announced that it will demonstrate its new enterprise solution Xylem Data Delivery Network (DDN) at DEMO Enterprise 2014, the world-renowned launch pad for the most innovative companies in enterprise, mobile, cloud computing, consumer, and social media technologies.
Apakau Xylem is an enterprise Data Delivery Network that assures lowest real-world data latency and maximum uptime for enterprise mobile and web applications.
DDN Alleviates Latency to Deliver Mobile and Web Transactions More Quickly and Reliably
Numerous studies show the detrimental effect of mobile and web latency on business productivity, customer experience, SEO rankings and conversion rates. Users expect mobile and web applications to perform quickly and reliably, and these expectations continue to rise.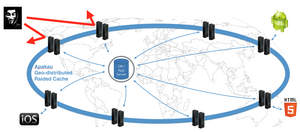 Additionally, enterprise web and mobile applications face an ever-increasing threat landscape, including more sophisticated denial of service (DoS) attacks. Outages caused by DoS attacks diminish business productivity and jeopardize revenues, public image, and user loyalty.
The current strategy for mitigating risks of outages and minimizing latency relies on content delivery network (CDN) technology that caches content files -- but not application data -- at the edge nodes of the Internet, close to users. However, even with CDNs configured to optimize the performance of images, videos and files, enterprise mobile and web applications still experience latency when accessing data stored at, or processed by, remote origin databases or application servers. These servers are also exposed to DoS risks.
Xylem DDN Geo-Distributed Architecture Reduces Latency and Improves Reliability
Xylem DDN achieves low latency and maximum uptime using Xylem's geo-distributed architecture to intelligently cache application data at the edge nodes of the Internet, very close to users. Key benefits include:
Reduces data latency up to 90% compared to traditional methods of data access
Prevents outages due to traffic spikes or DoS attacks
Caches and routes critical application data to mask the address of the origin application server or database for heightened security
Maximizes data security from the origin all the way to the user by end-to-end encryption
Reduces both capital and operating expenses, and carbon footprint
These benefits can be realized through the simple incorporation of Xylem's application programming interface (API) suite for enterprise HTML5, iOS and Android applications. Whether cloud or legacy datacenter, no change is required to the existing application or datacenter infrastructure. Xylem also works hand in hand with content delivery network (CDN) services and/or application delivery controller (ADC) services to reduce latency and maximize uptime. Xylem dashboard provides key real-time information about latency, traffic, and threats on a geographical map.
"After traveling the country and vetting hundreds of companies on the DEMO Tour, we are excited to select Apakau to be one of the 27 companies launching new products solving big problems at DEMO Enterprise," said Erick Schonfeld, executive producer at DEMO.
Apakau will provide a live demonstration of Xylem on the DEMO Enterprise 2014 stage at 2:30 p.m. on April 3, 2014 and will host live demonstrations today at Booth D14 in the DEMO Enterprise 2014 pavilion.
ABOUT APAKAU
Based in San Francisco, California, Apakau provides a data delivery network that helps enterprises around the globe securely deliver and exchange data with their geo-distributed users, on mobile devices and desktop, achieving lowest real-world latency and maximum uptime. For more information on our solutions, visit apakau.com and follow us on Twitter @apakau_inc
ABOUT DEMO
Produced by the IDG Enterprise events group, the worldwide DEMO conferences focus on emerging technologies and new products innovations, which are hand selected from across the spectrum of the technology marketplace. The DEMO conferences have earned their reputation for consistently identifying cutting-edge technologies and helping entrepreneurs secure venture funding and establish critical business. For more information on the DEMO conferences, visit http://www.demo.com/.
All product and company names herein may be trademarks of their registered owners.
Image Available: http://www2.marketwire.com/mw/frame_mw?attachid=2558172

Add to Digg Bookmark with del.icio.us Add to Newsvine
CONTACT
Fadel Darwish
VP of Business Development
Office Phone: 650-532-3355
On-Site Phone: 650-532-3355
E-mail: Email Contact
DEMO Booth: D14


Copyright @ Marketwire
Page: 1
Related Keywords:
Applications, Security, Database, Internet, Business Issues, Cloud Computing, Threats, Architecture, Security, Social Media, Internet Server Applications, Social Network, Web Servers, infrastructure, Mac, Android, Marketwire, Inc., IT (Information Technology), Security, Internet Technology, Business, Internet,
---