Announcing: The "Add 3 Percent Movement," a Plan to Reduce U.S. Unemployment by L.A. CPA Gary Barnbaum
(June 07, 2012)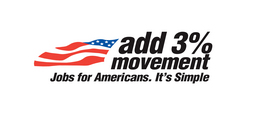 WOODLAND HILLS, CA -- (Marketwire) -- 06/07/12 -- Los Angeles CPA Gary Barnbaum, an experienced and imaginative accountant, management consultant and author, today announced the launch of the "Add 3 Percent Movement," an innovative and voluntary program to reduce private sector unemployment across America. With historically-high unemployment gripping the nation, the Add 3 Percent Movement challenges companies with 100+ employees to add just 3% more to their workforce. By encouraging larger companies to join the movement, out of a sense of patriotism as well as a way of giving back to the local economy, Mr. Barnbaum believes the movement will significantly restore a sense of pride to American companies while decreasing devastatingly-high unemployment rates, restoring the health of the economy.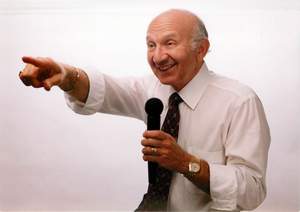 According to the U.S. Census Bureau there are roughly 110,000 companies with 100 or more employees operating in the USA. Those companies, in total, employ about 93 million people or 2/3 of the workforce employed. At their level of operations, Mr. Barnbaum says these companies could easily afford to add 3% to their payroll. By doing so, they would create jobs for roughly 2.8 million people, reducing the unemployment rate to about 7% from the current 8.2% (as of May 2012).
"According to CPAs," says Mr. Barnbaum, "3% is generally not considered a statistically material or significant amount. Yet if all large employers would add just 3% to their payrolls, it would put an enormous amount of people to work. As a voluntary effort, companies that are now sitting on enormous amounts of cash could initiate a self-starting stimulus that could put America back on top."
Remembering the late President John F. Kennedy's legendary inauguration message in 1961, "Ask not what your country can do for you, ask what you can do for your country," Mr. Barnbaum notes, "Management needs to help their country at this critical time. Joining the Add 3 Percent Movement would be an example of true, good corporate citizenship and it wouldn't hurt their public relations efforts in making a statement about their willingness to give back to the economy."
To initiate the Add 3 Percent Movement, Gary has made his own call to action with a short video message addressing America's companies and potential labor force. In it, he asks companies to share the burden of reversing the high unemployment rate that has swept America over the past few years, by taking immediate action in joining the Add 3 Percent Movement. He also asks for volunteers to help him reach out to the thousands of companies, nationwide, asking for their voluntary involvement.
As the Add 3 Percent Movement progresses, www.add3percentmovement.org will track and report those companies that have joined the movement and those who have refused to take part. Mr. Barnbaum hopes that by keeping companies accountable in this way, more will choose to join, increasing the Movement's momentum while simultaneously creating an initiative for companies to proactively make a difference by employing local labor as opposed to overseas or foreign labor.
Gary M. Barnbaum is a certified public accountant and a certified management consultant in Woodland Hills, CA. He is the author of the book, "How to Start and Manage a Business of Your Own." He has been a guest instructor for graduate business courses at UCLA and a speaker on various business and tax issues.
Embedded Video Available: http://www2.marketwire.com/mw/frame_mw?attachid=2005964
Image Available: http://www2.marketwire.com/mw/frame_mw?attachid=2005959

Add to Digg Bookmark with del.icio.us Add to Newsvine
For more information please contact:
Gary Barnbaum, CPA, CMC
818 340-4511 (ext. 101)
Email Contact
www.youtube.com/watch?v=S-qjFx5CKTk


Copyright @ Marketwire
Page: 1
Related Keywords:
unemployment, workforce, economy, American companies, Add 3 Percent Movement, Gary Barnbaum, CPA, USA, Marketwire, Business,
---