Announcing Call for Exhibitors and Sponsors for 10th Annual ISQED Conference
March 16-18, Doubletree Hotel, San Jose, California
(February 04, 2009)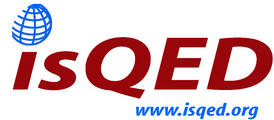 SAN JOSE, CA -- (Marketwire) -- 02/04/09 -- The International Society of Quality Electronic Design (ISQED) announced today it is now accepting exhibit and sponsorship applications from leading companies to showcase their products and services to the participants during the 10th anniversary of their ISQED'09 conference. Companies and organizations involved in all aspect of electronic design, including design automation tools and solutions, chip and system design, semiconductor manufacturing, test and verification, reliability and failure analysis, IC packaging, etc., are invited to exhibit.
The ISQED'09 exhibit floor opens on Tuesday, March 17 at the Doubletree hotel in San Jose, California. The exhibit floor includes over 50 technical presentations and posters, refreshments, live music and several Apple iPod drawings. The list of past exhibitors includes, Accellera, ARM, Cadence Design Systems, CMP, BluePearl, IEEE, Library Technologies, Mentor Graphics, Microsoft, Semi, Si2, Silvaco, SVTI and Synopsys.
The ISQED'09 conference is being held on March 16-18 and includes 7 keynote speeches, panel discussion, 8 tutorials and over 150 technical papers. ISQED'09 recipients of the prestigious IQ-Award and best paper awards will be announced during a luncheon ceremony, sponsored by Synopsys, on Tuesday, March 17th. The ISQED'09 Quality Award is sponsored by Mentor Graphics, and the best paper awards are sponsored by Magma Design Automation and Synopsys.
ISQED'09 corporate sponsors include Synopsys, Mentor Graphics, Magma Design Automation, and the Silicon Valley Technical Institute. Media sponsors include EDACafe Chip Design and System-Level Design (SLD) publications. ISQED'09 is held with technical sponsorship of the IEEE Electron Devices Society, and IEEE CASS, and in cooperation with IEEE Reliability Society, and ACM/SigDA. The conference is produced and sponsored by the International Society for Quality Electronic Design. For more information regarding the tutorials, conference, vendor exhibitions, workshops, and hotel registration visit http://www.isqed.org.
For exhibit and sponsorship info, please contact Stacie Suter at 408-573-0100 or [email protected].
About ISQED
The International Society for Quality Electronic Design (ISQED), established in 1999, is a professional organization devoted to highlight, promote, and accelerate establishment of industry-wide targets for the "Quality" of the integrated circuit and system designs, and helping to develop metrics and standards for quality electronic design from front-to-back end. The mission of ISQED is to provide forums to present and exchange ideas and to promote research, development, and application of design methods, design processes, semiconductor technologies, IC packaging, test, EDA design tools and methodologies, employed for the design of Integrated Circuits, with a focus on design for quality, manufacturing, yield, and reliability. ISQED emphasizes a holistic approach toward electronic design accelerates the cooperation among the IC design, EDA, semiconductor process technology, IC packaging, test, and manufacturing communities. The International Symposium on Quality Electronic Design is the flagship conference of the organization and has been held successfully for 10 years in California.
The Society recently announced the formation of its "1st Asia Symposium on Quality Electronic Design" to be held in Kuala Lumpur, Malaysia, July 15-16, 2009 (see http://www.isqed-asia.org).
Add to Digg Bookmark with del.icio.us Add to Newsvine
Editorial Contact:
Georgia Marszalek
ValleyPR for ISQED
Email Contact
650-345-7477


Copyright @ Marketwire
Page: 1
Related Keywords:
ISQED, IEEE, Electronic Design, Design Automation, CAD, EDA, Semiconductor, DFM, DFY, IC, San Jose , Pro AV, CAD, Presentors, CAD/CAM/CAE, Business Issues, CAD/CAM, Dassault Systemes, Presentation, Corporate/Company, Awards, Marketwire, Apple Computer, Music,
---