Ancestry.com Releases the Most Comprehensive Collection of Titanic Records Available Online to Mark the 100th Anniversary of the Ocean Liner's Famous Sinking
Online Family History Leader Offers Free Public Access to Titanic Collection From April 9-15
(April 09, 2012)

PROVO, UT -- (Marketwire) -- 04/09/12 -- Ancestry.com (NASDAQ: ACOM), the world's largest online family history resource, announced today that it will mark the 100th anniversary of the sinking of the RMS Titanic by releasing the most comprehensive online collection of records relating to the passengers and crew aboard the legendary luxury liner. The collection will be available for free searching from April 9-15, in memory of the ship's voyage and sinking.
The Titanic Collection can be found at www.ancestry.com/titanic, and includes thousands of Titanic-related records comprised of passenger lists, crew lists and lists of deaths at sea. These important records tell the story of more than 2,200 people that were travelling on the Titanic from Southampton, England towards New York. Tragically, the ocean liner struck an iceberg in the North Atlantic and sunk within hours, sending more than 1,500 people to their deaths.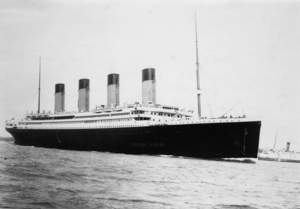 Also included are two databases from Canada. The first collection features headstone images of 121 Titanic victims buried at Fairview Cemetery in Halifax, Nova Scotia. The second, from the Nova Scotia Archives, includes 329 coroner inquest files and 330 records of bodies that were recovered by ships; along with the disposition of those bodies.
"The sinking of the legendary Titanic was a major moment in the history of both the United States and the United Kingdom," remarked Dan Jones, VP of Global Content for Ancestry.com. "As the years have passed, many generations have lost information that would confirm relatives who may have been aboard. We're very pleased to offer these records free for a limited time and provide a single source to find answers to some long standing family mysteries."
Other Titanic-related databases available on Ancestry.com include the Carpathia Passenger List from 1912, which includes many survivors from the Titanic; as well as a broader collection known as "Reports of Deaths of American Citizens Abroad, 1835-1975".
Several of the wealthiest individuals in the U.S. were aboard the Titanic when it sank, and they are referenced in the Ancestry.com collection. They include:
John Jacob Astor IV (1864-1912): American businessman, millionaire
Jacques Heath Futrelle (1875-1912): American journalist and mystery writer
Benjamin Guggenheim (1865-1912): American businessman
Duff Gordon (1863-1935): Famous fashion designer
Isador Straus (1845-1912): Co-owner of Macy's department store
Margaret "Molly" Brown (1867-1932): American socialite and philanthropist
George Widener (1861-1912): American businessman.
The specific databases within Ancestry.com's Titanic Collection include the following:
New - RMS Titanic, Outward Passenger List, 1912, National Archives, Surrey, England
This database contains lists of passengers that boarded the Titanic at the ports of Queenstown and Southampton.
New - RMS Titanic, Deaths at Sea, 1912
This collection contains the registers of passengers who died during the sinking of the Titanic. These registers include name, age, gender, last residence, occupation, and information about the ship.
New - RMS Titanic, Crew Records, 1912
These records list crew members on the Titanic; both those who died at sea and those who survived. This database also includes crew agreements, some passenger records and an official list of deceased passengers.
New - Nova Scotia, Canada, RMS Titanic Graves, 1912
Fairview Cemetery is the final resting place for 121 victims of the Titanic disaster, the largest assembly of Titanic graves in the world. This collection contains images of the cemetery's Titanic headstones, along with information from the headstones, and the number of the grave. This number refers to a list made as bodies were recovered. Each body on the list was assigned a number, and some were never positively identified.
New - Halifax, Nova Scotia, Canada, RMS Titanic Fatality Reports, 1912
This database contains two separate collections. The first consists of 329 coroner inquest files with 1,285 indexed records. The second contains 330 records for bodies that were recovered by ships from Nova Scotia and the disposition of those bodies.
Titanic Survivors, Carpathia Passenger List, 1912
After hearing Titanic's distress signals, HMS Carpathia rushed to the rescue. When it arrived at the scene, the Carpathia was too late for many of Titanic's passengers. However, it brought aboard the Titanic's 703 survivors when it headed for New York City, the Titanic's original destination. This database contains an index and images of the Carpathia's passenger list.
Reports of Deaths of American Citizens Abroad, 1835-1974
One responsibility of U.S. consulates is to report deaths of American citizens occurring within their districts to the U.S. Department of State. The Ancestry.com database contains these death reports for the years 1835 through 1974. This collection contains several records of Americans who died in the Titanic disaster:
About Ancestry.com -
Ancestry.com Inc. (NASDAQ: ACOM) is the world's largest online family history resource, with more than 1.7 million paying subscribers. More than 8 billion records have been added to the site in the past 15 years. Ancestry users have created more than 33 million family trees containing approximately 4 billion profiles. In addition to its flagship site, Ancestry.com offers several localized Web sites designed to empower people to discover, preserve and share their family history.
Forward-Looking Statements
This press release contains forward-looking statements that involve risks and uncertainties that could cause actual results to differ materially from those anticipated by these forward-looking statements. Such risks and uncertainties include our ability to acquire and digitize content, and make desired content conveniently available to our subscribers. Information concerning additional factors that could cause events or results to differ materially from those projected in the forward-looking statements is contained under the caption "Risk Factors" in our Annual Report on Form 10-K for the year ended December 31, 2011, and in discussions in other of our Securities and Exchange Commission filings. These forward-looking statements should not be relied upon as representing our views as of any subsequent date and we assume no obligation to publicly update or revise these forward-looking statements.
Image Available: http://www2.marketwire.com/mw/frame_mw?attachid=1941791

Contact:
John Paolo Canton
[email protected]
415-744-1795


Copyright @ Marketwire
Page: 1
Related Keywords:
Ancestry.com, family history, genealogy, Canada,England,USA,Marketwire, Inc., ,Lifestyle,Internet Technology,disaster,england,Family,Other,
---