AmericanGraduate.org Re-Launches With New Research Resource, Video and Community Connections
New Site Features 50 State Indices From Today's Release of Building a Grad Nation: Progress and Challenge in Ending the High School Dropout Epidemic
(March 19, 2012)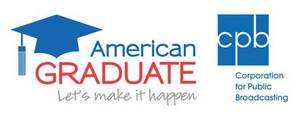 WASHINGTON, DC -- (Marketwire) -- 03/19/12 -- Grad Nation Summit -- American Graduate: Let's Make It Happen, a national initiative supported by the Corporation for Public Broadcasting (CPB), today launched its new website to increase understanding and engagement around the national dropout crisis with features including a research center, video from public media stations around the country, and connections to more than 600 local partners.
The American Graduate Research Center is designed to include comprehensive research and analysis from leading experts in education to help quantify and qualify the scope of the dropout crisis. Currently featuring research from top education and economic experts, such as John Bridgeland, Civic Enterprises; Robert Balfanz, Everyone Graduates Center at Johns Hopkins University School of Education; and Governor Bob Wise, Alliance for Excellent Education, the Research Center includes the Civic Marshall Plan indices for all 50 states to provide a better understanding of the challenges that schools and districts face. The Research Center provides information on how data is being used to inform and drive action and how communities can work together to fine-tune their response based on the progress. Additional research from American Graduate partners and public media stations will be continually added to the site to ensure the latest data and analysis is available to communities, parents, teachers and other stakeholders.
"Public media stations are helping to increase understanding of the national dropout crisis and the impact it has on our country and in our communities," said Patricia Harrison, president and CEO of CPB. "Through local and national content, collaborations, curricula, and rich resources such as AmericanGraduate.org, locally-owned and -operated stations around the country are motivating communities to become part of the solution. We appreciate the dedication and access these researchers are providing the nation."
Categories of information available at the state and, eventually, community level on the Research Center site include:
Indicators for being off track to graduate, including childhood poverty, 4th grade reading levels and 8th grade math levels;
Statistics on high school graduation rates, such as state-by-state data on graduation rates and "Drop Out Factories" -- low-performing high schools that graduate 60 percent or fewer students on time; and
Information about the outcomes that dropping out can have on state economies, such as lost earnings, housing implications, increased poverty and social service costs to the taxpayer.
"Public media is providing a much needed resource to the nation -- bringing together powerful data and information on the dropout epidemic and what can be done about it," says John Bridgeland, CEO of Civic Enterprises and co-author of the recently released 2012 Building a Grad Nation report. "Until now, this information has been scattered in so many places it has been difficult to see the full picture of the nation's progress and challenges and how best to act."
In addition to accessing the American Graduate Research Center on the new site, visitors to AmericanGraduate.org can also stream full-length public media programming and specials focused on the dropout crisis, including: the Tavis Smiley special, Too Important to Fail, which examines the high dropout rates among African-American males; audio features from StoryCorps National Teachers Initiative; a series of reports from PBS NEWSHOUR and PBS NEWSHOUR Student Reporting Labs; local content produced and collected from public media stations, such as student stories and teacher town hall meetings; and highlights from upcoming broadcast premieres.
Through public media station partnerships with more than 600 local organizations, including America's Promise Alliance, AmericanGraduate.org will feature an index of public media stations in key dropout epicenters that are actively working with community partners to develop local solutions to the crisis. The site also links visitors to information about how they can help stem the dropout crisis through volunteer and mentor opportunities, tutoring, internships and other local student-focused activities.
Produced by Cfx for the Corporation for Public Broadcasting, AmericanGraduate.org will be updated regularly with new content and video, new research and analysis, and local activities and partnerships, including a new education portal in the coming months.
About American Graduate
The public media initiative, American Graduate: Let's Make It Happen, is helping communities across America identify and implement solutions to address the high school dropout crisis. Supported in part by the Corporation for Public Broadcasting (CPB), the multi-year campaign is designed to raise awareness and dialogue through national and local multiplatform programming. Targeting communities with the highest dropout rates, the initiative also increases local engagement and action through collaborations and partnerships, and increases student engagement through teacher professional development and classroom curricula. Public radio and television stations -- locally owned and operated -- reach 99% of the country over the air, have built models for successful intervention in early learning, and have deep connections in the communities they serve. Nearly 600 partnerships have been formed locally through American Graduate and CPB is partnering with America's Promise Alliance and the Bill and Melinda Gates Foundation. Visit American Graduate on Facebook, Twitter or AmericanGraduate.org.
About CPB
The Corporation for Public Broadcasting (CPB), a private, nonprofit corporation created by Congress in 1967, is the steward of the federal government's investment in public broadcasting. It helps support the operations of more than 1,300 locally-owned and -operated public television and radio stations nationwide, and is the largest single source of funding for research, technology, and program development for public radio, television and related online services.
About Cfx
Owned by Chris and Megan Frank, Cfx is a full-service agency located in St. Louis, Missouri that provides comprehensive advertising and multi-media services. The firm serves a diverse client base across a wide range of industries and dedicates a percentage of its time and talents to non-profit, community service organizations.
Contact:
Nicole Mezlo
Corporation for Public Broadcasting
Phone: (202) 879-9836
Email Contact


Copyright @ Marketwire
Page: 1
Related Keywords:
Dropout, Grad Nation, Marketwire, , Television, Parents, Teachers, Other,
---