Altadyn Invents "Meet in 3D" Button for Any Corporate Web Site
Customized 3D Spaces and Virtual Worlds With Avatars Starting at $4,995 Now Accessible to All
(September 03, 2008)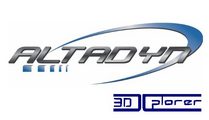 IRVINE, CA and PARIS -- (Marketwire) -- 09/03/08 -- Altadyn, the developer of 3DXplorer, the first "plug-in-less," browser-based web3D platform, today announced the invention of "Meet in 3D," a new concept to standardize immersive and interactive 3D spaces and virtual worlds on corporate web sites. "Meet in 3D" is intended to establish a new standard navigation component, on par with the commonly-used links on the main navigation bar of web sites such as Home, Products, Company, Contact Us, and so on, allowing businesses to add immersive 3D virtual experiences for interacting with web visitors who until now have largely remained anonymous.
"Meet in 3D" enables visitors to a company's web site to enter a custom 3D space to locate information and engage and interact directly with company representatives using customizable avatars. In addition to communicating via text chat, integrated Skype calling, or using traditional conference call services, avatars can move and explore in real-time, such as walking around a room, down corridors and up staircases. Avatars can interact, react and express emotions, including shaking hands, shaking their heads yes or no, smiling, laughing, thinking, and so on.
"We believe our 'Meet in 3D' concept is a critical element of Web 3.0," said Darius Lahoutifard, CEO of Altadyn. "Since the inception of the web, businesses have invested billions to identify and track largely anonymous visitors to their web sites. At first, with Web 1.0, communication was unidirectional, from companies to their web visitors. With Web 2.0 and the widespread acceptance of tools like blogs and social networks, individuals started expressing themselves, but not necessarily to corporations, so businesses still struggle to monetize Web 2.0. With Web 3.0 and technologies like 3DXplorer, individuals are motivated to enter informative and entertaining 3D web spaces with their avatars, enabling corporations to finally bridge this gap. They can now directly engage prospects and customers in a personal and interactive environment, in a manner similar to the way they do in everyday life when exploring a tradeshow, attending a seminar or walking into a store."
An example of the "Meet in 3D" button integrated into a corporate website is available at Altadyn's website at www.altadyn.com.
3DXplorer Promotional Bundles Available for a Limited Time
For a limited time, simultaneously with the launch of the "Meet in 3D" concept, Altadyn is offering promotional bundles to allow businesses an easy and fast way to put a custom, branded 3D web page or virtual world on their company web site. 3DXplorer promotional bundles drastically reduce the time and cost associated with building virtual worlds, making them accessible to any company. Bundle prices start at $4,995, and can be up and running in as little as a day.
3DXplorer promotional bundles are designed to facilitate easy access by corporations to Web 3.0 3D technology, allowing them to quickly implement "Meet in 3D" on their own websites for customer engagement and collaboration, conferencing, e-learning, virtual visits for real estate and architecture, casual games and more. Built jointly with Altadyn's Content Creation Partners, Avalonn (www.avalonn.fr), Cube3 (www.cube3.com) and GoWeb3D (www.goweb3D.com), bundles come in three options: Bronze, Silver and Gold, and consist of the 3DXplorer platform deployed with a Software as a Service (SaaS) model, 3D content and customization services.
More details on "Meet in 3D" and the 3DXplorer promotional bundles are available at the following link: http://www.3dxplorer.com/i.php?p=static/MI3D_overview, or by contacting Altadyn directly at contact2 (AT) altadyn . com.
About Altadyn
Altadyn is a developer of web3D technology that makes powerful 3D accessible from any PC or Mac. With the 3DXplorer "plug-in-less," browser-based web3D development platform -- and Toon-MX, a 3D "digital puppetry" software application -- the company has delivered a new dimension to the online experience, making dynamic and immersive 3D immediately viewable on all computer platforms, including Windows and Linux PCs and the Mac, and browsers such as Internet Explorer, Firefox, Safari and Opera. Altadyn customers include SAP, Orange, Bayer, and Glaxo-Smith-Kline, and the company has offices in Paris, France and Irvine, California. For more information visit www.3dxplorer.com.
3DXplorer, ALTADYN, and the Altadyn logo are registered trademarks of ALTADYN. All other registered trademarks belong to their respective owners.
Add to Digg Bookmark with del.icio.us Add to Newsvine
Altadyn
Greg Milliken
USA: +1 949.273.0479
International: +33 1 4661 4912
E-mail: Email Contact


Copyright @ Marketwire
Page: 1
Related Keywords:
Altadyn, Unix, Mac, Linux, OS9, OSX, France, Marketwire, Gold, Silver, Internet Technology, Internet, Outdoor Sports, Web 2.0, Browsers, Other,
---