Alpine Data Labs Launches Web-Based Collaboration Solution for Predictive Analytics
First-of-Its-Kind Offering Turns Big Data Analytics Into a Collaborative, Iterative Process; Enables Entire Organization to Work on Pressing Business Challenges in a Single Place
(February 29, 2012)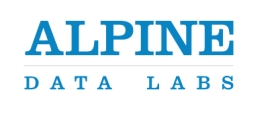 SAN MATEO, CA -- (Marketwire) -- 02/29/12 -- Alpine Data Labs, developer of the first enterprise solution for Big Data predictive analytics, today announced the availability of Alpine Illuminator -- a web-based collaboration solution for the development and deployment of predictive analytics. Alpine Illuminator provides organizations with a single place to host, share and iterate on predictive models, and thus allows the entire enterprise to work together on its most pressing business challenges.
With Alpine Illuminator, organizations now have a system that supports collaborative, iterative process design and enables organizations to build a center of excellence around predictive analytics. This will allow organizations to include diverse experts from across the business together in one place, enabling the fluid exchange of expertise and ideas in a secure, open collaboration throughout the predictive analytics development process.
"A collaborative, web-based approach is taken for granted in most modern business applications," said Steven Hillion, Alpine's chief product officer. "But until now, there has been no way to extend this functionality to something as complex as the predictive analytics workflow. Alpine Illuminator changes that -- a first in the Big Data arena."
Predictive models need to be deployed, shared and collaboratively developed to ensure the highest return on effort and the biggest value back to the company. But with most analytics solutions today, the development process is stagnant. By contrast, Alpine Illuminator, working hand-in-hand with Alpine Miner, simplifies the process of building analytics workflows on Big Data and empowers the business community to quickly and easily deploy their solutions.
"The real innovation with Alpine Illuminator is that it allows for IT, data scientists and business users to work together from a common framework that also provides the tools necessary to track the development of analytics workflows over time," said Katrin Ribant, executive vice president of Data Platforms for Havas Digital Global. "This is significant because as the business changes, so do the predictive models. In short, the whole team can collaborate effortlessly on advanced analytics through a web browser, sharing data and models without cumbersome deployments."
Additionally, Alpine Illuminator provides key capabilities like version control, model history, auditing, a scheduling engine and email alerts to support an ever-changing and dynamic process. Alpine Illuminator also streamlines workflow execution, allowing users to run predictive analytics directly from the browser without any additional installation, and enabling the whole team, not just data experts, to run churn models, analyze fraud, forecast sales trends, create new customer segments, and more.
It also provides easy access to all historical results, including charts, tables, model details and model scores, and enables workflows to be easily shared and immediately executed on any dataset--all with no need to move data or deploy code. This represents a significant savings of time and money to any organization attempting to develop a predictive analytics capability.
Alpine Illuminator is available now.
About Alpine Data Labs
Alpine Data Labs has developed the first solution for Big Data predictive insight, making it faster, easier and less complex to achieve predictive insights from the massive datasets companies can now collect and store due to declining storage costs. Incubated within Greenplum (acquired by EMC in 2010) and founded by an experienced team with strong ties to China, Alpine Data Labs has Big Data in its DNA. The company is based in Silicon Valley and is backed by Sierra Ventures, Mission Ventures, Sumitomo Corporation and Stanford University. For more information, please visit: www.alpinedatalabs.com
Contact:
David Oro
707-558-8585
Email Contact


Copyright @ Marketwire
Page: 1
Related Keywords:
Alpine Data Labs, China, Marketwire, , Internet Technology, Biology, Genetics, Business, Email, china,
---