Alpine Data Labs Demystifies Data Science, Opens Advanced Analytics to Business People
Alpine Data Labs New Software Enables Business Analysts to Create Predictive Analytics Model on the Web, Without Data Movement, Without Script and Directly on Top of Hadoop
(October 29, 2013)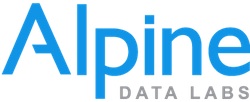 SAN MATEO, CA -- (Marketwired) -- 10/29/13 -- Alpine Data Labs, the leader in Advanced Analytics Software for Big Data and Hadoop, announced today the introduction of Alpine 3.0, the industry's first visual and web-based Advanced Analytics solution for Hadoop and Big Data. Attendees at the Strata Conference + Hadoop-World can view live demonstrations at booth #52. The company was also one of a handful selected to present at the highly competitive "Startup Showcase."
"The world of Advanced Analytics has historically been an exercise in compromise," said Joe Otto, the company's Chief Executive Officer. "Companies interested in building Predictive Analytics based on sophisticated math used to be forced to sample their data, spend large budgets on redundant infrastructure and move data around. Alpine 3.0 is the first best step any company can take to a new world of Enterprise-scale Advanced Analytics. Our software makes it possible for business people to build powerful predictive analytic applications on all their data, without having to move data or use sophisticated and proprietary languages."
A Bigger Vision
Leaders around the world, from Financial Services to Healthcare, use Alpine to solve all types of Advanced Analytics use cases from Customer Churn Prediction to Marketing Attribution, to Product Recommendation, Profitability Simulation and Optimization.
Sylvain Le Borgne, Executive Vice President, Data Platforms at Havas Media attests, "With Alpine, our teams of business analysts can run complex simulations very rapidly and share the results of their work on the web, across the company with sales, marketing and other business functions. Their analysis can in turn be used to better our offering and help our customers realize the best possible performance. Analytics is part of our culture and it is core to our competitive advantage."
A Disruptive Approach
Alpine 3.0 overturns the archaic software paradigms that dominate the advanced analytics industry. "When we set out to build Alpine's software, we realized that the industry leaders had predominantly used 1980's software paradigms to build their solutions," remembers Steven Hillion, the company's co-founder and Chief Product Officer. "The leaders in the market still require end users to download desktop applications, force I.T. to move data onto expensive hardware and limit the use of their statistical packages to those data scientists that have learned their proprietary code. It's almost as if they have deliberately built walls around the data groups so their knowledge couldn't disseminate across the organization!"
Alpine's software differentiation is routed in four key components:
No Data Movement: Alpine software sends instructions to customers' existing databases or Hadoop clusters. No new hardware is required. No Data Extract needs to be moved.
No Script: Alpine is geared toward business analysts. Its interface is visual and all functions can be run via simple drag-and-drop. While the functions sent to the database can be sophisticated, users work with an interface that focuses them on the math, not the code. No knowledge of the underlying database language is required and data can be mashed up and transformed without having to write a single line of code.
All Data, All the Time: Alpine software was built for the "post-Hadoop and post-Internet" era. Alpine can easily run instructions on a company's entire dataset, giving teams a better and more complete view of reality.
No Download. Ever: With Alpine, results are seen in hours and days, not weeks or months. Business users don't need to go through extraneous set up processes or lengthy update cycles. Models, predictions and analytics can be built, deployed and used directly from the web or from any mobile device such as Apple iPad or Google Android tablets.
Alpine provides a compelling alternative to legacy solutions, that must first be downloaded, whose analytics environment needs be deployed and maintained alongside the company's main data warehouse and require specialized scripting knowledge.
Try Alpine 3.0 for free now @ http://start.alpinenow.com
ABOUT ALPINE DATA LABS
Alpine Data Labs offers the world's first script-less and web-based advanced analytics software for Big Data and Hadoop. With Alpine, Data Scientists and Business Analysts can work with large data sets, develop, refine models and collaborate at scale without having to use code or download software. Alpine was recognized in the Analyst One "Top Technologies" list and VentureWire's FastTech "50 Most Innovative Technology Startups". Leaders in all industries, from Financial Services to Healthcare, use Alpine to outsmart their competition. Maybe you should too. Find out more at http://alpinenow.com.
Add to Digg Bookmark with del.icio.us Add to Newsvine
Media Contact:
Alpine Data Labs
info@alpinenow.com


Copyright @ Marketwire
Page: 1
Related Keywords:
Mac, Android, Marketwire, Financial, Internet Technology, Business, Science, Other,
---