AirVM Launches Cloud Services Partner Portal/Program at VMware PEX 2012
(February 07, 2012)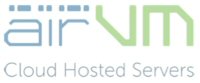 OTTAWA, ONTARIO -- (Marketwire) -- 02/07/12 -- AirVM, one of the fastest growing infrastructure as a service (IaaS) providers, is announcing the launch of it's partner program designed to enable partners to be cloud server providers in seconds.
AirVM.com, launched two years ago and developed to demonstrate the disruptive nature of AirSembly, it's core cloud-engine automation technology, has revolutionized the manner in which enterprise-class, cloud servers are configured, provisioned and billed. Contrary to many cloud services providers, AirVM customers are provided clear and transparent details for the services they purchase, the performance guarantees included and exactly what prices they will be charged, hourly and monthly.
Joshua Vautour, Founder and CEO of AirVM said: "At VMware's Partner Exchange 2012 (booth V11) conference in Las Vegas starting on February 13th, organizations whom view cloud services as a growing market opportunity, will experience first-hand, how our partner portal provides all of the functionality and control without any of the technology management challenges. Our platform is so automated and easy to deploy that we will be deploying actual cloud services businesses in seconds. The growth opportunities are staggering."
With IT budgets under constant scrutiny, the new normal continues to be "do more with less". Virtualization such as VMware's has shown us immense opportunities to manage costs, improve our ability to be more agile and increase our IT-resilience. AirVM's AirSembly-powered, cloud servers extend VMware's benefits to anyone whom needs extra compute capacity, on-demand and flexibly using economical, pay-as-you-go pricing.
Paul Fink, AirVM's VP Sales said: "Partners are going to be extremely impressed at how easy we can enable new and profitable revenue streams with high quality, differentiated services that their customers are already demanding."
About AirVM
AirVM, a leading innovator in supporting partners to be cloud hosting service providers, uses AirSembly's cloud-engine automation technology to order, bill and administer cloud servers. AirVM's success lies in taking the technology out of information technology so that partners can focus on continuing build valuable customer relationships and not be burdened with managing technology.
Contacts:
Paul Fink
VP Sales
1-877-552-4786
[email protected]
www.airvm.com


Copyright @ Marketwire
Page: 1
Related Keywords:
AirVM , Sales, Sales & Marketing, Business Issues, Management, Sales, CEO/CFO, Sales, Marketwire, , IT (Information Technology), Computer Science,
---