Agiliron "Integrated SaaS Platform for Multi-Channel Commerce" Launched at DEMO
(April 18, 2012)

SANTA CLARA, CA -- (Marketwire) -- 04/18/12 -- Agiliron (www.agiliron.com) today announced the General Availability launch of an "Integrated SaaS Platform for Multi-Channel Commerce" at DEMO Spring 2012 along with the introduction of a Free Version.
"Small Product-Based Businesses face significant hurdles to keep pace with the proliferation of sales channels (to have a presence everywhere customers shop) and the resulting complexity of operating the various facets of the business -- products, sales, customers and fulfillment," said Satish Menon, CEO of Agiliron. "Agiliron is squarely focused on addressing the technology needs of these businesses by delivering a customizable and easy-to-use integrated solution suite that enables them to operate/compete effectively and scale with ease."
Today we are excited to open up the Agiliron platform to General Availability with refinements to the overall user experience based on customer feedback and addition of customization capabilities that puts more control in the hands of our customers to adapt to the unique needs of their business. Several new capabilities are also being introduced as part of this launch including: 50 new themes for WebStores, B2B WebStore controls for Customer Specific Pricing, Relist/Revise/Copy eBay Listings, Credit Limit and Backorder Management, Supply Chain Automation and many others.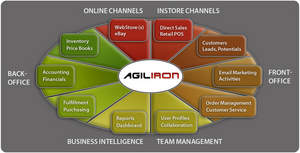 Agiliron Benefits and Value to Customers:
Integrated SaaS Platform for Multi-Channel Commerce

No piecemeal solutions, Zero integration and maintenance, Access anytime/anywhere
Editions starting at Free, $29/mo, $79/mo and $199/mo

Jumpstart Revenues by adding Multiple Sales Channels with minimal effort
Lower Operating Costs -- Eliminate Manual Processes, Visibility Across all Sales Channels
The Agiliron Solution Suite delivers the following Broad Capabilities:
"Agiliron was selected to launch at DEMO Spring 2012 because their platform has brought together the perfect combination of capabilities in a comprehensive SaaS solution suite for product-based businesses. We were all very impressed with their product and believe it is a game changer for both traditional retailers/wholesalers and online e-commerce businesses," said Matt Marshall, executive producer, DEMO. "They are well-positioned to fill the integrated business solutions space between piecemeal offerings and expensive enterprise suites. I am excited to help bring them to market on the DEMO stage and draw attention to companies shaping today's enterprises."
One of Agiliron's customers speaks about their experience with Agiliron and highlights the capabilities that have added the most value to their business.
Suburban Riot (www.suburbanriot.com/) -- Nate Koach & Jason Reed, Founders
"Prior to our relationship with Agiliron, our web sales were a mess. Our conversion rates, traffic and overall sales have all improved by leaps and bounds since our conversion to the Agiliron platform. We have complete control of our product and inventory management. We're also able to easily manage the ever changing product mix -- since we do both retail and wholesale sales and sell on multiple online storefronts, product has to be updated almost daily which we're able to do easily." Read the customer story at http://www.agiliron.com/customers/suburban-riot.html.
Links for More Information
Contact Information
Satish Menon, CEO
Phone: 1.855.244.5476 x701
Email: media@agiliron.com
About Agiliron
Agiliron™ (www.agiliron.com) is a technology startup focused on delivering an "Integrated SaaS Platform for Multi-Channel Commerce." Targeted at Product-Based Small Businesses, the business solution suite integrates capabilities that facilitate business expansion through Multiple Sales Channels, lowers operational costs with effective Front-office (CRM) & Back-office (ERP) functions and improves real-time visibility across the entire business through aggregation of data into a single system.
About DEMO
Produced by IDG Enterprise in conjunction with VentureBeat, the DEMO conferences in the United States, Asia and Brazil focus on emerging technologies and new product innovations, which are hand selected from across the spectrum of the technology marketplace. The DEMO conferences have earned their reputation for consistently identifying tomorrow's cutting-edge technologies, and have served as launchpad events for companies such as Palm, E*Trade, Salesforce, Webex, Handspring, Tivo, VMware and U.S. Robotics, helping them to secure venture funding, establish critical business relationships, and influence early adopters. For more information on the DEMO conferences, visit http://www.demo.com.
About IDG Enterprise
IDG Enterprise, an International Data Group (IDG) company, brings together the leading editorial brands (CFOworld, CIO, Computerworld, CSO, DEMO, InfoWorld, ITworld and Network World) to serve the information needs of our technology, security and financial-focused audiences. As the premier hi-tech B2B media company, we serve our reader and advertiser audiences by delivering award-winning content, community, conversation, and conversion solutions across our entire portfolio of websites, events, magazines, products and services. In addition, the CIO Executive Council is a peer advisory service that delivers on the business, technology, and leadership needs for the world's elite CIOs and their respective staffs. For more information, visit www.idgenterprise.com.
Additional information about IDG, a privately held company, is available at http://www.idg.com.
About VentureBeat
VentureBeat's mission is to provide news about innovation for forward-thinking executives. The New York Times called VentureBeat one of the "best blogs on the Web," and now syndicates VentureBeat's articles. Reuters and many other publishers also run VentureBeat articles. For more information, visit www.venturebeat.com.
All product and company names are trademarks of their respective companies.
Image Available: http://www2.marketwire.com/mw/frame_mw?attachid=1949078

Add to Digg Bookmark with del.icio.us Add to Newsvine
Contact Information
Satish Menon
CEO
Phone: 1.855.244.5476 x701
Email: Email Contact


Copyright @ Marketwire
Page: 1
Related Keywords:
Business Management Software, Business to Business Software, CRM, ERP, Software for Small Business, Sales, Marketing, CRM - Customer Relationship Management, Sales & Marketing, Security, Internet, Business Issues, Security, Management, Finance/Accounting, Sales, CTO/CIO, CEO/CFO, CSO, Finance/Accounting, Sales, USA, Brazil, Marketwire, , Internet Technology, Engineering, Business, Email, Other,
---