Advanced Visual Systems Announces Interactive Data Visualization for iPad, iPhone, Blackberry, Windows Mobile
Solution Teams Taking Business Intelligence and Analytics Mobile
(May 26, 2010)

WALTHAM, MA -- (Marketwire) -- 05/26/10 -- OpenViz software from Advanced Visual Systems (www.openviz.com) (PINKSHEETS: AVSC) is being used to produce sophisticated data visualization graphics for mobile business intelligence and analytic applications, underscoring an emerging trend for enterprise and ISV solutions.
OpenViz, which was one of the first business intelligence technologies to support Web browser-based data visualization, is optimized to generate highly customized images that can be delivered to any mobile device and provide dynamic interactivity with server-based applications.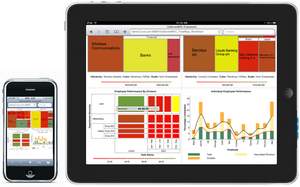 According to Anoop Chatterjee, Vice President of Products & Engineering at AVS, "OpenViz is completely agnostic to operating platform and image viewer and allows a solution team to use the same data visualization in mobile, browser and desktop applications. This helps AVS customers save time and create powerful graphics that are consistent across many different systems."
OpenViz is a comprehensive data visualization system for all Java and Microsoft platforms that enables solution designers to create and deploy interactive visual presentations from any type of data. OpenViz offers over 20,000 different forms of charts and graphs and incorporates a powerful in-memory data management capability. Prominent features of OpenViz include the ability to visualize extremely large datasets, high-performance rendering, exceptional control over graphics look-and-feel, flexible server and desktop deployment, and real-time updating.
AVS counts over 2,000 global corporations, government agencies and research institutes as licensees of its data visualization software products including twenty percent for the Fortune 100 and two of the five largest software companies.
About Advanced Visual Systems
Advanced Visual Systems Inc. provides industry-leading, interactive data visualization software and solutions that help business, scientific and engineering users gain critical insight from all types of data. AVS's complete line of software products speed decision-making by bringing information to life using the latest in graphics, Web-based and interactive technologies on all major computing platforms.
For additional information visit www.avs.com, call (781) 890-4300 or write [email protected].
Copyright 2010 Advanced Visual Systems Inc. All rights reserved. All trademarks referenced in this message are the property of their respective owners.
This communication contains forward-looking statements within the meaning of Section 27A of the Securities Act of 1933, as amended, and Section 21E of the Securities Exchange Act of 1934, as amended. All forward-looking statements are inherently uncertain as they are based on current expectations and assumptions concerning future events or future performance of the company. Readers are cautioned not to place undue reliance on these forward-looking statements, which are only predictions and speak only as of the date hereof. In evaluating such statements, prospective investors should review carefully various risks and uncertainties identified in this release and matters set in the company's public filings. These risks and uncertainties could cause the company's actual results to differ materially from those indicated in the forward-looking statements.
Image Available: http://www2.marketwire.com/mw/frame_mw?attachid=1266029

Copyright @ Marketwire
Page: 1
Related Keywords:
Advanced Visual Systems, Pro AV,Management,Presentors,Data Management,Business,Copyright,Business Issues,Presentation,Events,Marketwire, Inc.,Apple Computer,Internet Technology,Business,
---