Admissions Practices Fail to Meet the Needs of Students at Private Sector Higher Education Institutions, Study Finds
Schools Inconsistent, Slow Responding to Prospective Student Inquires, According to New Leads360 Research
(November 02, 2011)

LOS ANGELES, CA -- (Marketwire) -- 11/02/11 -- Leads360, the industry leader in enrollment management software, today announced the results of a large private-sector higher education "secret shopper" research project that tested the responsiveness of schools and universities to prospective students. The study measured responsiveness across schools and compared the results to Leads360's benchmarked best practices that maximize the chances for enrollment of prospective students. To download the full report visit: Leads360.com/EnrollmentGrades.
After studying millions of inquiries, key performance indicators impacting admissions were identified by Leads360, shedding light on where admissions departments can improve their recruitment processes. Overall, schools have the best chances for a positive outcome when they respond promptly to inquiries with relevant information, without hounding students who may not yet be ready to take the next step with school representatives.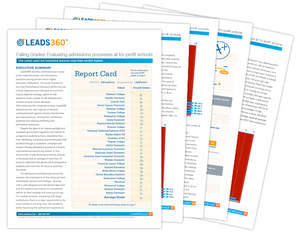 Responsiveness of the average school evaluated in this study could be described as disappointing at best. The study found that 93% of schools failed to call students back within 12 hours of an inquiry and 40% of schools didn't respond within a full 24 hours. Despite the low cost of automated email responses, schools and universities also failed to promptly respond by email. In fact, 23% of schools studied did not respond to students via email within 12 hours, and only a handful of schools responded inside of three hours. While the best performing schools managed to call prospective students within an hour, only one school met the Leads360 recommended practice of calling within minutes.
Schools struggled not only with timely response to inquiries, but also with controlling the number of follow-up attempts to each inquiry by admissions counselors. While a few schools were found to be lax about inquiry follow up, more than half of the schools studied hounded students with more than 10 call attempts per inquiry, and a full 30% of schools averaged more than 16 calls per student, nearly three times the recommended best practice identified in previous Leads360 research.
The study shows that many leading schools and universities do not have the proper processes in place to consistently and appropriately respond to student inquiries. These results suggest schools are underperforming by failing to quickly engage and build strong relationships with prospective students and ultimately wasting marketing and enrollment investments and resources.
"Despite the fact that private sector schools and universities invest heavily in recruiting students, this research shows they fail on the most basic performance metrics after they generate initial interest from prospective students," said Nick Hedges, CEO and President of Leads360. "If school administrators knew how poorly equipped their admissions departments were to effectively respond to inquiries, they would think twice about their marketing strategies. This report sheds new light on where schools can improve their approach to recruiting high quality students by responding more promptly and better controlling the actions of their admissions departments throughout the recruitment process."
Schools were selected for the study as a representative sample of large and mid-sized private sector schools. The colleges and universities evaluated in this study include:
American InterContinental University
American Public University
Anthem Education
Ashford University
Berkeley College
Capella University
Concorde Career College
Daymar College
DeVry University
Everest College
Globe University
Grand Canyon University
Kaplan Higher Ed
Keiser University
Lincoln Tech
Miller-Motte College
National American University
Rasmussen College
Regency Beauty Institute
Remington College
United Education Institute
Universal Technical Institute (UTI)
Vatterott College
Virginia College
Walden University
Westwood College
WyoTech
Grades and performance data for each school is available in the new report entitled "Failing Grades: Evaluating admissions processes at for-profit schools." The report is available for public download at Leads360.com/EnrollmentGrades.
About Leads360
Recruiting and enrolling the best students is the primary responsibility of every higher education admissions and marketing professional. Leads360 provides the only enrollment management system specifically designed to meet the needs of schools that compete for students. The company focuses on managing the student enrollment process, enabling admissions staff to more efficiently track and communicate with prospective students, and giving admissions and marketing directors a holistic view of how prospects are being handled. Let Leads360 show you why the most sophisticated schools have implemented an enrollment solution that outperforms the rudimentary admissions functionality provided by a CRM.
Managing more than 40 million client records for more than 6,000 businesses and schools, Leads360 offers a suite of solutions that can scale from the smallest schools to multi-campus national institutions. Leads360's education platform was created by education experts and is customized with industry-specific best practices. For more information, visit www.leads360.com/highered. Follow Leads360 on Twitter: www.twitter.com/Leads360.
Image Available: http://www2.marketwire.com/mw/frame_mw?attachid=1785488

Add to Digg Bookmark with del.icio.us Add to Newsvine
Media Contact:
Wendy Barbour
BRPgroup Communications
310.895.0865
[email protected]


Copyright @ Marketwire
Page: 1
Related Keywords:
Higher Education, Enrollment, Higher Ed, Admissions, EDU, Enrollment Management, EDU research, study, Sales & Marketing,Education,Internet,Management,CEO/CFO,Marketwire, ,Email,
---