Adapx Announces New Capturx Solutions With Samueli Institute and LiveHealthier to Automate Healthcare Paperwork
Capturx Healthcare Solutions to Be Showcased in the Microsoft and Perficient Booths at HIMSS 2012 Annual Conference
(February 21, 2012)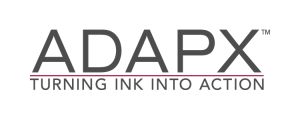 LAS VEGAS, NV -- (Marketwire) -- 02/21/12 -- Adapx, the company that is changing the way mobile teams collect data and collaborate, today announced new healthcare solutions with Samueli Institute to automate medical research paperwork and with LiveHealthier to speed data capture for health and wellness screenings. With Capturx software, healthcare teams can instantly create digital healthcare and research records by simply writing on their standard paper forms with digital pens from Anoto. Capturx solutions are featured in Information Week's "Health IT's Newest Ideas: HIMSS 12 Conference Preview" and in the Microsoft booth (1629) and Perficient booth (1274) in the HIMSS exhibition hall in Las Vegas from February 21st to 24th.
Samueli Institute is using Capturx to speed medical research data capture on behalf of the Department of Defense and Veterans Health Administration. Samueli Institute researchers capture data in a variety of settings whether in the field, at one-on-one interviews, or in focus groups. Pen and paper have been the easiest way for researchers to record field data since they are simple, reliable, forms change frequently, and computers can get in the way of interactions between researchers and subjects. Processing the paper data is time consuming, since data is entered twice into separate Electronic Data Capture (EDC) systems to help ensure data integrity. Capturx instantly converts the handwriting to text, while also archiving an image of the original handwriting, cutting data capture and validation time by 40%.
"Samueli Institute is committed to the rigorous scientific exploration of healing through the use of clinical, basic, qualitative and health services research," said William Beckner, Senior Director of Health Information Technology and Data Management at Samueli Institute. "By deploying Capturx Software and digital pens we've achieved significant time and cost savings of as much as 40%, helping our teams focus on results and analysis."
Adapx is also working with LiveHealthier, a global provider of innovative health management programs, to instantly digitize health and wellness screenings using Capturx. The Capturx solution for health and wellness was first deployed with Microsoft, as featured in Information Week's "Health IT's Newest Ideas: HIMSS12 Preview." More and more companies are doing proactive health screenings and employee wellness programs to improve employee health while also helping employers reduce health care costs. With Capturx, health screening data is instantly digitized so employees can review, health coaches can provide real-time guidance, and administrators can avoid expensive paperwork handling.
"We're pleased to roll out this service to new customers with Adapx and their data capture solution," said John Whall, Senior Vice President, LiveHealthier. "With the streamlined paperwork processing, health coaches and employees get faster access to personalized health and wellness information so they can create actionable goals and next steps to support employee wellbeing and positive outcomes."
Capturx Healthcare Solutions are in use around the world with public health and medical teams ranging from Carnival Cruise Lines, the US Army, United Bio Source Corporation, and many others, to streamline the capture, sharing and management of medical information.
Learn more about Capturx Healthcare Solutions online:
- Samueli Institute Medical Research Case Study: http://www.adapx.com/samueliinstitute
- Microsoft Health & Wellness Screening Case Study: http://www.adapx.com/livehealthier
- InfoWeek Feature: "Health IT's Newest Ideas-HIMSS12 Preview"
About Adapx:
Capturx Software from Adapx speeds data capture and collaboration by turning natural speech, sketch, and handwriting into actionable data in Microsoft Office, SharePoint, CRM, ERP, GIS, C2, C4ISR systems and many other back-end systems. By simply speaking and writing, teams get instant access to structured data collected on paper, touchscreens, mobile devices, and wall displays. A range of enterprises and agencies speed workflows and reduce risk by using Capturx to bypass data transcription from paper and cumbersome keyboard- and menu-driven interfaces. Adapx has strategic relationships with Microsoft, ESRI, In-Q-Tel, and works with standard digital pen technology from Anoto.
Adapx and Capturx, and their respective logos are trademarks, registered trademarks, or service marks of Adapx Corporation. Other products and company names mentioned are the trademarks of their respective owners.
Add to Digg Bookmark with del.icio.us Add to Newsvine
Media Contacts:
Marc Pierre
[email protected]
206-902-7839

Sarah Robertson
[email protected]
206-428-0737


Copyright @ Marketwire
Page: 1
Related Keywords:
healthcare, capturx, digital pens, himss, anoto, adapx, wellness, medical research, samueli, Health Care,Computer Technology,Business Issues,Mobile Devices,Management,Marketwire, ,IT (Information Technology),Medical,Computer Science,Military,Other,
---