AdReady Helps Small and Medium-Sized Advertisers Compete With the Big Guys; Maximize Modest Budgets With Moneyball Approach
(February 24, 2012)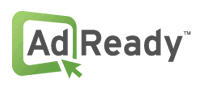 SEATTLE, WA -- (Marketwire) -- 02/24/12 -- The blockbuster movie "Moneyball" is up for the big prize as Oscar night fast approaches. When it comes to online digital advertising, the Moneyball approach offers a similar winning formula for small budget advertisers. In the same way that small market Oakland A's general manager, Billy Beane, was able to take advantage of an undervalued metric -- in his case, on base percentage versus the more traditional RBI% -- AdReady helps small budget marketers compete with larger competitors by focusing on a less obvious and more subtle strategy that draws on proprietary insight and non-obvious data sources to level the playing field.
Online display advertising is an obvious next step for those small and medium-sized businesses looking to build on their search strategy to access more reach, drive more leads, and convert more prospects to customers online. However, relatively high CPCs and low direct conversion rates can lead advertisers to the conclusion that display advertising "just doesn't work" for them. Much like in "Moneyball," where one man used a proprietary system (Sabermetrics) to beat the big guys, AdReady helps these small budget marketers compete with the big marketers and drive compelling and measureable results in display advertising.
Today, because of the success of Search Advertising more broadly, specific advertisers --who rely on solely on search marketing -- are often facing higher costs for incremental conversions. To continue driving cost effective demand gen, many online marketers are adding new channels, like social and display. However, multiple channels increase campaign complexity and most advertisers, except those with the biggest budgets, feel they have no choice but to manage the complexity themselves.
Crystal Hadaway, Sr. Media Manager of ZAAZ, uses AdReady to provide such insights for their clients. In one example, they applied AdReady's keyword optimization technology to build out a broader, more display-focused keyword strategy and drove significant improvement for key metrics. "We were very impressed by how much better both the delivery and performance of our keyword campaigns were when we were able to apply AdReady's Collective Insights to our client's campaign," said Crystal. "We saw a 120 percent increase in impressions and a 200 percent increase in clicks, which was a significant increase."
"There has been a transformative evolution in online display advertising technology that now allows SMBs to do much more than just value keywords," said Karl Siebrecht, CEO of AdReady. "Instead, advertisers can leverage advanced technology that helps them manage display creative, optimization and measurement on their own, regardless of experience level or a big in-house staff -- all essential elements of an effective program that helps smaller budget advertisers 'hit one out of the park' every time."
In addition, AdReady's online advertising technology now allows advertisers to benefit from "Collective Insights"™ drawn from the breadth of campaigns run on the platform and from "non-obvious data" that can be drawn from public, real-time feeds like Twitter.
For more information about AdReady's Moneyball solutions, please visit: www.adready.com.
About AdReady
AdReady provides powerful software that enables any marketer to master online advertising. Unlike time-intensive, inefficient approaches that don't get the job done, AdReady simplifies the process with an intuitive start-to-finish solution that improves advertising ROI by successfully reaching and converting digital consumers where they live. More than 6,000 customers in the U.S. have run more than 560,000 ads across nearly 150,000 sites through the AdReady solution. AdReady has been recognized for "Best Ad Delivery Platform Innovation" by the Digital Publishing and Advertising Conference and "Service Provider of the Year" by the Washington Technology Industry Association. To learn more, please visit www.adready.com, follow us on Twitter @AdReady, or find us on Facebook.
About ZAAZ
ZAAZ is a premier digital agency serving some of the world's most enduring and recognizable brands. Founded in 1998, we are the leader in providing performance-driven digital marketing across all channels and industries. The word "ZAAZ" is defined as "something new." Whether it's a new market, idea, or technology, we strive to constantly evolve and change the way our clients see opportunities. Headquartered in Seattle, with offices worldwide, ZAAZ is part of the Wunderman/WPP Network. For more information, visit www.zaaz.com.
Add to Digg Bookmark with del.icio.us Add to Newsvine
Media Contact:
Kathy Wilson
For AdReady
781/652-0499
[email protected]


Copyright @ Marketwire
Page: 1
Related Keywords:
online advertising, online digital advertising, small budget advertisers, Sales,Advertising,Marketing,Sales & Marketing,Internet,Search,Display,USA,Marketwire, ,Biology,
---