Acer Debuts the New 4G-Enabled Iconia Tab A501 in Canada Exclusively at WIRELESSWAVE, Tbooth wireless, and WIRELESS etc... Stores
Acer's Popular 10.1-Inch Tablet Now Boasts Rogers' 4G HSPA+ Service for Untethered and Speedy Data Transmission for Those on the Go; Android Honeycomb Provides Fast and Easy Browsing, Fun and Handy Apps
(November 08, 2011)
MISSISSAUGA, ON -- (Marketwire) -- 11/08/11 -- Acer America Corp. announced today that the Acer Iconia Tab A501 10.1-inch tablet, powered by Rogers Communications Inc.'s 4G HSPA+ wireless network and Android™ Honeycomb, is available exclusively at WIRELESSWAVE, Tbooth wireless, and WIRELESS etc... stores across Canada.
Designed for both consumers and small businesses, the newest member of the Acer Iconia family of tablets, the Acer Iconia Tab A501 gives customers the freedom to enjoy technology around the clock anywhere on the Rogers wireless network.
The Acer Iconia Tab A501's 10.1-inch multi-touch screen provides precise finger-tip control for leveraging social media, email, productivity applications as well as games and entertainment. Powered by a NVIDIA® Tegra™ 2 mobile 1GHz dual-core processor and integrated GeForce™ GPU, customers can enjoy high-definition video, speedy browsing, multi-tasking, digital media playback and flash-based sites, games and applications.
"Staying in touch, informed, productive and entertained has never been so easy," said Sumit Agnihotry, vice president of product marketing for Acer America Corp. "Whether it's posting a birth announcement on Facebook™ or staying connected to the office via email, people are connecting more online and in a more personal way. The Acer Iconia Tab A501 with Rogers 4G HSPA+ connectivity provides our customers with a fast and fluid way to stay on the cutting-edge of technology and at the centre of what's happening in the world today. The Iconia Tab A501 is not only intuitive, but it's fashionable, which is important to consumers."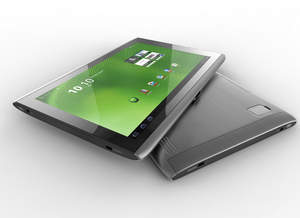 "As the exclusive Canadian retailer of the Acer Iconia Tab A501, GLENTEL is pleased to provide this stylish, feature-rich tab to consumers through our WIRELESSWAVE, Tbooth wireless, and WIRELESS etc... banners," said Cary Skidmore, VP Marketing, GLENTEL. "The Iconia delivers the perfect mix of work and play -- high-speed 4G HSPA+ connectivity, plus HD entertainment -- features that will satisfy even our most tech-savvy consumer."
High-Performance, Feature-Rich Entertainment in a Chic Design
Svelte and stylish, the Acer Iconia Tab A501's elegant aesthetics tout a high-gloss finish with an appealing engraved pattern for a flash of style. The Alpine Silver brushed metal aluminum chassis is comfortable to hold and carry. It's also very portable. The thin and light aluminum design weighs just 1.7 pounds and measures only 10.2(w) x 7(d) x 0.5(h)-inches, so it fits nicely in a handbag, briefcase or backpack.
Designed for HD entertainment, the 10.1-inch capacitive touch-screen tablet is undeniably accurate and responsive. Its high-resolution 1280x800 TFT WXGA display provides an optimal 80-degree wide viewing angle and the high-colour contrast allows customers to enjoy brilliant HD video in 16:10 aspect ratio. The ample 10.1-inch size is perfect for movies, games, social networking and scrolling through photos.
Fun on the Run
Dolby® Mobile technology with heightened audio makes the tablet a convenient medium for listening to online music when connected to a pair of external portable speakers. Via its mini HDMI port, customers can also use the Acer Iconia Tab A501 to display full high-definition video on a high-definition big screen TV or monitor. The system offers a full size USB 2.0 port for hooking up peripherals and it also includes a Micro SDHC slot and micro USB port.
Two integrated easy-to-use cameras include a 5MP rear-facing model with flash and auto-focus for capturing detailed, high-quality video and images. The 2MP fixed-focused front-facing webcam enables video calling and records HD video and comments for capturing memories, which can be shared via social networking sites.
With its 10-point touch display and six-axis motion sensor meter control, this leading-edge tablet smoothly runs premium HD arcade and online games on par with high-end game consoles. The built-in GPS can be combined with various apps to enable customers to enjoy navigation and location-searches while traveling and driving. Plus, the integrated Bluetooth allows consumers to connect the tablet to a variety of other devices, such as headsets and printers.
Readers will appreciate that the new tablet comes pre-installed with Acer LumiRead and Google Books™ eReading apps, while Zinio™ is pre-installed for viewing full-colour digital magazines. An ambient sensor enables the Acer Iconia Tab A501 to be used in many types of environments, while the integrated accelerometer allows auto-rotation between portrait and landscape modes for viewing movies, websites, games and more.
The Acer Iconia Tab A501 has long battery life with two 3260 mAh Li-polymer batteries that provide up to eight hours of playback for casual games, eight hours of HD video playback or 10 hours of WiFi Internet browsing.(1)
With 16GB of flash storage(2), the Acer Iconia Tab A501 gives customers extremely fast access to programs and apps. The Micro-SD card reader supports user-supplied Micro-SD cards with capacity up to 32GB, so customers can download their own digital content, including videos, movies and eBooks.
Customers can connect to Wi-Fi networks via Acer InviLink Nplify 802.11a/b/g/n Wi-Fi CERTIFIED wireless technology. They can also set up multiple email addresses and view Microsoft Office® documents using the trial version of the "Docs to Go" app for getting things done quickly.
Easy Does It with Android™ Honeycomb
The advances in Android™ Honeycomb build on the Acer Iconia Tab A501's high-performance design to deliver customers a simple, intuitive and fun mobile experience. Optimized for a tablet environment, the Android™ OS provides fluid, on the go browsing with features that make spending time online fun and productive.
The Acer Iconia Tab A501 can be customized with Android™ apps of the customer's choice from the Android™ Market and other Android™-based app sites.
Seamless Home Networking Via clear.fi
Acer Iconia Tab A501 comes with Acer clear.fi, which connects with any other DLNA-compliant device to quickly and easily share digital media. It automatically detects clear-fi-enabled devices on the wireless home network (smartphones, notebooks, HD media players, etc.) and gathers and organizes media files by type (video, music, photo, pre-recorded TV).
The Acer Iconia Tab A501 is available exclusively at WIRELESSWAVE, Tbooth wireless, and WIRELESS etc... stores across Canada for $199.99 on select 3-year plans.
About Acer
Since its founding in 1976, Acer has achieved the goal of breaking the barriers between people and technology. Globally, Acer ranks No. 2 for total PCs and notebooks.(3) A profitable and sustainable Channel Business Model is instrumental to the company's continuing growth, while its multi-brand approach effectively integrates Acer, Gateway, Packard Bell, and eMachines brands in worldwide markets. Acer strives to design environmentally friendly products and establish a green supply chain through collaboration with suppliers. Acer is proud to be a Worldwide Partner of the Olympic Movement, including the Vancouver 2010 Olympic Winter Games and London 2012 Olympic Games. The Acer Group employs 8,000 people worldwide. Revenues for 2010 reached US$19.9 billion. See www.acer-group.com for more information.
About GLENTEL
GLENTEL (TSX: GLN) is a leading provider of innovative and reliable telecommunications services and solutions in Canada and the United States. Founded in 1963 and headquartered in Burnaby, BC, GLENTEL comprises three operating divisions -- Retail Canada, Retail US and Business -- that service thousands of consumers and commercial communications customers. The company operates more than 300 locations across Canada in retail malls, Costco Wholesale stores and business centers, as well as over 170 retail locations in the United States. To its business and government customers, GLENTEL offers wireless service, rental equipment, satellite and terrestrial network systems, tower sites, and wireless asset monitoring. As the largest multi-carrier mobile phone retailer in Canada, it offers a choice of network carrier and wireless device or phone to Canadian consumers. GLENTEL operates its business under the trading names Glentel Wireless, WIRELESSWAVE, WAVE SANS FIL, Tbooth wireless, la cabine T sans fil, WIRELESS etc... and SANS FIL etc., and Diamond Wireless -- Verizon National Premium Retailer in the U.S.
© 2011 Acer America Corp. All rights reserved. Acer and the Acer logo are registered trademarks of Acer Inc. Other trademarks, registered trademarks, and/or service marks, indicated or otherwise, are the property of their respective owners. All offers subject to change without notice or obligation and may not be available through all sales channels. Prices listed are manufacturer suggested retail prices and may vary by location. Applicable sales tax extra.
1. Battery life varies depending on product specifications, computer settings and application or features launched. All batteries' maximum capacity diminishes with time and use. 2. Accessible capacity varies: MB = 1 million bytes; GB = 1 billion bytes 3. Source: Gartner data, FY2010
Image Available: http://www2.marketwire.com/mw/frame_mw?attachid=1792101

Erin Davern
Acer America Corp.
949-471-7785
[email protected]

Melanie Mitchell
GLENTEL Inc.
604.415.7002
[email protected]


Copyright @ Marketwire
Page: 1
Related Keywords:
Acer America, Computers/Peripherals, Home, Displays, Family, Internet, Computer, Notebook/Laptop, OS (Operating System), WiFi/Wireless, Tablets, USB, Networking, High Def (HD), Family, Computers/Home Office, Communications, Gaming, WiFi, Movies & Music, Web, Tablets, Notebooks, Speakers, Networks, Game Consoles, Home Networks, Printers, Movies by Genre, Search, Applications, Family, Music, Video, Images, Google, EMail, Social Media, Office Equipment, Sales, Applications, Printers, Productivity Applications, Marketing, Sales & Marketing, Productivity Applications, Networking, Computer Technology, Internet, Business Issues, Desktop Operating Systems, Other Applications, Other, Connectivity, Telecommunications, Wireless, Bluetooth, GPS, Mobile Devices, Social Media, Internet Server Applications, E-mail, Sales, Sales, Canada, USA, Marketwire, Inc., , IT (Information Technology), Networking, Productivity Applications, Aluminum, Silver, Television, Music, Communications Technology, Internet Technology, Game Technology, Business, Entertainment, Internet, Social Networking, Email, Online Games, Family, Other,
---