ANTIQUES ROADSHOW's New Season Filled With Firsts
Hit Appraisal Series Kicks Off Another Multi-Million Dollar Season With Its Biggest Discovery Ever; Monday, January 2, 2012 at 8/7C PM on PBS
(October 26, 2011)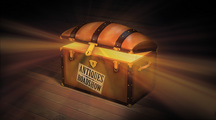 BOSTON, MA -- (Marketwire) -- 10/26/11 -- ANTIQUES ROADSHOW® has done it again: mined America's attics, basements, parlors and pantries for treasures of record-setting proportions. The nine-time Emmy® Award nominated series, PBS's most-watched, premieres its sixteenth season in 2012, with a brand new lineup of appraisals totaling more than $8 million in value!
Hosted by Mark L. Walberg, ANTIQUES ROADSHOW launches its new season Monday, January 2 at 8/7C PM on PBS. Eighteen exciting new episodes were recorded in Tulsa, Oklahoma; Eugene, Oregon; El Paso, Texas; Minneapolis, Minnesota; Atlanta, Georgia; and Pittsburgh, Pennsylvania. Three brand new ANTIQUES ROADSHOW Special Editions: "Junk in the Trunk 2," "Cats & Dogs," and "Greatest Gifts" wrap up the season's offerings.
Here are more of ROADSHOW's "firsts" for 2012:
Tulsa: The season premiere from Tulsa, Oklahoma boasts ROADSHOW's most valuable discovery ever: a collection of late 17th/early 18th-century Chinese carved rhinoceros horn cups valued at between $1 million and $1.5 million.


Eugene: ROADSHOW appraised its first Norman Rockwell original painting: a 1919 oil-on-canvas entitled "The Little Model" valued at $500,000. Season 16 also marks ROADSHOW's first visit to Eugene.


Pittsburgh: ROADSHOW recorded its first centenarian guest at the Pittsburgh, PA event. This extraordinary moment will be part of ROADSHOW's first series of web exclusive video appraisals for 2012.


El Paso: ROADSHOW's first marriage proposal took place at the event in El Paso, Texas. This was ROADSHOW's first trip to El Paso.


Atlanta: ROADSHOW Online rolled out its first live Facebook appraisal quizzes on the summer 2011 tour. Quizzes during the Atlanta, GA event generated more than 800,000 Facebook impressions.


Minneapolis: ROADSHOW recorded an appraisal with its first Pro Football Hall of Famer at the event in Minneapolis, MN: Alan Page is an Associate Justice with the Minnesota Supreme Court and played both for the Minnesota Vikings and the Chicago Bears in the 1970s.


"ANTIQUES ROADSHOW is not a museum on wheels," said Executive Producer Marsha Bemko, "It's an evolving experience that welcomes curiosity, passion, and personal expression. It's why the sixteenth season is just as full of firsts as season one."
EPISODES AT 8/7C PM* 2012 PBS AIRDATES** Tulsa, Oklahoma January 2, 9, 16 Eugene, Oregon January 23, 30, February 6 Pittsburgh, Pennsylvania February 13, 20, 27 El Paso, Texas March 26, April 2, 9 Atlanta, Georgia April 16, 23, 30 Minneapolis, Minnesota May 7, 14, 21 Special Edition: "Junk in the Trunk 2" TBA Special Edition: "Cats & Dogs" TBA Special Edition: "Greatest Gifts" TBA
*ANTIQUES ROADSHOW also airs episodes from its archives Monday's at 9/8C PM on PBS
**Check local listings for dates and times.
ANTIQUES ROADSHOW is produced for PBS by WGBH Boston. Executive producer is Marsha Bemko.
ANTIQUES ROADSHOW is sponsored by Liberty Mutual and Subaru. Additional funding is provided by public television viewers.
ANTIQUES ROADSHOW is closed-captioned for viewers who are deaf or hard-of-hearing by The Caption Center at WGBH Boston.
For more information about ANTIQUES ROADSHOW, visit www.pbs.org/antiques.
Press materials, including video previews and downloadable photos, are available at www.pbs.org/pressroom.
© 2011 WGBH Educational Foundation
October 2011
Image Available: http://www2.marketwire.com/mw/frame_mw?attachid=1778092
Image Available: http://www2.marketwire.com/mw/frame_mw?attachid=1778095

Add to Digg Bookmark with del.icio.us Add to Newsvine
Copyright @ Marketwire
Page: 1
Related Keywords:
Antiques Roadshow, Marketwire, , Sports, Television, Internet Technology, Football, Judicial,
---