AMD Launches New Platform for Dedicated Web Hosting Providers
New AMD Opteron(TM) 3200 Series Processor Family Changes Industry Economics for Single-Socket, Dedicated Hosting and Cloud Customers
(March 19, 2012)

SUNNYVALE, CA -- (Marketwire) -- 03/20/12 -- AMD (NYSE: AMD) today announced the latest solution as part of its ongoing Web/Cloud initiative with the launch of the new AMD Opteron™ 3200 Series processor. Dedicated Web hosting customers seeking enterprise-class reliability have a new choice that delivers:
Great value with up to 38% better price performance(i) and up to 19% less power per core(ii) than the competition;
ECC memory and server reliability features at a low price-point;
Fast hardware payback -- in as few as 7 months hosting fees can cover hardware costs -- up to 14% quicker than with the competition(iii);
Efficient economics for the Cloud with twice the core density per rack(iv).
"In today's economic environment, dedicated hosting providers need their data centers to become profit centers faster than ever," said Patrick Patla, corporate vice president and general manager, Commercial Business, AMD. "With the new AMD Opteron™ 3000 Series platform, Web and Cloud customers no longer have to compromise with desktop-class platforms in order to hit certain price points. Now they have all the benefits of a true server-class product at desktop-class price points. This helps rapidly-growing hosting customers achieve fast payback in their incredibly dense, power-efficient environments."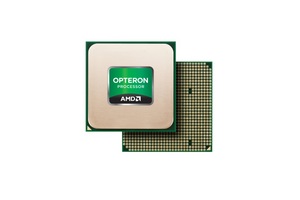 Since the launch of its new core server architecture, and AMD Opteron™ 4200 and 6200 Series processors last November, AMD unveiled a disruptive server strategy and intentions to leverage its leading graphics IP while driving down the power in future SoC offerings. As part of accelerating this, AMD recently announced it had entered into a definitive agreement to acquire Cloud pioneer SeaMicro.
Today AMD has delivered on its promise of a low-power, single-socket solution that brings server functionality with desktop economics. The AMD Opteron 3000 Series platform is targeted to the dense, power efficient 1P Web hosting/Web server market. Available in either 4- or 8-core CPUs, the AMD Opteron 3200 Series processor is shipping today in platforms from MSI, Tyan, Fujitsu and Dell. Based on the "Bulldozer" core, the AMD Opteron 3000 Series platform leverages Socket AM3+ and provides customers with the cost savings associated with a "desktop-like" infrastructure, yet still offers server-class reliability, enterprise-class silicon validation/testing, security features and server OS certification.
"AMD is a great partner, and we're excited about the new AMD Opteron 3200 Series CPU. It allows us to create a custom design for our DCS customers, and deliver a compelling combination of performance and energy efficiency," says Dell Data Center Solutions' Steve Cumings. "As the leader in the Density-Optimized market segment, we require focused partner technology within industry standards -- and this is a good fit for our customers."
Key Facts, Performance and Technical Detail
45W to 65W TDP
2.7 GHz base frequency, up to 3.7 GHz frequency using AMD Turbo CORE technology(v)
4- and 8-core options
2 DDR3 memory channels supporting ECC UDIMM
1333, 1600, 1866 MHz memory speed(vi)
Supports 1.5V, 2Rank
Up to 32GB memory capacity
Supports up to 2 DIMMs per memory channel
Total Cache: 16MB for 8-core, 8MB for 4-core
L2 Cache: up to 8MB total
L3 Cache: up to 8MB total
About AMD
AMD (NYSE: AMD) is a semiconductor design innovator leading the next era of vivid digital experiences with its groundbreaking AMD Accelerated Processing Units (APUs) that power a wide range of computing devices. AMD's server computing products are focused on driving industry-leading cloud computing and virtualization environments. AMD's superior graphics technologies are found in a variety of solutions ranging from game consoles, PCs to supercomputers. For more information, visit http://www.amd.com.
AMD, the AMD Arrow logo, AMD Opteron and combinations thereof, are trademarks of Advanced Micro Devices, Inc. Other names are for informational purposes only and may be trademarks of their respective owners.
CAUTIONARY STATEMENT
This release contains forward-looking statements, concerning among other things, AMD's growth opportunities; the anticipated benefits from AMD's acquisition of SeaMicro and AMD's server strategy; the benefits of our new products; the features and functionality of these products; and new industry trends; which are made pursuant to the safe harbor provisions of the Private Securities Litigation Reform Act. Forward-looking statements are commonly identified by words such as "would," "may," "expects," "believes," "plans," "intends," "projects," and other terms with similar meaning. Investors are cautioned that the forward-looking statements in this release are based on current beliefs, assumptions and expectations, speak only as of the date of this release and involve risks and uncertainties that could cause actual results to differ materially from current expectations. Material factors and assumptions that were applied in making these forward looking statements include, without limitation, AMD's current expectations regarding GLOBALFOUNDRIES manufacturing yields and wafer volumes and demand for its products. Risks include the possibility that Intel Corporation's pricing, marketing and rebating programs, product bundling, standard setting, new product introductions or other activities targeting the company's business may negatively impact the company's plans; the company will be unable to develop, launch and ramp new products and technologies in the volumes required by the market and at mature yields on a timely basis; that the company's third party wafer foundry suppliers will be unable to transition the company's products to advanced manufacturing process technologies in a timely and effective way or to manufacture the company's products on a timely basis in sufficient quantities and using competitive technologies; the company will be unable to obtain sufficient manufacturing capacity or components to meet demand for its products or will not fully utilize the company's projected manufacturing capacity needs at GLOBALFOUNDRIES' microprocessor manufacturing facilities in 2012 and beyond; that customers stop buying the company's products or materially reduce their operations or demand for the company's products; that the company may be unable to maintain the level of investment in research and development that is required to remain competitive; that there may be unexpected variations in market growth and demand for the company's products and technologies in light of the product mix that it may have available at any particular time or a decline in demand; that the company will require additional funding and may be unable to raise sufficient capital on favorable terms, or at all; that global business and economic conditions will not improve or will worsen; demand for computers will be lower than currently expected; and the effect of political or economic instability, domestically or internationally, on the company's sales or supply chain. Investors are urged to review in detail the risks and uncertainties in the company's Securities and Exchange Commission filings, including but not limited to the Annual Report on Form 10-K for the year ended December 31, 2011.
(i) Comparison drawn between the Intel Xeon E3-12xxL and AMD Opteron 3200 Series processors with the lowest price to SPECint_rate2006 score ratio. The estimated SPECint®_rate2006 scores for the AMD Opteron 3200 Series processors reflect current expectations based on the performance of AMD Opteron 4200 Series processors and are subject to change. The results for the Intel Xeon processors reflect the highest 1P results published on http://www.spec.org/cpu2006/results as of Jan 9, 2012 with each processor operating at its default frequency. 70.3, 1 x Intel Xeon processor Model E3-1220L in IBM System x3250 M4 (Intel Xeon E3-1220L), 16 GB (2 x 8 GB 2Rx8 PC3-10600E-9, ECC), Red Hat Enterprise Linux Server Release 6.1, Kernel 2.6.32-131.0.15.el6.x86_64, C/C++: Version 12.1.0.225 of Intel Compiler XE Build 20110803, http://www.spec.org/cpu2006/results/res2011q4/cpu2006-20111121-18865.html. 139, 1 x Intel Xeon processor Model E3-1260L in IBM System x3250 M4 (Intel Xeon E3-1260L), 16 GB (2 x 8 GB 2Rx8 PC3-10600E-9, ECC), Red Hat Enterprise Linux Server Release 6.1, Kernel 2.6.32-131.0.15.el6.x86_64, C/C++: Version 12.1.0.225 of Intel Compiler XE Build 20110803, http://www.spec.org/cpu2006/results/res2011q4/cpu2006-20111121-18877.html. SPECint®_rate score= 75 (est.), 1 x AMD Opteron™ processors Model 3250. SPECint®_rate score= 80 (est.), 1 x AMD Opteron™ processors Model 3260. SPECint®_rate score= 117 (est.), 1 x AMD Opteron™ processors Model 3280. Intel Xeon processor Model E3-1220L is $189 as of 1/9/12 at www.intc.com/pricelist.cfm. Intel Xeon processor Model E3-1260L is $294 as of 1/9/12 at www.intc.com/pricelist.cfm. AMD Opteron™ processor Model 3250 has a preliminary price of $99 as of 1/9/12. AMD Opteron™ processor Model 3260 has a preliminary price of $125 as of 1/9/12. AMD Opteron™ processor Model 3280 has a preliminary price of $229 as of 1/9/12. SPEC and SPECint are registered trademarks of the Standard Performance Evaluation Corporation. For the latest SPECint_rate2006 results, visit http://www.spec.org/cpu2006/results. SVR-114
(ii) Intel Xeon processor Model E3-1220L has 2 cores and 20W TDP, which equals 10 watts/core. Intel Xeon processor Model E3-1260L has 4 cores and 45W TDP, which equals 11.25 watts/core. Pricing and TDP values as of 1/9/12 at www.intc.com/pricelist.cfm. Both the AMD Opteron™ processor Models 3250 and 3260 have 4 cores and 45W TDP, which equals 11.25 watts/core. AMD Opteron™ processor Model 3280 has 8 cores and 65W TDP, which equals 8.1 watts/core. SVR-112
(iii) In as few as 7 months -- up 14% quicker than with the competition -- hosting fees can cover your server hardware costs. Calculation based on the time it takes for monthly hosting fees of $89.99 to sum up to the cost of an AMD Opteron™ 3200 Series processor-based server (est. $573) vs. an Intel Xeon E3-12xxL processor-based server (est. $643). It does account for software, deployment, management, and power costs. Not accounting for licensing, deployment, management, or power costs, it takes seven months of hosting revenue to pay back the cost of an AMD Opteron™ processor Model 3250-based server and eight months of hosting revenue to pay back the cost of an Intel Xeon processor Model E3-1250L-based server. This assumes receiving $89.99 dedicated hosting monthly fee, which is in between the pricing for the Server 4 and Server 4i Standard Application L packages as of 1/9/12 at www.1and1.com. AMD Opteron 3250 based server costs $573 (est.) and an Intel Xeon E3-1220L based server costs $643 (est.). The processor and motherboard make up the cost differences between an AMD Opteron 3200 Series based server and an Intel Xeon E3-120xL Series based server. The costs for chassis, drive, and memory are expected to be the same in a like-for-like configuration. Low-end processor costs: AMD Opteron™ 3250 1kU preliminary price is $99 and Intel Xeon E3-1220L is $189 as of 1/9/12 at www.intc.com/pricelist.cfm. MSI motherboard for Intel (MS-S012): approximately $170 as of 12/20/11. MSI motherboard for AMD (MS-S023): approximately $190 as of 12/20/11. Chassis: Antec Sonata Proto No Power Supply ATX Mid Tower Case (Black) - SONATA PROTO BLACK $63.99 as of 12/22/11 at http://www.superbiiz.com/detail.php?p=CA-SONATAT&c=pw&hash=5efdcBmU0Y8T1mgEYZeWu3W7ae1goOVs6iHd1Zx3H40dumgkEYh%2BuMKcEZZ8JVMKn4%2BmtpaTc5koTCFpcooi3vj5GJGvI61%2FdXuNXKJqZ%2FNfES0xTXNJs8R9%2Fw. Hard drive: 1TB SATA2 7200rpm 64MB Enterprise Hard Drive $124.32 pricing as of 12/16/11 at http://www.eworldsale.com/western-digital-re4-wd1003fbyx-1tb-sata2-7200rpm-64mb-enterprise-hard-drive35_8733_64564.html. Memory: 4GB x 2 Unbuffered, 1.5V 2 Rank $95.99 pricing as of 12/16/11 at http://www.crucial.com/store/partspecs.aspx?IMODULE=CT2KIT51272BA1339. SVR-116
(iv) Intel Xeon processor Model E3-1220L has 2 cores and E3-1260L has 4 cores as of 1/9/12 at www.intc.com/pricelist.cfm. AMD Opteron™ processor Models 3250, 3260, and 3280 have 4, 4, and 8 cores respectively. SVR-110
(v) Based on AMD Opteron 3200 Series processors with up to 300 MHz in P1 boost state and up to 1 GHz+ in P0 boost state over base P2 clock frequency
(vi) 1866 MHz supported only with a single physical DIMM per memory channel. SVR-117
Image Available: http://www2.marketwire.com/mw/frame_mw?attachid=1922275

Add to Digg Bookmark with del.icio.us Add to Newsvine
Contact:
Phil Hughes
AMD Public Relations
(512) 602-4797
Email Contact

Twitter: @AMDopteron


Copyright @ Marketwire
Page: 1
Related Keywords:
AMD, CPU, Bulldozer, Zambezi, FX, Scorpius, Desktop, Processors, Chipsets, Overclocking, Manufacturing,Sales,Suppliers,Manufacturing/Production,Marketing,Shipping & Receiving,Manufacturing,Sales & Marketing,Security,Computer Technology,Internet,Business Issues,Hardware,Cloud Computing,Security,infrastructure,Management,Finance/Accounting,Sales,Finance/Accounting,Sales,Unix,Linux,Marketwire, Inc., ,Shipping,Internet Technology,Game Technology,Computer Science,Business,Family,Other,
---