AMAX and Nexenta Partner on New Line of Total Turnkey Unified Storage Appliances
ZFS-Based Solutions Provide Robust Features and Extreme Scalability With Plug and Play Simplicity
(July 11, 2012)

FREMONT, CA -- (Marketwire) -- 07/11/12 -- AMAX, a leading innovator of High Performance Computing (HPC), dynamic Enterprise IT, and custom Appliance Manufacturing solutions, today announced the immediate availability of its powerful new line of StorMax-NXC Unified Storage Solutions based upon the NexentaStor™ ZFS unified storage management platform. These highly-scalable storage systems spotlight application & data availability, targeting HA web 2.0 service providers, streaming multimedia, and industries requiring massive storage volumes, and drastically reduce the cost of storage, helping enterprises of all sizes achieve the optimal price to performance ratio.
The StorMax-NXC series SAN and NAS solutions have effectively combined NexentaStor™ with proven StorMax high-performance hardware to create a complete line of open storage solutions with enterprise-grade storage features including unlimited snapshots, full integration with all major virtualization platforms, file & block level de-duplication, silent data corruption detection & correction, and native leveraging of solid state drives (SSD's) via hybrid storage pools.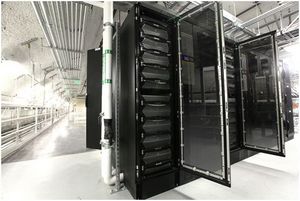 The AMAX StorMax-NXC series offers a more efficient, cost-effective platform for addressing scalable storage needs while also delivering the ease-of-use and flexibility demands of today's rapidly growing enterprise storage environments. With the NexentaStor™-enabled AMAX StorMax-NXC Nexenta Certified storage solutions, customers stand to save 70-80% in cost over proprietary solutions while also enjoying superior functionality and flexibility, along with the support of an open-source community that collectively possesses far greater resources than any single vendor.
"We are excited to work with AMAX who are committed to our vision of enterprise class storage for everyone," said Evan Powell, CEO of Nexenta Systems. "By integrating a solution that includes robust hardware and NexentaStor storage software, customers of all sizes can now utilize an open storage solution that is very simple to deploy, manage and configure at the best price to performance ratio."
"Of the many storage OS partners we considered, AMAX chose Nexenta as a strategic partner due to the comprehensiveness of its software features, its scalability, its competitive cost-model, its ease of use and deployment, and ultimately, who we could collaborate with most dynamically to hit the sweet spot of a total solution fitting the needs of an actual user, both as an immediate solution and for long-term scaling," said Julia Shih, Director of Strategic Alliance, AMAX. "We see NexentaStor™ as an emerging and disruptive technology, creating a strong, synergistic complement to AMAX's performance- and efficiency-optimized storage platforms with industry-recognized manufacturing quality."
The latest AMAX StorMax solutions with NexentaStor, include standard NAS and SAN appliances (available with up to 108TB in a single enclosure) as well as complete turnkey NAS storage stacks:
AMAX StorMax-NXC (180TB), a single host, 2x high-density 4U 45 drive JBOD & 2TB SAS drives.
AMAX StorMax-NXC (480TB), a single host, 4x ultra-dense 4U 60 drive JBOD & 2TB SAS drives.
AMAX's Nexenta Certified NAS/SAN solutions are available immediately. Potential users may also download the NexentaStor Enterprise Edition trial software at www.nexenta.com/corp/downloads to test drive the product for 45 days. For more information on AMAX products and services, please visit: http://www.amax.com.
About AMAX
Founded in 1979, AMAX is a leading innovator of High Performance Computing (HPC) server, storage and cluster solutions, Enterprise IT and Appliance Manufacturing solutions. The company applies a unique combination of hardware and software engineering expertise with an open standards-based approach to dramatically increase performance and ROI for the most demanding applications. Global organizations, including some of the world's best-known brands, use AMAX offerings to solve complex computing challenges, meet product development demands, reduce energy consumption, and stay competitive. AMAX is proud to be ISO 9001 Certified and China Compulsory Certified. The company headquarters is in Fremont, CA with offices in Richardson, TX, and Suzhou and Shanghai, China. For more information on products and services, visit http://www.amax.com.
About Nexenta Systems
Founded in 2005 and privately held, Nexenta Systems, Inc., developed NexentaStor™, the leading Open Storage enterprise class, hardware-independent storage solution that combines the high performance and reliability of OpenSolaris with the ease of use and breadth of applications of Linux and leverages the revolutionary ZFS file system. Nexenta's mission is to make enterprise class storage available for everyone though its flagship software-only platform.
Image Available: http://www2.marketwire.com/mw/frame_mw?attachid=2035307

Add to Digg Bookmark with del.icio.us Add to Newsvine
Media Contact:
Justin Quon
510-497-8939
Email Contact


Copyright @ Marketwire
Page: 1
Related Keywords:
Storage, SAN, NAS, DAS, Data Center, Enterprise, JBOD, Nexenta, NexentaStor, storage racks, petabyte, Broadcast,Management,Streaming,Internet Media,OS (Operating System),Unix,Linux,China,Marketwire, Inc.,Appliances,Internet Technology,Computer Science,Web 2.0,china,
---