AMAX Announces the Big Data Haiku Contest
Find the Zen in You, Create Your Perfect Poem, Win the New iPad
(April 13, 2012)

FREMONT, CA -- (Marketwire) -- 04/13/12 -- Are you an engineer who's a poet at heart? Are you a poet who's an engineer at heart? AMAX, a leading innovator of Big Data, Private Cloud and Storage solutions, today announced a new Big Data Haiku contest celebrating its PHAT-Data (Peta-Scale Hadoop Analytics Technology) solution.
Just as a Haiku is a perfectly balanced work of art that marries technical style with mind-blowing eloquence and contextual implication, so is our PHAT-Data Hadoop total turnkey solution powering business intelligence and real-time analytics through an optimized 20-node 10Gb-based Apache Hadoop cluster tuned for optimal efficiency and performance. We are so inspired by this solution that we have turned to the masses to sing its praise from cherry-blossom covered mountaintops for the potential of Hadoop and PHAT Data through Haiku. Every submission will receive a collectible Sumo mascot squeeze toy (one per person, while supplies last), and the winner by public vote will be crowned with a brand-spankin' new 3rd generation iPad, courtesy of your friends at AMAX.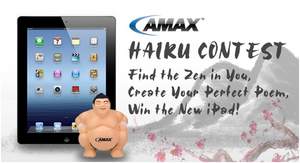 "Squeezing all our passion for Hadoop and PHAT Data into 5-7-5 syllables isn't easy, which is why we turn to the community to help us articulate how Big Data analysis and mining is a breakthrough for information technology and will soon be changing the entire landscape of how we view information and even the world," said Julia Shih, Director of Strategic Alliance, AMAX. "Haiku is a well-known and well-loved medium for illuminating entire landscapes and concepts using efficient, powerful strokes carrying deep meaning on various levels. This poetic meaning is not unlike the sharp, incisive, refined and often dynamic intelligence that can be mined from extremely if not infinitely large datasets, and we believe Haiku in itself serves as a kindred analogy for the eloquence and infinite potential of Hadoop, as powered by PHAT Data."
AMAX's focus has generally been on marrying the power, breadth and flexibility of the latest in computing technology with high performance components and like a Haiku, AMAX technology is also a fine balance of power and elegance. Big Data processing requires powerful technology to reveal the most delicate truths of enterprise information systems. This is the spirit of Hadoop and PHAT Data, and this balance can be poetically demonstrated through the practice and meditation of Haiku.
Details of the contest are as follows:
"Like" AMAX on the AMAX Facebook page to get started.
Write a haiku about AMAX, PHAT-Data, Apache Hadoop, and/or Big Data and comment on our official Facebook photo post.
Submission deadline is April 22nd, 2012 @ 11:00PM PDT. Entrants will automatically receive a FREE PHAT-Data sumo stress ball.*
From April 22nd to April 29th, 2012 @ 11:00PM PDT, be sure to vote for your favorite haiku by "Liking" it.
The winning haiku with the most # of votes will be announced as the winner!
Let the creativity flow with your words and you could be the winner of a new 3rd generation Apple iPad. For more information on the AMAX Haiku promotion, contest rules and judging criteria, please visit our Facebook page. For more information on AMAX products, services, and dynamic marketing initiatives, please visit: http://www.amax.com.
* Supplies will not last, due to awesomeness. Contestants must Facebook message shipping information to AMAX to claim their prize.
About AMAX
Founded in 1979, AMAX is a leading innovator of High Performance Computing (HPC) server, storage and cluster solutions, Enterprise IT and Appliance Manufacturing solutions. The company applies a unique combination of hardware and software engineering expertise with an open standards-based approach to dramatically increase performance and ROI for the most demanding applications. Global organizations, including some of the world's best-known brands, use AMAX offerings to solve complex computing challenges, meet product development demands, reduce energy consumption, and stay competitive. AMAX is proud to be ISO 9001 Certified and China Compulsory Certified. The company headquarters is in Fremont, CA with offices in Richardson, TX, and Suzhou and Shanghai, China. For more information on products and services, visit http://www.amax.com.
Image Available: http://www2.marketwire.com/mw/frame_mw?attachid=1947605

Add to Digg Bookmark with del.icio.us Add to Newsvine
Media Contact:
Justin Quon
510-497-5939
Email Contact


Copyright @ Marketwire
Page: 1
Related Keywords:
Intel Xeon E5, hadoop, Sandy Bridge, HPC, Enterprise IT, data center, servers, storage, blades , Manufacturing, Applications, Manufacturing/Production, Shipping & Receiving, Manufacturing, Sales & Marketing, Storage, Hardware, Services, Software, Misc, China, Marketwire, , IT (Information Technology), Shipping, Computer Science, Engineering, Business, china,
---