AIIM Validates the Demand for New Information Skills
Capgemini to Certify 100 IT Consultants Under AIIM Certified Information Professional Program
(June 06, 2012)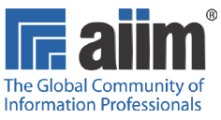 SILVER SPRING, MD and UTRECHT, THE NETHERLANDS -- (Marketwire) -- 06/06/12 -- AIIM, the global community of information professionals, today announced that Capgemini, Europe's largest computer consultancy, and its business partners will certify 100 information technology consultants under AIIM's Certified Information Professional (CIP) program.
With the creation of the first global credential of its kind, AIIM is addressing the changing role of the information professional and working closely with leading solution providers to include CIP training and certification as part of their employee and client education programs. For solution providers, CIP certification provides a cost-effective way to ensure that their consulting teams stay current with fast-changing information management trends and technology.
As another sign of the deepening relationship between AIIM and Capgemini, AIIM's Andrew Graham will be delivering a talk titled "The Era of Extreme Information" at the Capgemini ECM event in The Netherlands, June 6 in Utrecht. The talk will focus on the need to manage the volume, variety and velocity of structured and unstructured data.
"We see the CIP program as the premier credential in the information management segment," said Yvo Booisma, Domain Director Enterprise Content Management, of Capgemini. "More and more of our clients are asking for consultants who hold the CIP designation because it signifies that they have the ability to bridge the worlds of IT and business. Information management practices are shifting rapidly, and by working with AIIM, we are staying on top of these changes."
AIIM's CIP designation has been adopted by information professionals in more than 17 countries and is gaining recognition from industry experts and analysts as the designation capable of demonstrating the mastery of knowledge needed by the new roles of information professionals.
"The convergence of social, local and mobile technologies is having a dramatic impact on information management across Europe," said Graham, who directs AIIM's business in Europe. "By working with leading solution providers such as Capgemini, we are putting the CIP program to work by giving them and their clients the knowledge and tools they need to address this shifting landscape."
AIIM Training and Certificate Programs are designed by a team of subject matter experts and capture the best practices from more than 65,000 members of the AIIM global community. With AIIM programs, information professionals can expand skills and demonstrate abilities through classroom courses or online self-pace learning and demonstrate abilities through practitioner, specialist and master certificate programs.
AIIM's CIP program, developed in accordance with ISO Standard 17024, helps to ensure information professionals can strategically bridge IT and business to keep pace with today's unprecedented technological change.
For more information, visit: http://www.aiim.org/Training/Certification.
About AIIM
AIIM has been an advocate and supporter of information professionals for nearly 70 years. The association's mission is to ensure that information professionals understand the current and future challenges of managing information assets in an era of social, mobile, cloud and big data. Founded in 1943, AIIM builds on a strong heritage of research and member service. Today, AIIM is a global, non-profit organization that provides independent research, education and certification programs to information professionals. AIIM represents the entire information management community, with programs and content for practitioners, technology suppliers, integrators and consultants.
Add to Digg Bookmark with del.icio.us Add to Newsvine
Copyright @ Marketwire
Page: 1
Related Keywords:
AIIM, Capgemini, certification, training, ECM, information management professionals, CIP program, Education, Management, Marketwire, IT (Information Technology), Computer Science, Business,
---