AIIM Partners With OpenText to Expedite the Rise of the Information Professional
Industry Leader OpenText Teams Up With AIIM to Expand Global Reach and Adoption of AIIM's Information Professional Certification Program
(March 21, 2012)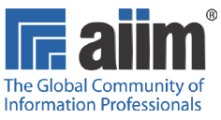 SAN FRANCISCO, CA -- (Marketwire) -- 03/21/12 -- AIIM, the global community of information professionals, today announced a critical milestone in the evolution of AIIM's Certified Information Professional (CIP) program.
With the formation of a new CIP Champions program, AIIM is addressing the changing role of the information professional and recognizing content and information management solution providers who are committed to the CIP designation as part of their employee and partner education programs.
As the first member of CIP Champions, OpenText will encourage adoption of AIIM's CIP training and certification across its global team of content experts by providing scholarships for those seeking the certification.
"OpenText has thousands of successful ECM and BPM deployments globally," notes OpenText Chief Marketing Officer James Latham. "In the course of these deployments, we have developed a keen understanding of how the content which comprises core business information flows throughout an enterprise and how organizations can leverage it to drive growth, mitigate risk and generate business advantage. We believe the CIP can accelerate this success and are committed to its adoption in the marketplace."
AIIM's CIP has been adopted by information professionals in more than 12 countries and is gaining recognition from industry experts and analysts as the designation capable of demonstrating the mastery of knowledge needed by the new roles of information professionals.
"The convergence of social, local and mobile technologies is shifting information management and driving organizations to create new systems of engagement," said John Mancini, president of AIIM. "To address this dramatic shift, we worked with experts and focus groups to develop the body of knowledge needed for CIP and are pleased to have OpenText join us in expanding reach and adoption."
About AIIM
AIIM has been an advocate and supporter of information professionals for nearly 70 years. The association's mission is to ensure that information professionals understand the current and future challenges of managing information assets in an era of social, mobile, cloud and big data. Founded in 1943, AIIM builds on a strong heritage of research and member service. Today, AIIM is a global, non-profit organization that provides independent research, education and certification programs to information professionals. AIIM represents the entire information management community, with programs and content for practitioners, technology suppliers, integrators and consultants.
About OpenText
OpenText, a global ECM leader, helps organizations manage and gain the true value of their business content. OpenText brings two decades of expertise supporting 100 million users in 114 countries. Working with our customers and partners, we bring together leading Content Experts™ to help organizations capture and preserve corporate memory, increase brand equity, automate processes, mitigate risk, manage compliance and improve competitiveness. For more information, visit www.opentext.com.
Copyright @ Marketwire
Page: 1
Related Keywords:
AIIM, OpenText, Information Professional, Certification, Certified Information Professional, CIP, Marketwire, , Biology, Business,
---