AIIM Hosts Webinar With Kodak on "Future Moves for Kodak's Document Imaging Business"
Kodak Executive Engages in a Candid Conversation With AIIM President About the Future of Kodak's Document Imaging Business
(April 19, 2012)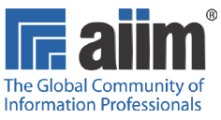 SILVER SPRING, MD -- (Marketwire) -- 04/19/12 -- AIIM, the global community of information professionals, today announced a free online webinar titled, "Future Moves for Kodak's Document Imaging Business." The event is scheduled for Wednesday, May 16, from 2 to 3 p.m. (EDT).
Join AIIM for this rare opportunity to be part of a live Q&A session on what the future holds in terms of direction and glimpses of new products for the industry leader of innovative capture products, software and services as Eastman Kodak Company ("Kodak") and its U.S. subsidiaries reorganize under Chapter 11 business reorganization.
Russell Hunt, Regional Business Manager at Kodak, is responsible for marketing, sales and business development programs in the United States and Canada (US&C) for KODAK and BÖWE BELL + HOWELL (BBH) branded document scanners, KODAK Capture Pro Software and KODAK Service and Support. Hunt will point out future direction for Kodak's document imaging business and answer questions partners and customers may have about steps the company is taking to continue to innovate and help information professionals capture, manage, archive and deliver critical business information.
"Kodak's document imaging business is a major player in content management and has been an important member of the AIIM community for many years," said AIIM President John Mancini. "I look forward to having a candid dialogue with Russell about Kodak's business reorganization and what impact the future direction of the company will have on information professionals."
As a veteran with more than 27 years of service to the high-tech document capture channel, Hunt's work with channel partners, developers and end users earned him recognition as a Channel Chief by Everything Channel's CRN in 2010 and 2011.
To register for the webinar, please visit: http://www.aiim.org/events/webinars/20120516-webinar.
About AIIM
AIIM has been an advocate and supporter of information professionals for nearly 70 years. The association's mission is to ensure that information professionals understand the current and future challenges of managing information assets in an era of social, mobile, cloud and big data. Founded in 1943, AIIM builds on a strong heritage of research and member service. Today, AIIM is a global, non-profit organization that provides independent research, education and certification programs to information professionals. AIIM represents the entire information management community, with programs and content for practitioners, technology suppliers, integrators and consultants.
About Kodak
As the world's foremost imaging innovator, Kodak helps consumers, businesses, and creative professionals unleash the power of images, information, and printing to enrich their lives.
Kodak enables customers to capture and use valuable information from electronic and paper documents. Our document imaging solutions include award-winning scanners and capture software, an expanding range of professional services and industry-leading service and support. From small offices to global operations, Kodak has the right solution to feed your business the information it needs.
For more information, visit http://www.kodak.com/go/docimaging. Follow us on Twitter at twitter.com/kodakdi and visit our blog at growyourbiz.kodak.com.
(Kodak is a trademark of Eastman Kodak Company.)
Copyright @ Marketwire
Page: 1
Related Keywords:
AIIM, Kodak, webinar, document imaging, information professionals, content management, future, Canada, USA, Marketwire, , Business,
---