AAA/CAA Virtual Travel Show Debut Far Exceeds Expectations
Throngs of AAA/CAA members Engage With Travel Experts Using InXpo's Online Events Application
(November 12, 2008)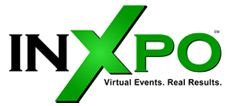 CHICAGO, IL -- (Marketwire) -- 11/12/08 -- AAA/CAA Travel has declared its foray into virtual travel shows a success for members as well as partners who attended the five invitation-only online events this year. The interactive events, which simulated physical travel shows, brought AAA/CAA members together with leading travel, vacation and car rental companies as well as hotels and cruise lines for live, interactive chatting, web presentations and networking with experts and fellow travelers.
The final event of the year, "Best and Biggest Virtual Travel Show," is being held today and will treat attendees to presentations by Consumer Travel Guru and TV Travel Host Rudy Maxa, in addition to Mary Beth Bond, known for her "Girlfriend Getaway Deals" and advice on women's travel, and Susan Foster, renowned packing expert. The virtual event complements AAA's two-week long "Best and Biggest Sales Event," which runs through Nov. 22nd. The URL for the virtual travel show is http://www.AAA.com/virtualshows.
"Today's traveler faces an abundance of choices on destinations, how to get there, where to stay, who to book through, etc.," said Glen Mac Donell, director, AAA Travel Services. "As the world's leading full-service leisure travel agency, AAA/CAA Travel is using its collective expertise, along with InXpo's technology, to help members find attractive deals for memorable vacations during these financially-challenging times."
"Attendance at the AAA/CAA Virtual Travel Shows multiplied exponentially since the first online event was held in January 2008 and far exceeded our expectations," said Brenda Urias, marketing manager for Travel Programs for AAA Travel Services.
"By hosting virtual events, AAA/CAA Travel is meeting a growing need for members to get the most up-to-date information from an interactive community of their peers," said Malcolm Lotzof, CEO of InXpo. "Since AAA/CAA members can attend these travel shows without ever leaving their homes, they're saving money that otherwise could be spent on family vacations and getaways."
The 2008 AAA/CAA series of virtual events was staged on InXpo's Virtual Trade Show Platform, one of several platforms and solutions InXpo offers. Participants connected to the events via their computer and a high-speed Internet connection to attend the virtual travel shows from the comfort of their own homes or businesses. AAA/CAA Virtual Travel Shows include special member offers and exclusive savings, in addition to the chance to win prizes for attending presentations and visiting the virtual booths hosted by AAA/CAA partners. Information about AAA/CAA's 2009 virtual travel shows can be found at: http://presentations.inxpo.com/Shows/AAA/11-08/Website/AAASavingsEvent/upcoming.htm.
About AAA
AAA Travel Services provides complete travel solutions for AAA members and the traveling public. As the largest full-service leisure travel agency, the AAA network of over 1,100 offices and AAA.com offer a full range of travel services from requests for up-to-date travel information to assistance with worldwide tour or cruise packages and travel insurance.
Since its founding in 1902 as the American Automobile Association (AAA), this association of independent clubs has been an advocate for the motorist and traveler. It has fought motorists' legislative battles, protected them against unduly restrictive legislation, and worked against harsh and unjust prosecutions. A not-for-profit, fully tax-paying organization with more than 50 million members, AAA is well respected for its credibility and integrity.
About InXpo
InXpo is the leading provider of privately-branded virtual events, including Virtual Trade Shows, Virtual Career Fairs and Virtual Corporate Events, as well as Audio and Video Webcasts. These virtual solutions dramatically reduce travel time and related costs, in addition to making the world a greener place to live. InXpo's Virtual Events provide Publishers with new online revenue opportunities and Corporations with the ability to generate leads, communicate, educate and network by connecting more effectively with their communities. The company is headquartered in Chicago. For more information, visit www.inxpo.com.
For information contact:

Eileen Casey
(312) 962-3756
Email Contact


Copyright @ Marketwire
Page: 1
Related Keywords:
InXpo, Sales, Marketing, Insurance, Sales & Marketing, Networking, Internet, Sales, Sales, Pro AV, Presentors, Internet/Web, Prosumer/Consumer, Internet, Web, Business Issues, Presentation, Marketing, Corporate/Company, Events, Mac, OS9, OSX, Marketwire, Television, Internet Technology, Internet, Family,
---