A New Web Application Helps People to Organize, Discover and Collaborate on Content Captured From Anywhere on the Web
(August 05, 2009)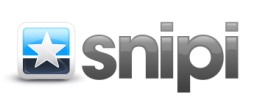 PHILADELPHIA, PA -- (Marketwire) -- 08/05/09 -- Snipi, Inc. (http://www.snipi.com) today introduced a new social media platform that provides a smarter way for users to capture, organize, collaborate on, and share their personal interests -- products, photos, videos and other content -- from anywhere on the Web. It is the first online service of its kind that offers a patent-pending content capturing tool for both self-organization and group collaboration.
Snipi's most compelling tool is a free Firefox add-on that enables users to literally drag and drop products, photos, videos and other content from anywhere online. As users navigate across the Internet, they can expand or retract the Snipi Toolbar to access all of the content that they have captured. While the Snipi Toolbar for Firefox is the most feature-rich version of the company's capturing tools, it also provides scaled down, "bookmarklet" versions of the Snipi Toolbar for all web-browsers.
This new online service is designed to change the way people browse, organize, share and discover Internet content. Snipi's tools enable users to "snip" content directly from any webpage which will automatically save it to their personal profile. Users can share and collaborate through "Snipstreams" or broadcast to Facebook, Twitter, Wordpress and other online destinations without ever leaving the web pages where they found the content. When users are "offline" they have access to their lists and content items on their iPhone using the free Snipi iPhone app.
"Snipi is a new service that brings order to the chaos that has become the Internet," said Andre Golsorkhi, CEO and Founder of Snipi, Inc. "Snipi gives individuals the tools to organize their favorite online content and gives groups the ability to collaborate on common interests. Snipi picks up where social bookmarking sites leave off and introduces a new twist on tumblelogs."
Once users capture content, it can be organized into custom lists. These lists can be used as an organizational tool or, optionally, users can send content to Snipstreams. Snipstreams can be used to build and engage audiences or to encourage users to join in and collaborate. Snipstreams can also be placed on blogs or websites via Snipi's widgets, RSS and other portability technologies.
"Snipi gives each Snipstream creator an analytics dashboard so that they can evaluate the types of users following their streams, the types of content contributed and the areas in which their audiences are most interested. This is an especially compelling value proposition for bloggers," added Golsorkhi.
"We have created tools that allow people to easily capture and organize online content, broadcast their favorite finds, and collaborate with friends around their interests."
About Snipi, Inc.
Founded in 2007, Snipi, Inc. has created a social media platform that is designed to harness the power of collaborative intelligence. Made up of Snipi.com, the Snipi Toolbar, The Snipi Bookmarklet and the Snipi iPhone application, the company's technology allows users to capture content from anywhere on the web for personal organization and group collaboration. Bloggers, opinion leaders, and other individuals can also broadcast their online finds and interests through streams of products, photos and videos of any kind. For more information, visit www.snipi.com.
CONTACT:
Neil Simpkins
LevLane Public Relations
(215) 825-9625
nsimpkins@levlane.com


Copyright @ Marketwire
Page: 1
Related Keywords:
Snipi.com, Marketwire, Inc., Apple Computer, Internet Technology, Internet, Other,
---