A Gamification Changer! BigDoor's New Gamified Rewards Delivers Big Results for Publishers
Now Out of Private Beta: Companies Using BigDoor's Gamification Realize Significant Lift in User Loyalty and Engagement
(April 03, 2012)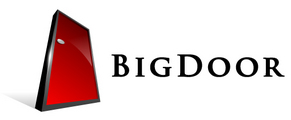 SEATTLE, WA -- (Marketwire) -- 04/03/12 -- BigDoor, already the most widely used gamification platform, today announced the introduction of its next generation Gamified Rewards Program. BigDoor improves engagement, has a straightforward implementation, and offers unique insights into how the program is influencing user's behavior.
"Improving user loyalty and engagement is one of the biggest challenges facing online publishers today," said Keith Smith, CEO and Co-Founder of BigDoor. "BigDoor addresses this pain point and provides a mechanism for growth by creating engaging experiences that keep consumers coming back for more. Gamification is a buzzword that's received a ton of hype, but we have the data to prove that we've cracked the code on making gamification deliver huge lifts in user loyalty and engagement."
BigDoor gives online publishers the ability to provide authentic and relevant rewards to their users, within an engaging and gamified experience. Rewards, such as exclusive content, unlocked powers, exclusive virtual items, community status and even tangible rewards create deeper engagement with a site and rewards users for their loyalty. Implementing a rewards program is now a simple process and can be managed entirely through BigDoor. Publishers can take advantage of many advanced services provided by BigDoor, including paid sponsorship and management of high value rewards through sweepstakes.
BigDoor also offers actionable analytics and performance measurements that partners can see through a simple dashboard and then drill down to deep analytics. A Publisher's dashboard focuses on Key Performance Indicators (KPIs) like loyalty and engagement scores to track the overall health of each rewards program. These KPIs are measured against a control group to display an accurate lift in user performance. During BigDoor's private beta, comprised of 25 websites, partners realized an average lift of 153% in user loyalty and 672% in engagement.
"Within 24 hours of launching BigDoor, thousands of people signed up for Superfans, our 'Big Brother' Sweden rewards program," said Andreas Wiss, Business Developer, Digital Media, TV4. "BigDoor impressed us with their easy to implement platform and analytic dashboard, which measured in real-time the success of our campaign. Throughout the entire process, BigDoor provided support and creative input to maximize the campaign's potential. After six weeks of working with BigDoor, we have experienced an increase of 365% in User Loyalty and over 1000% increase in User Engagement."
BigDoor gives online publishers of any size the ability to seamlessly integrate gamification into their site quickly, affordably, and without the restriction of long-term contracts. Online publishers have three options for implementing BigDoor: Lite, Plus and Premium. Lite is a free offering, ideal for websites with fewer than 25,000 monthly visitors. Plus is a white-label and highly customized solution suited for medium sized websites with up to one million monthly visitors. For enterprise customers and large websites, BigDoor creates a fully customizable rewards program as part of their robust Premium package.
Many proprietary features are available through BigDoor, including Real-Time Audience Management Process™ (RAMP). RAMP allows online publishers the ability to iteratively roll out their rewards program by controlling the percent of exposed users through BigDoor's admin tools. Measuring lift and A/B testing is made simple by RAMP which automatically creates a randomly selected control group for comparison to the exposed group in order to accurately determine actual performance lift and return on investment.
"BigDoor has been a key partner in our innovation process, willing to do whatever is necessary to drive success for us," said Mike Howell, co-founder and VP of Social for Wetpaint Entertainment. "Their A/B testing prowess and Loyalty Experts have been vital in the rollout of our new BigDoor powered VIP Rewards program, which is already showing incredible results for driving user loyalty among our nine million monthly visitors."
BigDoor today announced $5 million of venture financing led by existing investor Foundry Group, bringing BigDoor's total funding to $13 million. In less than two years since its debut, BigDoor has delivered a proven gamification platform for any online publisher looking to attract and engage loyal customers. BigDoor has established itself as the leader in the rapidly growing gamification sector, with customers including MLB.com, Dell, Nickelodeon, Spartz, and Wetpaint as well as music artists Big K.R.I.T. and 2 Chainz. The company will use the infusion of new capital to continue its aggressive growth strategy.
About BigDoor
BigDoor's patent-pending platform helps companies increase user loyalty and engagement through Gamified Rewards. Many prestigious brands including Dell, MLB.com, Nickelodeon, Wetpaint and more use BigDoor to offer their own branded and gamified rewards program. Investors in the company include Foundry Group and Founder's Co-Op. For more information, visit www.bigdoor.com or follow us on Twitter @BigDoor and @ChiefDoorman.
Image Available: http://www2.marketwire.com/mw/frame_mw?attachid=1937049
Image Available: http://www2.marketwire.com/mw/frame_mw?attachid=1937052

Add to Digg Bookmark with del.icio.us Add to Newsvine
Contact:
Carrie Peters
BigDoor
206-579-3804
Email Contact

Ali Kramer
Barokas PR for BigDoor
206-264-8220
Email Contact


Copyright @ Marketwire
Page: 1
Related Keywords:
Gamification, Gamify, Loyalty, Rewards, Engagement, User Behavior, BigDoor, $5M funding , Marketwire, ,Music,Business,Entertainment,
---