A Breakthrough in Robotics: WAM(TM) Arms at NAIST Aid in Dressing the Elderly and Infirm
(November 10, 2011)

CAMBRIDGE, MA -- (Marketwire) -- 11/10/11 -- The Nara Institute of Science and Technology (NAIST), of Japan, has created the world's first robot system that learns to clothe elderly and physically disabled people. Leveraging the concept of "skills transfer" from a human caregiver to a robot, "reinforcement learning" takes place in minutes, gracefully adapting to the individual size and shape of the person being dressed. Barrett Technology, Inc. manufactures the patented robotic arms and is working closely with NAIST researchers. This international collaboration has been a seamless synthesis of Barrett's contact-compliant hardware and NAIST's advanced computer intelligence.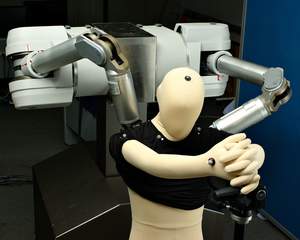 Many benefits of modern medicine are helping baby-boomers live well into their 80s and 90s. At the same time couples are having fewer children, thereby constraining family care givers. Many older people want the dignity of independence but often require assistance with basic activities, such as cooking, bathing, and dressing. Increasingly, robots are playing vital roles in solving quality-of-life issues for this growing segment of our population.
According to the team's leader, Associate Professor Tomohiro Shibata of the Mathematical Informatics Laboratory, "Barrett's robots are unique in the world for their ability to react to subtle physical interactions, enabling our algorithms to learn to dress people." Barrett CEO Bill Townsend adds, "We are very impressed that Dr. Shibata's team has accomplished such a complex task. It takes an infant more than 10,000 hours of learning to master the motor skills of dressing. With this new application, robotic arms can learn to dress people in just minutes."
Taking clothes on and off are essential activities in daily life, but for elderly and physically challenged people this can be difficult due to limited mobility in the upper limbs. At the same time, there is a key technical problem. Specifically, it's difficult to calculate the optimal robot motions for manipulating a soft, floppy material like clothing, while in contact with a person of unique shape and constantly changing posture.
In response, the group headed by Associate Professor Tomohiro Shibata developed a dual-arm robot system that can acquire clothing-assistance motions applicable with a small number of trials. This is accomplished by performing a trial-and-error search called "reinforcement learning" based on actual motions used for clothing assistance as demonstrated by a human being.
About Barrett Technology, Inc.
Barrett Technology, Inc. is the leader in the design and manufacture of high-performance robotic manipulators for emerging applications requiring superior versatility.
Contact Rosanne Kramer: [email protected]
About NAIST (Nara Institute of Science and Technology)
NAIST, headed by President Dr. Akira Isogai is a leading national graduate university and the highest evaluated university in Japan in many respects. This work was accomplished by Dr. Shibata and Dr. Tamei of the Mathematical Informatics Laboratory, Dr. Matsubara of the System Control Laboratory, and their team of graduate students. Detailed results of this research were presented at the 11th IEEE-RAS International Conference on Humanoid Robots in Bled, Slovenia.
Contact Prof. Tomohiro Shibata: [email protected]
Image Available: http://www2.marketwire.com/mw/frame_mw?attachid=1797375

Contact:
Rosanne Kramer
Email Contact

Prof. Tomohiro Shibata
Email Contact


Copyright @ Marketwire
Page: 1
Related Keywords:
Barrett Technology Inc., Japan,Marketwire, Inc., ,Computer Science,Science,Family,Children,
---