A Better World Game on Facebook Lights Up Guatemalan Schools
Solar Power Provided to Schools in Remote Villages
(May 02, 2012)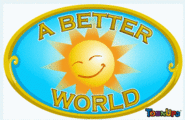 PHILADELPHIA, PA -- (Marketwire) -- 05/02/12 -- ToonUps, cause gaming pioneer and creator of A Better World game on Facebook, today announced that solar power systems have been installed at two Guatemalan schools thanks to the big hearts of their Facebook game players.
Players of A Better World have sent over 50,000 virtual hearts to their Facebook friends in a campaign that started on Valentine's Day. Because players shared their love, ToonUps shares theirs by providing the funding for the equipment and installation of units that will provide solar power (and 11 hours of light) to both the Mano De Leon School and the Panorama Kindergarten (in May/June) in Guatemala. This is the first time Mano de Leon has experienced electric power.
"The install took three hours and for the first time ever in the village of Mano de Leon, the sound of a food blender whirring was heard and applauded!" said Mick Quinn, co-founder of Integral Heart. "This is the result of a grand collaboration of organizations to bring a sense of dignity and ease of being to the 90 residents of this isolated village including, The GodsChild Project, ConstruCasa, Rotary Antigua, and ToonUps/A Better World."
Photos are available for download at this link (password: manoleon): http://hirokotanaka.photoshelter.com/gallery/Faces-of-Mano-de-Leon/G0000en2YhzjKJLk/
A Better World is a free, uplifting game on Facebook that is all about being positive and encouraging kindness to others. "A Better World is taking cause gaming to a new level by having game play impact and blend into the real world. The result with Integral Heart provides another good example of that," said MarySue Hansell, president and COO of ToonUps. "The game is being hailed as 'the catalyst of kindness' and we like the moniker. A Better World is making the world kinder one game player at a time."
About Integral Heart Education Program
The Integral Heart Foundation is focused on connecting hearts and has no religious or political affiliation. We are currently working on the ground in Guatemala, aiming to overcome poverty by allowing children and their families to dream through education and will expand our work to other Central American countries as we establish a successful, flexible and scalable model.
About ToonUps
ToonUps is a digital entertainment company that created the popular Facebook game A Better World. In the free game, players create characters and live in a virtual world where all good deeds are rewarded and real world causes are impacted. The game creates a fun environment that inspires players to help others, become better people and make the world a better place. A Better World is creating a powerful legion of do-gooders and the secret is spreading. ToonUps is headquartered in Wayne, PA.
Tweet This
A Better World on Facebook lights up Guatemalan Schools
http://www.toonups.com/Blogengine/default.aspx?cat=pressreleases
Websites
A Better World Game: http://bit.ly/ABWgameIHF
Integral Heart: www.integralheartfoundation.org
ToonUps: http://bit.ly/ToonUpsWebsite
Add to Digg Bookmark with del.icio.us Add to Newsvine
Contact:
MarySue Hansell
(610) 902-0080 x108
Email Contact


Copyright @ Marketwire
Page: 1
Related Keywords:
cause gaming, social media, Facebook, video games, solar, education, schools, Guatemala, power, kind, Children,Family,Gamers,Gaming,Web,Children,Video,Social Media,Marketwire, ,Games,Game Technology,Entertainment,Children,Other,
---