7 Millionth Gift Sent in Trophy Slots: Share the Love Levels Provide Ideal Game Platform for Gifters
(June 12, 2012)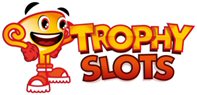 GIBRALTAR, GIBRALTAR -- (Marketwire) -- 06/12/12 -- The number of gifts sent by Trophy Slots players since the game's launch on Facebook has now exceeded 7 Million. A compact community of gamers have become an important part of the Trophy Slots ecosystem, forming close-knit networks of players who are sending and receiving thousands of gifts each day.
The most active gifter in Trophy Slots has sent more than 75,000 gifts in less than 2 months, whilst a number of lucky players have each received over $20 million in in-game currency from their friends.
"We want to encourage our players to gift, as we think it is a great way to connect the social aspects of Facebook with the gaming experience we provide with Trophy Slots. Playing can be even more fun when you share, give and receive."
-- John Svensson, Product Manager
The popularity of the Trophy Slots gifting system is largely attributed to the inclusion of Share the Love Bonus Levels within the game. During these levels, players have the opportunity to send out gifts to their friend networks every 15 minutes. Not only that, but an increased number of coins are included in each gift, meaning that every time a player reaches Share the Love, they have the opportunity to send large quantities of coins to their friends for as long as they remain on the level.
Since the game's initial launch, the development team have been focussed on implementing a range of new gift-friendly features, including the addition of a gift "collect" button that allows players to easily receive and gift back thousands of coins in a short space of time.
"We are continually looking to improve the gifting experience for our players. We believe that Trophy Slots is the best slots app on Facebook for those who love to send and receive gifts and we already have a great community of gifters who are always on the look-out for new players to join their networks. As well as the official Community Page, there are also a number of Trophy Slots fan groups where players can go to connect with other gamers."
-- Joey Steel, VIP Manager
The recently announced Level Design Contest on the Trophy Slots Community Page could see a brand new Bonus Level developed around the gifting aspects of the game.
"We've already had some fantastic ideas submitted since we launched the contest and the gifting aspect of the game seems to be very popular with the players. It's very possible that a gift orientated level design could be a winner! We will have to wait and see..."
-- Joey Steel, VIP Manager
Contacts:
www.facebook.com/TrophySlots
www.twitter.com/trophyslots


Copyright @ Marketwire
Page: 1
Related Keywords:
Slots , Online Slots , Fruit Machines , Facebook Slots , Trophy Slots , Marketwire,Gamers,Other,
---