$6.5 Million in Monthly Savings Available to Duquesne Light Market by Switching to a New Energy Supplier
CurrentChoice.com Launches in Pittsburgh to Provide Free Online Marketplace to Residential Users
(February 06, 2012)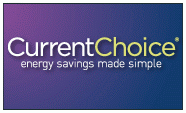 PITTSBURGH, PA -- (Marketwire) -- 02/06/12 -- CurrentChoice.com today announced it has launched a new online marketplace for residents in the Duquesne Light market. The site provides a unique and impartial way for residents to easily evaluate offers from a variety of competitive electricity suppliers and to choose one that's right for their needs and budgets based on their actual usage.
Pennsylvania's Electric Choice Act lifted rate caps in the Duquesne Light service area on Jan. 1, 2011. While residents living in this area now have the ability to choose a new electricity supplier from a variety of companies, CurrentChoice.com co-founders Alan Lehmann and Doug Luckerman know that understanding the products and benefits offered by each of the different companies can be confusing.
"CurrentChoice.com makes it easy to get the benefits that Pennsylvania's Electric Choice Act provides to homeowners," said CurrentChoice.com co-founder Alan Lehmann. "We've taken the concept of competition among electricity suppliers and harnessed that power to benefit people with a process that is secure, reliable, easy-to-use, and specifically designed to help them save money."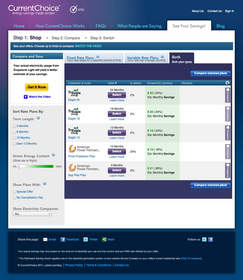 CurrentChoice.com is now available to nearly 525,000 residents in the Pittsburgh area. Based on current energy costs, the company determined that the average monthly savings to residents, who have not yet switched providers, would be nearly $6.5 million a month. Over a four month period, the compounded total savings would be $23 million. These numbers are based on residents choosing one of the plans offered by CurrentChoice.com.
CurrentChoice.com has signed agreements with trusted energy suppliers American Power Partners, LLC, TriEagle Energy, and North American Power. The company expects new suppliers to be added to the site soon.
"The switch from one supplier to another is seamless and users are telling us about their positive experiences," offered CurrentChoice.com co-founder Doug Luckerman. "Also, and this is extremely important, in the event of a power outage, a user's place in line for having their lights turned back on does not change at all by having switched to a new electricity supplier through CurrentChoice.com."
Lehmann and Luckerman said they have studied both the benefits and challenges of electricity supplier competition and used their analysis to create the consumer-friendly tools found on the CurrentChoice.com website.
"We have used design, technology, attention to detail, and a focus on the user experience to simplify what is otherwise a confusing and sometimes frustrating as well as time-consuming process," offered Lehmann. "We've created something that's intuitive and is easy for everyone to use no matter what level of online experience people may have."
CurrentChoice.com's unique format also enables Pittsburgh-area homeowners and families to track their energy usage, receive information on how to save energy, and learn about federal and state tax incentives for making homes more energy efficient.
Pennsylvanians are becoming more comfortable with the idea of switching suppliers. Over 1.2 million residential electric customers across the state have already chosen a new supplier since competitive rates became available.*
ABOUT CURRENTCHOICE.COM CO-FOUNDERS
Alan Lehmann has held executive marketing and ecommerce management positions for more than 20 years. He graduated with high honors from Boston University's School of Management with a Masters Degree in Business Administration and is a Certified Public Accountant. Doug Luckerman has practiced law for more than 20 years. Mr. Luckerman specializes in federal and state regulatory matters. He has managed cases involving complex federal appellate court issues that at times required appeals to the United States Supreme Court. He has also been a Senior Enforcement Counsel for the Environmental Protection Agency. Doug received his law degree at Northeastern University Law School in Boston.
ABOUT CURRENTCHOICE.COM
CurrentChoice.com is an innovative online marketplace where consumers can save money in deregulated states by shopping for and choosing a new energy supplier. The company's patent-pending site enables consumers to make confident decisions through the use of technology, an emphasis on design and by presenting products in a transparent apples-to-apples way. CurrentChoice.com was also named as one of the top finalists in a prestigious competition sponsored by the United Kingdom Consulate last year to bring U.S. based companies to the UK. CurrentChoice.com was founded in early 2010, in Lexington, MA. For more information please visit www.currentchoice.com or contact the company at 412-254-8250.
* http://extranet.papowerswitch.com/stats/PAPowerSwitch-Stats.pdf?/download/PAPowerSwitch-Stats.pdf
Image Available: http://www2.marketwire.com/mw/frame_mw?attachid=1876072

Add to Digg Bookmark with del.icio.us Add to Newsvine
MEDIA CONTACTS:
Andrea Nieto
Emerge Media
[email protected]
415-378-9562

or

Mara Stefan
Emerge Media
[email protected]
781-771-6911


Copyright @ Marketwire
Page: 1
Related Keywords:
CurrentChoice, USA, Marketwire, , Environmental Technology, Business, Judicial, england,
---