41st Parameter's Patented SafeSession(TM) Technology Selected as Finalist for Merchant Risk Council Emerging Technology Award
FraudNet Combines Device Intelligence and Transactional Data to Provide the Industry's Most Effective Risk Assessment and Fraud Prevention Solution
(March 20, 2012)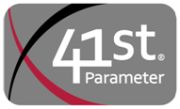 SAN JOSE, CA -- (Marketwire) -- 03/20/12 -- 41st Parameter®, the global leader in device recognition and comprehensive online fraud protection, is pleased to announce that its patented SafeSession technology -- a core element of the company's FraudNet platform -- has been named a finalist for the Merchant Risk Council's (MRC) 2012 MRC Emerging Technology Award (METAward). 41st Parameter's approach uniquely addresses the broadest range of potential fraud threats including session hijacking, man in the middle (MITM), man in the browser (MITB), malware infections, Trojan attack, browser tampering and even those conducted with no device involved.
Long recognized as leader in device recognition technology, 41st Parameter is continuously developing new and novel approaches to thwart the threat of fraud. Every year, FraudNet protects more than six billion transactions for the world's leading ecommerce companies, financial institutions and airlines. Its newest technologies -- based on correlative risk assessments and threat linking capabilities -- are the most advanced available and are able to stop completely new classes of fraud.
"Unfortunately, risk never sleeps," said Ori Eisen, 41st Parameter's chief innovation officer, "thankfully, we don't either. We have poured more than 150 man years into the development of new and better ways to foil fraud; and the MRC judges have recognized our efforts. The global threat for fraud isn't going away but we have managed to stay one step ahead of the bad guys. And we've done it in a way that hasn't just radically reduced fraud, it's done so without imposing the high levels of false positives or need for manual review that have plagued many alternate approaches."
41st Parameter's unique ability to correlate device information with visibility into rich commerce data enables new possibilities for even more effective fraud prevention. The company's comprehensive risk engine also looks across channels allowing it to observe if a user is attempting to attack whether through an online site, a kiosk, a mobile application or a call center. With its patented DataSpider™ and SketchMatch™ link analysis technologies, 41st Parameter can easily identify a user attempting to process a fraudulent transaction through a call center with no device present -- even if they are using a new credit card.
Waiting in anticipation for the announcement of the METAward winner on the 29th isn't the only thing 41st Parameter will be doing at MRC. On March 27th the company will be hosting the MRC opening reception together with Elavon. On March 28th Eisen will be presenting "Harvesting Exposed Data on P2P Networks" on the MRC Main Stage. On March 29th 41st Parameter will be hosting an invitation-only VIP luncheon with Kevin Mitnik as well as Mitnik's closing keynote. The company will also be on the show floor in booth 300.
About 41st Parameter
In a world where people are increasingly reliant on a variety of internet-connected devices for everything from banking to booking travel to shopping, preventing online fraud and creating relevant customer experiences are constant and complex business challenges. 41st Parameter, the global leader in device recognition and intelligence, combines its patented technologies and years of expertise to identify devices without cookies, without compromising privacy and without impacting performance. The company's FraudNet platform protects businesses from fraud before it happens. AdTruth, the company's digital media division, gives marketers a new and better way to recognize and reach their most valuable audiences across all types of devices. These privacy compliant solutions help keep the Internet more secure and relevant for everyone. To learn more about 41st Parameter visit www.the41st.com. To learn more about digital media solutions from AdTruth visit www.AdTruth.com.
Copyright @ Marketwire
Page: 1
Related Keywords:
41st Parameter, Marketwire, , Financial, Lifestyle, Internet Technology, Business, Internet,
---